This is an archived article and the information in the article may be outdated. Please look at the time stamp on the story to see when it was last updated.
Warmer temperatures get most people excited to get outside and take advantage of the lake. However, warmer temperatures do not mean a warm lake. In fact, the lake temperatures as of late April are still chilly in the mid-40s.
Water has a low heat capacity.
What this means is that the water temperatures doesn't change easily. Lakes and oceans help regulate temperatures around the world.
Here in Northeast Ohio, the lake temperature affects our weather all year round. In the winter, the warm lake helps to induce lake effect snow showers. In the spring, the cold lake temperature helps generate lake driven rain showers.
The biggest concern is actually related to sunny, warm days. The chilly lake can be deceiving and even deadly. Water temperatures between 45-54 have a high hypothermia risk and a wet/dry suit is strongly recommended. Temperatures between 50-58 have a moderate hypothermia risk and a wetsuit is recommended.
Mucklehead or midges are a good reminder of where the temperature average stands. When the water temperatures rises to about 50 to 55 degrees, the pesky insects take over the lake shore and all of its neighboring cities; typically arriving early May, like it did back in 2009, taking over our Fox 8 front yard in the picture below.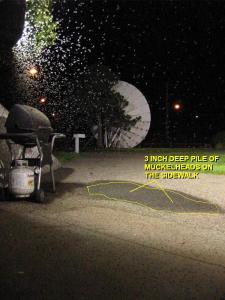 So even with the arrival of the midges or muckleheads, remember it's cold at the lake and caution is highly advised if you are participating in aquatic sports.
According to this graphic by the GLSEA, the lake temperature won't make it to 60 until the end of May and hypothermia will be a concern. The warmest temperatures range between June and October, when temperatures average above 60 degrees.
Here is a comparison of the temperature trend from the past five years.
This story was inspired by Rachel North. Her brother passed away last spring of hypothermia. He was an experienced sailor, kayaker, and canoeist. Rachel hopes to bring awareness, reminding people to wear the proper clothing and gear when enjoying the Great Lakes.
Stay tuned to the water conditions. Strong winds can easily make the water choppy and dangerous too.