This is an archived article and the information in the article may be outdated. Please look at the time stamp on the story to see when it was last updated.
Many people have complained about our "wall-to-wall" coverage saying that nothing was happening and it wasn't worth it. "No tornadoes on the ground so what is the point of coverage like this?" a few said via Facebook and Twitter.  While its easy to lump this event in with all of the others, this round of severe storm was very different than other severe weather events we've had in the recent past in northern Ohio. Why? First, many of the severe cells had the classic hook echo characteristic indicating strong counter clockwise winds which often indicate a tornado. Thankfully, only ONE TORNADO was confirmed in Lorain County. I thought we'd end up with 4 or 5 easily.  (Check out my weather blog HERE for severe weather terms that we ALL need to know)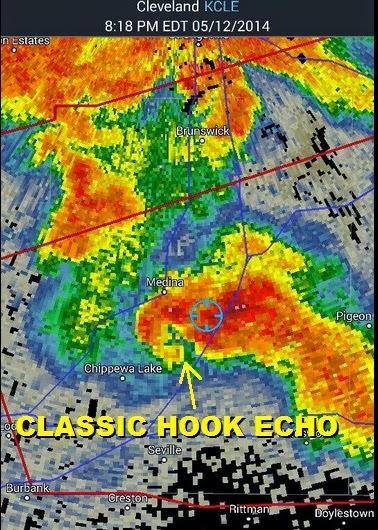 Secondly, many cells also had strong changes in wind direction embedded within them. By using the "Velocity Scan", we can determine which cells have rotational signatures by recognizing those small scale wind direction changes. Green colors mean wind moving toward the radar. Red colors mean wind is moving away. Notice the abrupt change and the implied rotation.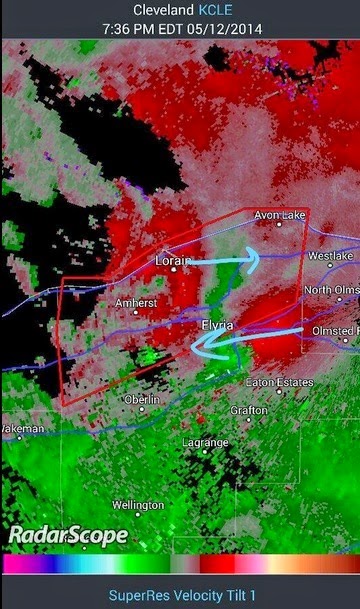 For these reasons, the National Weather Service issued tornado warnings. As a public service, it is mandatory to inform the public of the tornado warnings. Given the numerous storms, we needed to break into programming to cover this event BIG TIME!
For those of you who claim that more tornado warnings are being issued for northern Ohio, that's not the case. After doing some exhausting research compiling tornado warning history, I found that the issuance of tornado warnings at the National Weather Service office in Cleveland, Ohio (our home office) is trending lower since the early 1990s. Also, the percentage of tornado warnings that result in actual tornadoes here in northern Ohio during the same period is comparable to the national average.