This is an archived article and the information in the article may be outdated. Please look at the time stamp on the story to see when it was last updated.
I always tell people: Over-hyping the weather situation breeds conflict and frustration and ultimately apathy then dismissal. Hard to reestablish credibility when its lost. We at FOX8 will describe the weather situation like we see it with no hype or exaggeration. We always adjust the short-term severe storm threat hour by hour. The forecast on a day like today is a fluid one. Anticipate small-scale changes in the position and timing as the situation evolves this afternoon and evening.
Here is how I see it unfolding as of 11AM Wednesday morning:

The Storm Prediction Center still has western Ohio under a MODERATE risk of severe weather. Remember that the definition of a SEVERE THUNDERSTORM is a storm that has 58 mph winds or greater and/or hail of at least 1 INCH in diameter.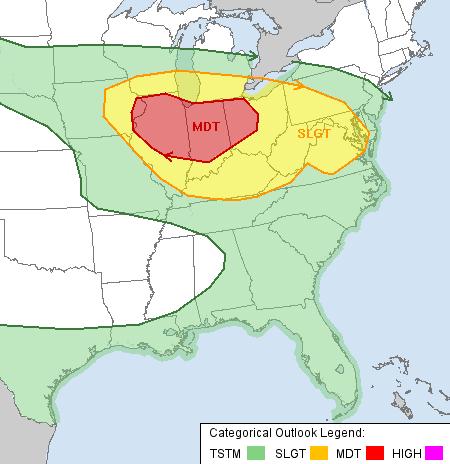 Wind damage will be the biggest threat along with heavy rain tonight.
Any showers and storms that develop ahead of the main cluster this afternoon will be more scattered. Not everyone will see rain and storms this afternoon and early evening. That said, we will need to keep a careful eye on this. Often times, these scattered, fast-moving storms in the late afternoon can rapidly develop into organized clusters by themselves. In fact, one computer projection is showing just that but not until the mid evening.

The last complex of rain and storms overnight will be heavy. Rainfall will be significant. Winds will be pushing 30+ mph in spots.
1)  Scattered storms this afternoon. Coverage will be 50% with breaks of sun in between.
2)  Large cluster of heavy rain and storms will develop by mid evening to the west and over most of Ohio after midnight/early Thursday.
3)  Severe weather threat will be from high winds (50+ mph) and hail.
4) Tonight's rainfall will exceed 1-2″ in many areas. Flood Watch for all of northern Ohio for tonight and early Thursday.
*CLICK HERE FOR MORE ON OUR WEATHER PAGE …