This is an archived article and the information in the article may be outdated. Please look at the time stamp on the story to see when it was last updated.
CLEVELAND– It's going to be an unforgettable World Series as the Cleveland Indians take on the Chicago Cubs.
When it comes to the Cubs– have you heard of the "Curse of the Billy Goat?"
Some think Saturday's Cubs' victory may have put that curse to rest.
Legend has it that a Chicago tavern owner named Bill "Billy Goat" Sianis pronounced a curse on the club on October 6, 1945 — just a month after the end of World War II.
Sianis went to Wrigley to cheer on his beloved Cubs against the Detroit Tigers in the World Series, according to the tavern website, which dedicates a page to the Billy Goat curse.
For Game 4, he purchased a ticket for himself and one for his pet goat Murphy, thinking it would bring the Cubs luck.
But ushers stopped Sianis from entering with Murphy. Sianis appealed directly to then club owner P.K. Wrigley, asking him why he couldn't take his personal mascot to the game.
"Because the goat stinks," Wrigley replied, according to the Billy Goat Tavern.
So Sianis threw his arms up and cursed the team.
"The Cubs ain't gonna win no more!" he declared.
When the Cubs lost the series to the Tigers, Sianis sent Wrigley a telegram.
"Who stinks now?" it read.
The Cubs were never the same again. Over the years, ghoulish pranksters have left dead goats at the stadium. They became known as the "Lovable Losers." A popular Chicago T-shirt reads, "What did Jesus say to the Cubs? Don't do anything till I get back."
Last year, the Cubs won 97 games. In the National League Championship Series, however, they were swept by a New York Mets team that won 90.
And who could forget the eighth inning of Game 6 of the 2003 NLCS between the Cubs and Florida Marlins?
The Cubs led 3-0. They were just five outs away from their first trip to the World Series since 1945.
Then a lifelong Cubs fan named Steve Bartman, seated down the left field line, reached for a foul ball. He tipped the ball away from the outstretched glove of leaping Cubs outfielder Moises Alou. His interference was the catalyst for a heartbreaking Marlins rally and eventual series win.
You can watch the World Series only on FOX 8! Game 1 is Tuesday night at Progressive Field.
Speaking of "The Curse," you can make the below graphic your Facebook profile pic!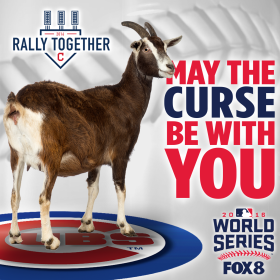 **Continuing coverage on your Cleveland Indians**