This is an archived article and the information in the article may be outdated. Please look at the time stamp on the story to see when it was last updated.
CLEVELAND-- The Cleveland Indians showed off what's new at Progressive Field on Thursday.
The first thing fans will notice at the left field gate is a set of lockers. The 45 storage lockers and 72 phone-charging lockers, which are equipped with four charging cords, are free to use and first come, first serve.
The club also added another local eatery. Butcher and the Brewer is the 13th area restaurant at the ballpark. It will be serving up beer and food.
The Terrace Club has plenty of new food items, from the chicken and tater tot waffles, to the mac daddy dog to the pop fly salad.
Indians executive chef Todd Brazile said they follow the latest food trends and listen to fans when deciding on new options. That's why you'll find more tacos and nachos at Progressive Field.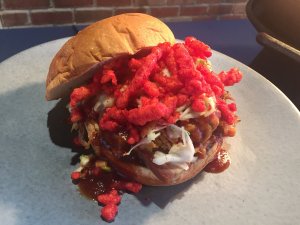 The most eye-catching of the club's cuisine is the Flamethrower. It's a pork shoulder and pulled pork sandwich, topped with bacon jam, barbecue sauce, green apple slaw and Flamin' Hot Cheetos.
Thursday is also Opening Day across the MLB, with the exception of Pittsburgh at Detroit and Washington at Cincinnati, which were rained out. The Indians play the Mariners in Seattle at 10:10 p.m. The home opener is Friday, April 6 against the Royals at 4:10 p.m.
More stories on the Cleveland Indians here