This is an archived article and the information in the article may be outdated. Please look at the time stamp on the story to see when it was last updated.
CLEVELAND, Ohio — Your NBA Champs, the Cleveland Cavaliers, are back in Cleveland, bringing home the first championship our city has seen in over half a century.
The wine and gold made history Sunday night, beating the Golden State Warriors after being down 3-1 in the series. Unlike the previous six games, Game 7 was close all four quarters. The Cavs defeated the Golden State Warriors, 93-89.
Thousands of fans gathered at the IX Center beginning very early Monday morning to welcome them home. The team arrived back in Cleveland at just before 1 p.m. to the screams and cheers of all of their supporters. LeBron James waved the Larry O'Brien Championship Trophy, as he got off the plane; he also brought it up closer to fans waiting nearby.
"I feel I could cry at any minute because I never thought this would happen within my lifetime, and to have my kids be a part of it for their first championship ever is just amazing," said Dawn Rudy, of Parma.
For Harriette Lowenthal, from Shaker Heights, the win was deeply personal and inspirational.
"On Thursday, when everyone else doubted them and I was diagnosed with breast cancer and they won and then they turn around and won last night, it just gives me a lift," said Harriette Lowenthal of Shaker Heights. "If they can do this and work this hard, then I can survive too."
Many said the team's arrival brought them to tears.
"I lived through all the heartbreak, the drive, the fumble, the shot, the move," said Jon Arnold, of Twinsburg, who was there with his son. "It's amazing. Words can't describe it."
"This was about our city, this was about redemption, this was a movement," said Kathryn Hall, of Cleveland. "it's about more than a basketball game."
https://twitter.com/fox8news/status/744942483310673920
The Champs arrive home to a water salute. #Allin216 https://t.co/9Kn3wSfkUM

— P.J. ZIEGLER (@PJFOX8) June 20, 2016
.@kingjames bringing the trophy to the people. #TheCurseIsOver #ALLin216 pic.twitter.com/VGhiSVH9hO

— fox8news (@fox8news) June 20, 2016
We are the champions of the world!#TheCurseIsOver pic.twitter.com/SQI8M8pSPK

— Matt Zone (@zonemat) June 20, 2016
OH WHAT A FEELING! #ALLin216 pic.twitter.com/McuNhD6ADW

— fox8news (@fox8news) June 20, 2016
**For more, including photos, from their Vegas celebration, click here**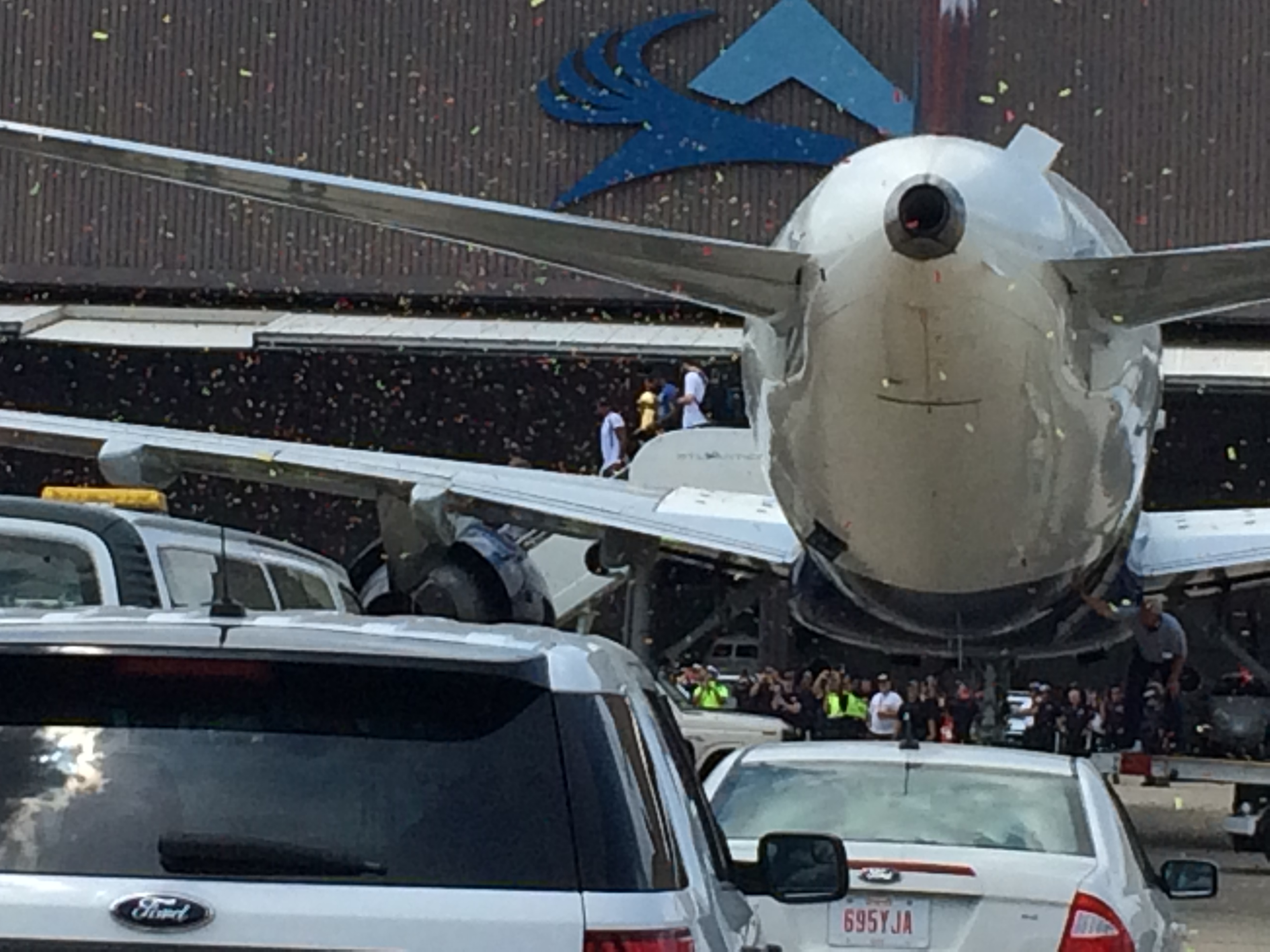 Parade and Rally
A Cavs spokesperson said team officials were set to meet with Cleveland leaders Monday to detail plans for a downtown parade and rally Wednesday. The Cavs are expected to release a route and timeline of events Tuesday.
Championship Gear
The Cavaliers Team Shop is now selling Limited Edition Official Locker Room hats and T-shirts. There was a long line when the store opened today at 8 a.m.
Other stores like DICK's Sporting Goods also have championship gear on sale, but it's disappearing fast from store shelves.
For more on gear, click here. 
How did you celebrate after the Cavs won the title? Fox 8 News wants you to share the moment. Share a video or photo, then send it to us to show how you celebrated by clicking here. 
Check out some of the Game 7 highlights in the photo gallery below:
Partying after the Cavs win NBA title- Courtesy: FOX 8 viewer Mitchell

OAKLAND, CA - JUNE 19: LeBron James #23 of the Cleveland Cavaliers celebrates with the Larry O'Brien Championship Trophy after defeating the Golden State Warriors 93-89 in Game 7 of the 2016 NBA Finals at ORACLE Arena on June 19, 2016 in Oakland, California. (Photo by Ronald Martinez/Getty Images)

in Game 7 of the 2016 NBA Finals at ORACLE Arena on June 19, 2016 in Oakland, California. (Photo by Ezra Shaw/Getty Images)

CLEVELAND, OH - JUNE 19: Fans react to a play during the Cleveland Cavaliers NBA Finals Game Seven watch party at Quicken Loans Arena on June 19, 2016 in Cleveland, Ohio. (Photo by Jason Miller/Getty Images)

CLEVELAND, OH - JUNE 19: Fans react in downtown Cleveland after the Cleveland Cavaliers won the NBA Championship on June 19, 2016 in Cleveland, Ohio. (Photo by Jason Miller/Getty Images)

CLEVELAND, OH - JUNE 19: Fans react in downtown Cleveland after the Cleveland Cavaliers won the NBA Championship on June 19, 2016 in Cleveland, Ohio. (Photo by Jason Miller/Getty Images)

Witness: Champions! (FOX 8 image)

Partying after Cavs win NBA title

OAKLAND, CA - JUNE 19: LeBron James #23 of the Cleveland Cavaliers arrives for Game 7 of the 2016 NBA Finals against the Golden State Warriors at ORACLE Arena on June 19, 2016 in Oakland, California. (Photo by Ezra Shaw/Getty Images)

Game 7 NBA Finals-- courtesy FOX 8

OAKLAND, CA - JUNE 19: The Cleveland Cavaliers huddle prior to Game 7 of the 2016 NBA Finals against the Golden State Warriors at ORACLE Arena on June 19, 2016 in Oakland, California. (Photo by Ronald Martinez/Getty Images)

OAKLAND, CA - JUNE 19: Singer Aloe Blacc sings the national anthem prior to Game 7 of the 2016 NBA Finals between the Golden State Warriors and the Cleveland Cavaliers at ORACLE Arena on June 19, 2016 in Oakland, California. (Photo by Thearon W. Henderson/Getty Images)

OAKLAND, CA - JUNE 19: Kevin Love #0 of the Cleveland Cavaliers reacts to a play against the Golden State Warriors in Game 7 of the 2016 NBA Finals at ORACLE Arena on June 19, 2016 in Oakland, California (Photo by Ronald Martinez/Getty Images)

OAKLAND, CA - JUNE 19: LeBron James #23 of the Cleveland Cavaliers looks to pass the ball against the Golden State Warriors in Game 7 of the 2016 NBA Finals at ORACLE Arena on June 19, 2016 in Oakland, California. (Photo by Ronald Martinez/Getty Images)

LeBron James #23 of the Cleveland Cavaliers blocks a shot by Stephen Curry #30 of the Golden State Warriors in Game 7 of the 2016 NBA Finals at ORACLE Arena on June 19, 2016 in Oakland, California (Photo by Ezra Shaw/Getty Images)

Cavs watch party

LeBron James #23 of the Cleveland Cavaliers stands on the court in Game 7 of the 2016 NBA Finals against the Golden State Warriors at ORACLE Arena on June 19, 2016 in Oakland, California. (Photo by Ezra Shaw/Getty Images)

in Game 7 of the 2016 NBA Finals at ORACLE Arena on June 19, 2016 in Oakland, California. (Photo by Ronald Martinez/Getty Images)

LeBron James #23 of the Cleveland Cavaliers dunks the ball against the Golden State Warriors in Game 7 of the 2016 NBA Finals at ORACLE Arena on June 19, 2016 in Oakland, California. (Photo by Marcio Jose Sanchez/Pool/Getty Images)

LeBron James #23 of the Cleveland Cavaliers shoots the ball against the Golden State Warriors in Game 7 of the 2016 NBA Finals at ORACLE Arena on June 19, 2016 in Oakland, California. (Photo by Ronald Martinez/Getty Images)

LeBron James #23 of the Cleveland Cavaliers defends Draymond Green #23 of the Golden State Warriors in Game 7 of the 2016 NBA Finals at ORACLE Arena on June 19, 2016 in Oakland, California. (Photo by Thearon W. Henderson/Getty Images)

LeBron James #23 of the Cleveland Cavaliers drives with the ball against Stephen Curry #30 of the Golden State Warriors in Game 7 of the 2016 NBA Finals at ORACLE Arena on June 19, 2016 in Oakland, California (Photo by Ronald Martinez/Getty Images)

CLEVELAND, OH - JUNE 19: Fans react to a play during the Cleveland Cavaliers NBA Finals Game Seven watch party at Quicken Loans Arena on June 19, 2016 in Cleveland, Ohio. (Photo by Jason Miller/Getty Images)

LeBron James #23 of the Cleveland Cavaliers reacts in Game 7 of the 2016 NBA Finals against the Golden State Warriors at ORACLE Arena on June 19, 2016 in Oakland, California (Photo by Ezra Shaw/Getty Images)

OAKLAND, CA - JUNE 19: LeBron James #23 of the Cleveland Cavaliers celebrates in the final moments of Game 7 of the 2016 NBA Finals against the Golden State Warriors at ORACLE Arena on June 19, 2016 in Oakland, California. (Photo by Ezra Shaw/Getty Images)

in Game 7 of the 2016 NBA Finals at ORACLE Arena on June 19, 2016 in Oakland, California. (Courtesy: Getty Images)

OAKLAND, CA - JUNE 19: LeBron James #23 of the Cleveland Cavaliers celebrates in the final moments of Game 7 of the 2016 NBA Finals against the Golden State Warriors at ORACLE Arena on June 19, 2016 in Oakland, California. (Photo by Ezra Shaw/Getty Images)

OAKLAND, CA - JUNE 19: LeBron James #23 and Kevin Love #0 of the Cleveland Cavaliers celebrate after defeating the Golden State Warriors 93-89 in Game 7 of the 2016 NBA Finals at ORACLE Arena on June 19, 2016 in Oakland, California. (Photo by Ezra Shaw/Getty Images)

OAKLAND, CA - JUNE 19: LeBron James #23 of the Cleveland Cavaliers holds the Larry O'Brien Championship Trophy after defeating the Golden State Warriors 93-89 in Game 7 of the 2016 NBA Finals at ORACLE Arena on June 19, 2016 in Oakland, California. (Photo by Ronald Martinez/Getty Images)

OAKLAND, CA - JUNE 19: LeBron James #23 of the Cleveland Cavaliers reacts after defeating the Golden State Warriors 93-89 in Game 7 of the 2016 NBA Finals at ORACLE Arena on June 19, 2016 in Oakland, California. (Photo by Ezra Shaw/Getty Images)

My grandsons first Cavs game

in Game 7 of the 2016 NBA Finals at ORACLE Arena on June 19, 2016 in Oakland, California. LeBron James #23 and Kevin Love #0 and the Cleveland Cavaliers celebrate after defeating the Golden State Warriors 93-89 in Game 7 of the 2016 NBA Finals at ORACLE Arena on June 19, 2016 in Oakland, California.. (Photo by Ronald Martinez/Getty Images)

OAKLAND, CA - JUNE 19: LeBron James #23 of the Cleveland Cavaliers reacts after defeating the Golden State Warriors 93-89 in Game 7 of the 2016 NBA Finals at ORACLE Arena on June 19, 2016 in Oakland, California. (Photo by Thearon W. Henderson/Getty Images)

in Game 7 of the 2016 NBA Finals at ORACLE Arena on June 19, 2016 in Oakland, California. (Photo by Thearon W. Henderson/Getty Images)

OAKLAND, CA - JUNE 19: LeBron James #23 of the Cleveland Cavaliers holds the Larry O'Brien Championship Trophy after defeating the Golden State Warriors 93-89 in Game 7 of the 2016 NBA Finals at ORACLE Arena on June 19, 2016 in Oakland, California. (Photo by Ezra Shaw/Getty Images)

LeBron James #23 and Dahntay Jones #30 of the Cleveland Cavaliers celebrate after defeating the Golden State Warriors 93-89 in Game 7 of the 2016 NBA Finals at ORACLE Arena on June 19, 2016 in Oakland, California (Photo by Ezra Shaw/Getty Image

Huddle before Game 7 of NBA Finals- image courtesy of Cavs

OAKLAND, CA - JUNE 19: Richard Jefferson #24 of the Cleveland Cavaliers celebrates in the locker room after defeating the Golden State Warriors 93-89 in Game 7 to win the 2016 NBA Finals at ORACLE Arena on June 19, 2016 in Oakland, California. (Photo by Ronald Martinez/Getty Images)

OAKLAND, CA - JUNE 19: LeBron James #23 and Kevin Love #0 of the Cleveland Cavaliers celebrate after defeating the Golden State Warriors 93-89 in Game 7 of the 2016 NBA Finals at ORACLE Arena on June 19, 2016 in Oakland, California. . (Photo by Ezra Shaw/Getty Images)

OAKLAND, CA - JUNE 19: Timofey Mozgov #20 of the Cleveland Cavaliers celebrates in the locker room after defeating the Golden State Warriors 93-89 in Game 7 to win the 2016 NBA Finals at ORACLE Arena on June 19, 2016 in Oakland, California. (Photo by Ronald Martinez/Getty Images)

OAKLAND, CA - JUNE 19: LeBron James #23 of the Cleveland Cavaliers reacts after defeating the Golden State Warriors 93-89 in Game 7 of the 2016 NBA Finals at ORACLE Arena on June 19, 2016 in Oakland, California. (Photo by Thearon W. Henderson/Getty Images)

in Game 7 of the 2016 NBA Finals at ORACLE Arena on June 19, 2016 in Oakland, California. Thearon W. Henderson/Getty Images)
**More on the Cavs incredible journey here**