This is an archived article and the information in the article may be outdated. Please look at the time stamp on the story to see when it was last updated.
CLEVELAND – The first week of high school football is wrapping up and there are a few remaining games on the schedule for tonight.
Earlier today, the Beachwood Bison defeated the Gilmour Lancers, 44-36.
Also, Shaker Heights defeated University School, 21-9 and Benedictine defeated Toledo Central Catholic, 35-23.
Here are the rest of tonight's scores:
St. Edward 14 vs. Gilman (Maryland) 13
Euclid 19 vs. Glenville 36
Norwalk 0 vs. Lake Catholic 30
St. Mary Cent. Cath. 21 vs. Norwalk St. Paul 56
Normandy 7 vs. St. Ignatius 63
North Lima South Range 10 vs. Warren JFK 30
LaBrae 41 vs. Youngstown-Christian 7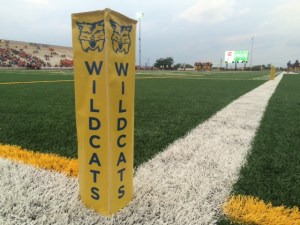 On Friday, The Friday Night Touchdown game of the week was in Kirtland.  The perennial powerhouse Hornets hosted the always tough Tigers of Chagrin Falls. Kirtland came within an eyelash of winning another state title last fall. And, they got off to a great start tonight, winning 24-9.
**SHARE YOUR FAN PHOTOS HERE**
Friday night was also the premier episode of Friday Night Touchdown, kicking off our 19th season.
Friday Night Touchdown Hall of Famer Tony Rizzo joined us this week as our special guest.
**More high school football coverage right here**