This is an archived article and the information in the article may be outdated. Please look at the time stamp on the story to see when it was last updated.
Week two of Friday Night Touchdown featured a Game of the Week between two dynamic programs and rivals.
**Be sure to click here for all final scores**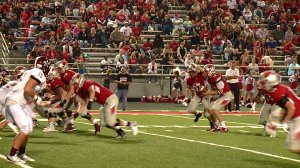 After winning the vote on Fox8.com, our cameras featured the number two team in the Fox 8 Top 8, St. Ignatius traveled to meet the number 3 ranked Cardinals of Mentor. Both teams had strong opening weeks as Mentor debuted sophomore quarterback Tadas Tatarunas and St. Ignatius' ground game overwhelmed Normandy.
The game was a tough match-up, but the points kept rolling in. Mentor defeated St. Ignatius 63-56, scoring the game-winning touchdown with just 8 seconds left.
**Take a look at the Top 8 in the video above**
Tracy McCool is the special guest host and she traveled to Copley to cover her alma mater against Akron Firestone. Copley snagged a swift 48-0 win.
**CLICK HERE to head over to our photo gallery**
The commissioner of Friday Night Touchdown, Dan Coughlin took the 'Coughlin Cam' on a west side jaunt. He took in the battle between rivals Avon Lake and Avon, where Avon took the 31-7 win. He also headed to Bay to see Streetsboro invade, but Bay took a 48-0 victory.
NDCL was feeling good after pulling out a week one win at Willoughby South. The Lions were at Chagrin Falls where the Tigers were recovering from a loss to Kirtland. The Lions came out on top though, taking a 35-11 win.
Solon headed to neighboring Twinsburg, defeating them 34-0.
SkyFox took to the sky as well. One of the games they saw was Akron St. Vincent-St. Mary on the road tangling with another parochial power: Walsh Jesuit. Akron SVSM came out on top though, defeating Walsh 34-10.
There were several more games on the schedule, all told, more than 20 games. Check above to see the final scores for the night.
**Continuing coverage on high school football right here**