This is an archived article and the information in the article may be outdated. Please look at the time stamp on the story to see when it was last updated.
CLEVELAND– The Cleveland Indians appeared to be a little annoyed with so many questions about who is throwing the first pitch for the World Series. But, no more worries about that.
We now know who it will be. Major League Baseball said Kenny Lofton and Carlos Baerga will throw out the ceremonial first pitches.
Lofton will throw out the first pitch in Game 1; Baerga will throw out the first pitch in Game 2.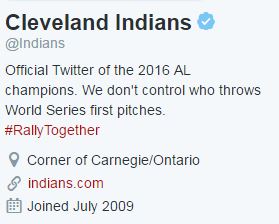 The Indians changed its Twitter bio on Monday to, "Official Twitter of the 2016 AL champions. We don't control who throws World Series first pitches. #RallyTogether."
At first, fans pushed for actor Charlie Sheen to dress as his "Wild Thing" character from the 1989 movie "Major League" for the ceremonial first pitch. While Sheen said he was willing, that idea was shut down.
So Clevelanders moved their support to Tribe super fan John Adams. For more than 40 years, Adams has been a fixture at Indians games, rallying fans with his drumming.
Once again, we now know it will be Lofton and Baerga.
Game 1 of the World Series is Tuesday night at Progressive Field. You can watch all of the action on FOX 8 News.
More stories on the Cleveland Indians here