In his 13 weeks as the Nets' head coach, Jacque Vaughn has presided over a 12-game winning streak and a seven-losses-in-11-games skid; a streak of Kevin Durant dominance that transformed the Nets into contenders and a Kevin Durant injury that sapped all momentum; a disturbing Kyrie Irving controversy and suspension followed by a scintillating Kyrie Irving renaissance; and various, befuddling iterations of Ben Simmons.
Through it all, Vaughn has consistently, unfailingly maintained the same relentlessly upbeat demeanor. There are no setbacks, just challenges to be overcome. No turmoil, just noise. No distractions, just the day-to-day rhythms of an NBA season.
It would take a considerable amount of chaos and controversy to knock Vaughn off message, or sour his sunny disposition—which is a good thing, since Vaughn's team produces almost as much chaos and controversy as it does wins.
Now it's Irving—again, of course—with a midseason trade demand that undermines everything the Nets have built, that destabilizes what was (however briefly) a viable contender, that threatens to sink another promising Nets season.
Irving wasn't even in the arena Saturday night for the Nets' 125–123 victory over the Wizards, having been officially ruled out because of "calf soreness"—an injury report scribbled with salt granules. Durant missed his 11th straight game with a sprained knee. Simmons missed his fourth straight game, also with knee issues.
Faced with this objectively dire situation—and the very real possibility that Irving might never play for the Nets again—Vaughn settled into his pregame press conference Saturday afternoon, pressed a smile through that voluminous salt-and-pepper beard and offered the best reassurances he could muster.
He called it "a great challenge" and a "perfect test" for his team, one he was "looking forward to." The message to his players? "What are you going to do? Are you going to step up? Are you going to show up?"
"You show up and do the work," Vaughn said. "People gonna praise you, you show up and do the work. [People] are gonna criticize, show up and do the work. People might not even notice you—show up and do the work. And that's what this group has to do."
Then the Nets proceeded to do the work, albeit belatedly and rather dramatically, falling behind by 23 points in the first half, dominating the second half, then pulling out the win in the final seconds, thanks to the clutch play of reserve guard Cam Thomas, who led them with a career-high 44 points. Edmond Sumner, another part-time rotation player, posted his own career-best of 29 points, and the Nets enjoyed a two-hour respite from the mayhem of the season.
"It's proof, it's evidence, of what we want to be as a team," Vaughn said afterward.
Along the way, the Nets lost two more key veterans, Seth Curry and Markieff Morris, to injuries, leaving them with eight players to finish the game. That's just the kind of season it's been—from a 2–6 start that cost Steve Nash the head coaching job, to Irving's flirtation with an antisemitic film, to Durant's balky knee to the latest curveball from Irving.
To a man, the Nets' players all said they were surprised by the trade demand, which most of them learned about through social media. To a man, they refrained from criticizing Irving and expressed their blanket support.
"I always respect his decision, whatever that may be," said Nic Claxton. "That's my brother. And we just gotta roll with who's here."
Asked if Irving was letting down the team, Vaughn walked a careful line.
"You have a responsibility as a basketball player, like I do as a coach," he said. "I show up, I do my job every single day. That's what I signed up for. And that's my expectations for one through 17 [on the roster]."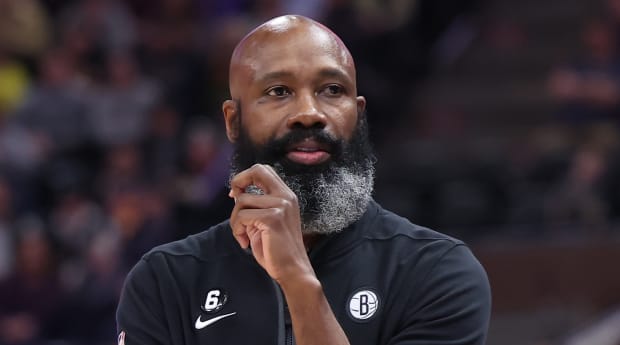 Regardless of what anyone will say publicly, Irving's latest move is a massive blow to the Nets' esprit de corps, as well as their championship hopes. Trading him almost certainly ends that pursuit. His market value is at an all-time low because of a long history of controversy and unreliability. No one in the league expects the Nets to get fair value for him. Refusing to trade Irving means bringing back an unhappy player with a habit for stirring the pot. Either way, the road ahead promises to be rocky.
The one constant, the one pillar of stability, is Vaughn, the 47-year-old former point guard with a mental catalogue of TED Talks and a positivity streak that would make Tony Robbins blush.
"Relentless positivity, every day," said Nets vet Royce O'Neale. "He has a little motto: Guys jump on and off the train. So, just the next guy up, keeping everybody locked into the game plan and controlling what you can control."
That consistency helped the Nets right the ship after their early season struggles, and elevated Vaughn from emergency replacement to coach of the year candidate.
Through it all, O'Neale said, he's never seen that steady façade crack. "Not at all. He stays the same way. I think that just tells a lot about the individual that he is, how much he cares for us just as players and people, and just wants us to do our best."
The same approach applied even to Irving's trade request on Friday. When they spoke, Vaughn said, he didn't ask for explanations or try to sway him. "There's a business side to this thing," Vaughn said, "and there's a human side to this thing. I elected to touch on the human side and check on him as an individual."
None of which comes as any surprise to those who have known Vaughn through his years as an NBA player and coach. Wizards analyst Drew Gooden, who played with Vaughn in both Orlando and San Antonio, described him as a "a bit more quiet," except when he got the ball in his hands. "That's when he really got loud. He's the epitome of the extension of a coach when he was playing."
Still, as a former player, Gooden said a star of Irving's stature making a midseason trade demand is "definitely a shock to the system."
The Nets have two more home games before Thursday's trade deadline, on Monday (vs. the Clippers) and Tuesday (vs. the Suns). It's unclear whether Irving will be back for either one, or even in the building. It's anyone's guess what this team will look like when the Nets take the home court again Thursday night against the Bulls.
But Vaughn will be there, assembling a starting five from whoever shows up, pumping them up with positivity, insisting without hesitation that everything will turn out O.K. if they just stay committed to the mission.
"Continue to show up," Vaughn said. "Show up and do the work, and you can live with what happens after that. … I'm gonna try to lead the charge and keep them focused. And I have full energy and belief that this group will continue to thrive."