There's just one letter in the alphabet that doesn't appear in any U.S. states name.
A hummingbird weighs less than a penny.
Donald Duck comics were banned in Finland because he doesn't wear pants.
The New York Yankees have won a combined 27 World Series championships. No other team in Major League Baseball has won more than 11 (St. Louis Cardinals).
The Flintstones were originally called The Gladstones, and then The Flagstones.
The first toy ever advertised on television was Mr. Potato Head.
A wood frog can hold its pee for up to eight months.
Superman wasn't capable of flying in comic books until the 1940s.
Those are a few interesting facts you might not know.
Now for some things you might find even more interesting: Here are your 101 Fantasy Football Facts from what was a very challenging and difficult 2022 NFL season.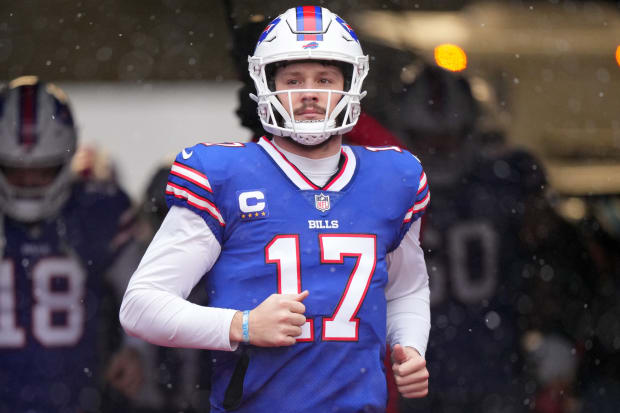 Quarterbacks
1. It was a down season for the quarterback position from a statistical perspective. Just four players averaged more than 20 fantasy points per game, which was down from nine last season. We also saw only four signal-callers throw for 30-plus touchdowns. That's also down from the nine who hit that same mark in 2021.
2. Among the top 12 quarterbacks drafted based on average draft position (ADP) data, just six actually finished in the top 12 in fantasy points. The players who failed to meet expectations include Lamar Jackson, Kyler Murray, Aaron Rodgers, Russell Wilson, Matthew Stafford and Dak Prescott. Tom Brady (12th) barely made it.
3. Patrick Mahomes threw for 5,250 yards and produced 45 total touchdowns, which amounted to 417.4 fantasy points. That broke the previous single-season record for quarterbacks, which was 417.1 points … held by Mahomes. His passing yards ranks fourth all time, and his 41 touchdown passes ranks tied for 12th all time.
4. Mahomes recorded the best season ever for a quarterback based on fantasy points without his top option in the Chiefs passing game last season, Tyreek Hill. In 55 regular-season games played with Hill where the wideout saw at least 20 snaps, completed passes between the duo made up for 34% of Mahomes's total fantasy point totals.
5. From 2018-21, Mahomes completed 250 big plays (passes of 20-plus yards). Hill was on the receiving end of 85, or 34% of those passes. He averaged 62.5 big plays in that timeframe. Without Hill in 2022, Mahomes had 73 big plays. That's 15 more than he had in Hill's final season with the Chiefs. Quite an accomplishment.
6. Mahomes has now scored 1,867.9 fantasy points in his 80 regular-season games. That ranks 32nd all time. Among the 32 quarterbacks on the list, no one else has reached that level in fewer than 143 games (Mike Vick). Mahomes's 23.4 fantasy points per game average is the most among any quarterback in the history of the NFL.
7. Josh Allen scored 395.5 fantasy points this season, which ranks third-best in his career. However, his 24.7 fantasy points per game average was tied for the most he's scored. Had Allen played in all 17 games, he might have outscored Mahomes and set a single season record for fantasy points scored by an NFL quarterback.
8. In the last three years, Allen leads all quarterbacks with 1,194.2 fantasy points. Mahomes is second with 1,153.5 points. Allen has rushed for 21 touchdowns in those 49 combined games, which ranks second among quarterbacks. The lone quarterback with more rushing touchdowns in that time is … Jalen Hurts.
9. Hurts, who is coming off a breakout season on the field and in fantasy football, has rushed for 26 touchdowns in his first 45 games (34 starts). Believe it or not, that already ranks tied for 15th among all quarterbacks in the Super Bowl era. If he continues to score rushing touchdowns at his current high pace, Hurts will catch the current career leader in the category, Cam Newton, in another four seasons.
10. Joe Burrow finished fourth in fantasy points among quarterbacks, recording 40 total touchdowns and 350.7 points. He has now scored a combined 838.7 points, which ranks eighth among quarterbacks in their first three years in the league. The signal-caller with the most points in his first three NFL seasons is Justin Herbert, who has produced 994.9 fantasy points (20.3 PPG) with the Los Angeles Chargers.
11. Geno Smith finished fifth in fantasy points among quarterbacks, posting career bests across the board. That includes throwing for 4,282 yards, which set a new Seahawks franchise record. Smith's average draft position was 228th or the QB31, so he was one of the best draft values or waiver wire adds in fantasy football.
12. The quarterback Smith replaced in Seattle, Russell Wilson, had an ADP of 71.6 or the QB7. He went on to have the worst season of his career, throwing for a mere 16 touchdowns with 11 interceptions. He'd never thrown for fewer than 25 touchdowns. His 225.8 points was the lowest of his career and was 78.1 fewer points than Smith scored. Again, Smith was selected 156.4 spots below Wilson.
13. Justin Fields had an awful start to the season, scoring a combined 37.5 fantasy points in his first four games. That ranked 31st at the position, below the likes of Mitchell Trubisky, Jameis Winston, Joe Flacco, Cooper Rush and Davis Mills.
14. The light went on for Fields after that, however, as he led all quarterbacks in fantasy points over the next five weeks. His points per game average went from under 10 in the first four weeks to almost 26 in his next five contests. During that time frame, he rushed for 455 yards and recorded a combined 11 touchdowns.
15. Fields would finish sixth in fantasy points among quarterbacks, and only Hurts, Allen, Mahomes and Burrow averaged more points per game at the position. That's pretty impressive considering his first four games were complete fantasy stinkers.
16. Trevor Lawrence looked like a different quarterback compared to his rookie season, throwing for 4,113 yards and scoring 30 touchdowns. That's 472 yards and 16 more total scores than he had in 2021. Lawrence also finished with nine fewer interceptions, and his points-per-game average increased by almost six. He also scored 20-plus points six times. He had just one such performance as a rookie.
17. Jared Goff finished a surprising 10th in points among quarterbacks, averaging 16.7 points per game. He was far better at home, however, throwing for 23 touchdowns with three interceptions while averaging 21.4 points. As great as Goff was at home, he was equally bad on the road. In fact, he threw for six touchdowns with four interceptions and averaged 11.5 fantasy points away from Ford Field.
18. Justin Herbert has recorded more fantasy points than any quarterback in NFL history in his first three seasons, but his third campaign was a disappointment. His passing yards and touchdowns declined, and his fantasy point total decreased by almost 100 points compared to last season. He did deal with injured ribs and was without his top wideouts (Keenan Allen, Mike Williams) for part of the season, but his QB11 finish was certainly a major surprise for fantasy football managers.
19. Tom Brady is coming off a down season from a fantasy perspective, scoring just 271.7 points. That's 103 fewer points than he scored in 2021 and is his lowest point total since leaving the New England Patriots after the 2019 season. His 25 touchdown passes was also the fewest he's thrown in a single season since he had 24 TDs in 2019.
20. Brady's 271.7 fantasy points ranks sixth among quarterbacks of at least 40 years of age. He now holds seven of the top eight spots at the position among all signal-callers at that age. The lone other player on the list is Brett Favre, who scored 283.6 points as a member of the Minnesota Vikings at age 40 back in 2009.
21. Aaron Rodgers finished as the QB13 this season, posting 239.2 fantasy points. That's his lowest total since 2019, when he scored 278.4 points. What's more, it's also Rodgers's worst fantasy season in which he didn't miss at least seven games. He also threw 12 interceptions, which is the second-highest total of his career. The biggest difference? Rodgers didn't have superstar wideout Davante Adams.
22. Rodgers didn't score more than 19.4 fantasy points in a game this year. What's more, he scored fewer than 17 points in all but two games. He scored 20-plus points nine times a season ago, and he failed to hit the 17-point mark just four times. Rodgers also failed to throw for more than two scores in all but one 2022 game.
23. Lamar Jackson averaged a very respectable 19.7 fantasy points this season, but he once again missed five games (for the second straight season). He was on pace to rush for 1,000-plus yards for the third time (as he was in 2021), but Jackson's injury woes are becoming a cause for concern. While he's still in the prime of his career, the mobile quarterback can no longer be considered an elite fantasy option.
24. The 2022 season was not a good one for rookie quarterbacks. Pittsburgh's Kenny Pickett was the leader in fantasy points, but he scored just 11.5 points per game in his 12 starts. He also had a mere seven touchdown passes. The best first-year signal-caller on a points-per-game basis was Brock Purdy, who was the "Mr. Irrelevant" in the 2022 NFL draft. He averaged 11.8 points in his nine games.
25. Purdy, who took over the starting job in San Francisco after Jimmy Garoppolo was injured (Week 13), averaged a stout 18.2 fantasy points in his five starts. What's more, the rookie finished sixth in points among quarterbacks from Weeks 14-18.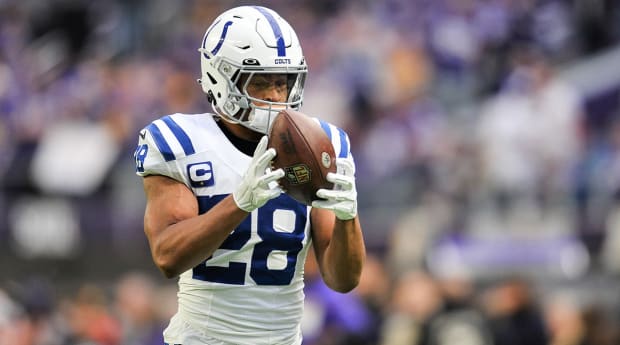 Running Backs
26. Jonathan Taylor was the consensus No. 1 overall pick in most 2022 fantasy drafts, but he failed to meet expectations (that's an understatement). He missed six games due to injuries and averaged 13.3 points in the 11 games in which he was active. That's 8.6 points per game fewer than he scored during his breakout 2021 year.
27. Over the last three seasons, Taylor (2022) and Christian McCaffrey (2021, 2020) have been the consensus No. 1 overall fantasy picks. Taylor finished as the RB33, and CMC ranked as the RB38 (2021) and RB54 (2020). Since 2017, the consensus No. 1 overall pick (all running backs) has finished outside of the top 30 at the position four times. In three of those seasons, the runner missed time with injuries.
28. Based on 2022 ADP data, Taylor, Derrick Henry, McCaffrey, Dalvin Cook, Nick Chubb, Austin Ekeler, Najee Harris, D'Andre Swift, Alvin Kamara and Aaron Jones were the top 10 selections among running backs. Taylor, Cook, Harris, Swift and Kamara all finished outside of the top 10 at the position based on PPR leagues. So, 50% of the projected top 10 running backs failed to meet those expectations.
29. Cook did finish just outside of the top 10 backs (RB11), but he saw his fantasy points per game average drop from 15.9 to 14 in 2022. His points-per-game totals have now dropped in three straight seasons, as has his yards per rush average. Heading into his age-28 season, Cook won't be more than a No. 2 back in 2023.
30. Ekeler finished as the No. 1 running back in fantasy football in 2022, posting 107 catches, 1,637 yards, 18 total touchdowns and 372.7 points. He has now finished in the top three among running backs in two straight seasons, during which time he has averaged more than 21 fantasy points. Ekeler is also the lone player at his position to score more than 300 fantasy points in each of the last two seasons.
31. McCaffrey, who had played in just 10 games over the previous two seasons, avoided injuries and finished second in fantasy points among backs. He found the end zone 13 times between Carolina and San Francisco, and his 1,880 scrimmage yards was third behind Josh Jacobs and Derrick Henry. CMC has now scored over 350 fantasy points in each of his last three full seasons and has averaged over 20 points per game in four of his last five seasons. He'll be a top-three pick in most 2023 fantasy drafts.
32. While CMC will be a high draft pick next season, there are some stats that are a bit worrisome. In four games played with Elijah Mitchell, McCaffrey had just three more carries (42 to 39) and saw one fewer red-zone look. Mitchell has not been very durable in his short NFL career, but his presence could lower McCaffrey's ceiling.
33. Much like McCaffrey, Saquon Barkley also avoided injuries and re-established himself as an elite fantasy running back. After missing 18 games in his previous two seasons, Barkley played in 16 games and posted a career-best 1,312 rushing yards. His 284 points is the second-best total of his career, and his 352 touches equaled what he received as a rookie. Barkley also saw his yards per rush average rise nearly a full yard compared to his 2021 totals. Barkley is locked in as a top-8 pick in 2023 drafts.
34. Henry rushed for more than 1,500 yards for the third time in his last four years, and he's now scored more than 290 fantasy points three times since 2019. He also rushed for 13 touchdowns this past season and has now scored a combined 70 total touchdowns over the last five years (71 regular-season games). No other running back in the NFL has scored more than 58 touchdowns during that period of time.
35. Henry also leads all running backs in rushing yards (7,101), scrimmage yards (8,072) and ranks fourth in fantasy points (1,325) in the last five seasons. He is also the league leader in rushing attempts during that time, seeing 1,464 carries (or an average of 20.6 carries per game). If we include postseason carries, Henry's total swells to 1,584 carries (20.9 per game). That's a ton of work for any running back.
36. Henry had 382 touches this season, which is the most of any running back at age 28-plus over the last decade. Only four other backs have had more than 340 touches in that age range: Matt Forte (2014), Adrian Peterson (2015), DeMarco Murray (2016) and LeSean McCoy (2017). All four of those backs saw a decline of at least 106 touches the following season. Does the same fate await Henry in 2023?
37. In 2020-21, Henry averaged 4.6 yards per rush in the first half of games. That number jumped to 5.3 yards per rush in the second half, which shows that Henry seemed to get stronger and more productive as the game wore on. That was not the case in 2022, however. Henry averaged 5.3 yards per rush in the first half and 3.4 yards per rush in the second half, which is the biggest drop in the last four years.
38. Three of the top 10 fantasy running backs (Josh Jacobs, Rhamondre Stevenson and Tony Pollard) were selected outside of the top 40 overall picks at the position. The most prominent of the trio was Jacobs, who had an ADP of 42.7 and was the RB23 on average in drafts. He finished third in PPR points among running backs.
39. Jacobs finished with career bests in rushing yards and scrimmage yards and tied for a personal best with 12 total touchdowns. His 1,653 rushing yards and 2,053 scrimmage yards both led the league, and his 328.3 fantasy points bested his previous career high by nearly 100 points. Jacobs is slated to become a free agent this offseason, but he's likely to be a top-15 pick in most 2023 fantasy drafts.
40. Jamaal Williams finished 13th in fantasy points among running backs, rushing for 1,066 yards and 17 touchdowns. Those 17 rushing scores set a new franchise record for a Lions running back, breaking the old mark of 16 set by the great Barry Sanders back in 1991. Billy Sims is the only other Detroit runner to rush for more than 11 touchdowns in a single season, and he hit that mark twice (1980, 1981).
41. Williams, on average, was the 54th running back drafted, behind Trey Sermon, Kenneth Gainwell, Marlon Mack, Mark Ingram, Nyheim Hines and Ronald Jones.
42. Williams was a great draft value, but Jerick McKinnon might have been the best bargain among running backs. He was the RB65 based on average draft position data, behind the likes of D'Ernest Johnson, Zamir White, Tyron Davis-Price and Sony Michel. McKinnon finished as the RB20 overall, but he was the RB2 from Weeks 14-18. In fact, the lone back to outscore him in that time was McCaffrey.
43. Najee Harris was one of the bigger disappointments in fantasy football, scoring just 223.5 points in PPR formats. That was down more than 70 points compared to the 300.7 points he scored as a rookie. The biggest decline came as a pass catcher, as Harris saw his targets drop from 94 to 53 and his receptions fall from 74 to 41. His quarterback, Kenny Pickett, averaged just 5.5 pass attempts to running backs. That ranked 17th among quarterbacks who played in at least eight games in 2022.
44. Alvin Kamara's time as an elite fantasy runner is in the rearview mirror. In his final season with Drew Brees under center (2020), Kamara saw 107 targets, caught 83 passes and found the end zone 21 times en route to 377.8 fantasy points. In his last two seasons, both without Brees, Kamara has averaged 72 targets, 52 catches and scored a combined 13 touchdowns while averaging a mere 223.2 points.
45. Kamara, who is entering his age-28 season, has recorded single digits 10 times in his last 28 games between 2021-22. He had three such performances in the previous two years, mostly playing alongside Brees and spanning 29 games.
46. Fantasy fans looking for a potential breakout player next season should draft Breece Hall. The rookie started the season off slow, but he caught fire before an injured knee cost him the final 10 games. From Weeks 3-6, Hall scored 78.8 points in PPR formats. That was the sixth most among runners during that time.
47. Hall also averaged 16.4 fantasy points per game in his seven games combined, which ranks eighth among backs who played in at least seven contests. He also averaged a bananas 5.8 yards per rush and had a rush of at least 14 yards in every game. That list of runs includes a 23-yard run, a 34-yard run and a 62-yard run.
48. Another rookie runner, Kenneth Walker III, also had a slow start to the season but went on to become a star. After carrying the ball just 15 times total in his first three games, an injury to Rashaad Penny opened the door for him to see a featured role. In Weeks 5-18, Walker averaged nearly 18 attempts and 15.8 fantasy points.
49. During that nine-week stretch, Walker ranked 10th in fantasy points scored per game average among running backs who played in at least nine games. He also ranked fifth in terms of touches per game (19.5), tied for eighth in touchdowns and 11th in broken tackles among runners. He'll be a top-36 pick in 2023 drafts.
50. Sticking with the theme of rookie runners, Tyler Allgeier is also a potential bust-out player to watch next season. He finished just 29th in fantasy points among all backs but rushed for over 1,000 yards and was a strong option down the stretch. In fact, Allgeier was the fifth-best runner over the last four weeks of the regular season.
51. Allgeier also proved that he could handle the role of a featured back, averaging 19.8 carries and 21.3 touches per game during that four-week span. The lone backs with more carries in that time were Derrick Henry, Walker, Najee Harris and Kamara.
52. Cam Akers also came on very strong late in the season, scoring the fourth-most points among running backs in the fantasy playoffs. He averaged 20 touches and a bananas 5.7 yards per rush attempt in that time, making Akers a real league winner.
53. Akers' emergence came as a surprise, as he was the RB53 in the first 14 weeks while averaging a gross 5.8 points per game. He also averaged just 10.6 touches in those first 11 contests, not to mention a weak 3.3 yards per rush average. Whether he was closer to 100% after an Achilles tendon repair at that late stage of the year or not, Akers's stock is on the rise. He could end up being an RB2 in 2023 drafts.
54. Miles Sanders finished 15th in fantasy points among running backs, but he was one of the most inconsistent players at his position. More than 41% of his points were scored in just three games. He scored 29.6 points against the Jaguars in Week 4, 31 points vs. the Packers in Week 12 and 28.5 points against the Giants in Week 14. That made up for 89.1 of his career-high 216.7 fantasy points on the season.
55. Sanders was actually really bad just as often as he was good. He scored single digits eight times, including in each of the last four weeks of the year. What's more, Sanders was an awful 52nd in fantasy points among backs in the fantasy playoffs.
Wide Receivers
56. A total of six wide receivers finished with at least 299 fantasy points this season, including three who scored more than 335 points. The number of wideouts who have scored at least 299 fantasy points has increased in each of the last four years, going from just one in 2019 to three in 2020 to five in 2021 and six this past season.
57. Over the last decade, there's only been one season with more 299-plus point wideouts. That came in 2018, when we had seven: Tyreek Hill, DeAndre Hopkins, Davante Adams, Julio Jones, Antonio Brown, Michael Thomas and Adam Thielen were all able to reach that mark, and five of them scored more than 320 points.
58. Justin Jefferson led all wide receivers in fantasy points this season with 368.7 points. His point totals have now increased in each of his three seasons in the NFL. The talented Jefferson has now scored more fantasy points than any other wideout in his first three NFL seasons with 973.3. He surpassed the previous record that was set by Randy Moss, who scored 914.6 points in his first three NFL seasons. Of course, Jefferson played in two more games than Moss to surpass his record.
59. Jefferson led all wide receivers in fantasy points, but he didn't lead the position in points scored per game average. That was Cooper Kupp, who averaged 22.4 points for the Rams. Kupp, who set an NFL record with 439.5 fantasy points in 2021, was on pace to score 380.5 points before he was injured and missed the final eight games. That total would have put Kupp ahead of Jefferson for the seasonal lead.
60. Hill left Patrick Mahomes and the high-powered Chiefs offense for South Beach in the offseason, which led countless fantasy managers worried about his value. He went on to post career bests in catches, receiving yards and fantasy points catching passes from Tua Tagovailoa, Teddy Bridgewater and even Skylar Thompson. He's proof that a super-talented wideout doesn't need a high-end quarterback to thrive.
61. Hill's presence in the offense didn't diminish the value of Jaylen Waddle, which was feared in the preseason. Instead, Waddle finished with career highs in catches, yards and fantasy points. He accomplished those feats despite the fact that he scored 10.3 or fewer points in four of his last six games of the regular season.
62. Hill and Waddle also finished first and second, respectively, among all wideouts in terms of big plays of 50-plus yards. Hill did it four times and Waddle did it three times. Waddle was tied with five other players with three plays of 50-plus yards with A.J. Brown, Mike Evans, Garrett Wilson, Jerry Jeudy and … Rashid Shaheed.
63. Adams also left his old team in the offseason, leaving the frozen tundra of Green Bay for the bright lights of Las Vegas. Despite the downgrade in quarterback from Aaron Rodgers to Derek Carr (mostly), Adams still finished third in points at his position. He scored 335.5 points and has now hit the 300-plus point mark in each of his last three seasons. Even at age 30, Adams showed no signs of regression.
64. Amon-Ra St. Brown has quietly had one of the best starts to an NFL career of any wide receiver. He posted career bests in catches, yards, touchdowns and PPR points, finishing seventh in points at the position. His 196 combined catches is tied with Jefferson and Michael Thomas for the most for any wideout in his first two NFL seasons. His 292 targets is the most any receiver has seen in his first two years.
65. Ja'Marr Chase finished 11th in fantasy points among wide receivers, but he was fourth in terms of points-per-game average. Remember, he missed five games with an injured hip. Had he not missed time, Chase would have projected to score 343.4 fantasy points. That would have ranked him third at wideout behind Jefferson and Hill but ahead of Adams. Chase will be a top-5 overall selection in 2023 drafts.
66. Fantasy managers should give Amari Cooper a lot of credit, as he finished 10th in PPR points despite playing in a run-based offense and with a backup quarterback for most of the campaign. Cooper's 246 fantasy points is just .50 points fewer than his NFL career best, which he set in 2019 as a member of the Dallas Cowboys.
67. Cooper posted 57 catches, 792 yards, seven touchdowns and averaged 16 points in 11 games with backup Jacoby Brissett under center. Over his final six games, all with Deshaun Watson at the helm, Cooper averaged just 11.6 points.
68. Christian Kirk was paid a massive four-year, $72 million deal with the Jaguars last offseason, which seemed like a lot for a player who had never had a 1,000-yard season or scored more than six touchdowns. Well, he went on to produce career highs across the board en route to a 241.9-point season and a WR12 finish. He was targeted a ton, seeing 133 looks – 25 more than his previous career best (108).
69. You would think Kirk's draft value would be on the rise after a big season, and to some degree it will increase. Just keep in mind that the Jaguars will also have Calvin Ridley, who'll be just 28 this season and saw 143 targets in his last full campaign in Atlanta. While he's played just five games in the last two years, Ridley is still a major threat to Kirk's targets … even if the team parts ways with veteran Marvin Jones.
70. Mike Evans recorded 1,124 receiving yards this season, making it nine straight years where he's recorded 1,000-plus yards. That's an NFL record. Unfortunately, Evans scored just six touchdowns after posting a combined 27 in the previous two years. What's more, three of those six touchdowns came in just one game. If the Bucs lose Tom Brady, Evans's 1,000-yard streak and touchdown potential could be in jeopardy.
71. Deebo Samuel experienced an enormous decline in statistical success in 2022, seeing the majority of his numbers drop across the board. He did miss four games due to injuries, but Samuel also averaged 8.2 fewer points per game than he did during his breakout 2021 campaign. Overall, he finished as the WR37 in all PPR leagues.
72. Despite missing four games, Samuel still led all wide receivers in broken tackles with 15. It's the second straight season he's led his position in that category, but it's also due in part to playing running back more than any other wideout. CeeDee Lamb finished second behind Samuel in broken tackles for the second straight year.
73. DeAndre Hopkins played in just nine games this season due to a suspension and injuries, and he's now missed 15 games over the last two years. Hopkins was productive when he did suit up, however, averaging 16.9 fantasy points. That ranked ninth at the position among players who saw at least nine games of action. Hopkins will be 30 this year, and reports suggest the Cardinals could look to move him this offseason. Still, he'll likely remain a borderline No. 1 or 2 fantasy wideout in 2023.
74. Michael Thomas played in just three games this season and has now missed all but seven games in the last three years due to injuries. After scoring a career-best 374.6 points in 2019, Thomas has now scored a combined 135 points in the last three years combined. He did average a very solid 17 fantasy points in his three 2022 games but missing another 17 games makes Thomas a huge risk in drafts.
75. Diontae Johnson is coming off his worst fantasy season since his rookie year, averaging 10.6 fantasy points per game with the combination of Mitchell Trubisky and rookie Kenny Pickett. That's nearly seven points per contest fewer than he averaged last season with former starter Ben Roethlisberger under center.
76. Johnson did catch 86 passes, which ranked 13th among wide receivers, but he failed to score a single touchdown. That's the most catches a wide receiver has had in a season without scoring a single touchdown during the Super Bowl era. The player that he "passed" for this "record" is Al Toon, who had 74 touchdown-less catches in 1991.
77. Allen Robinson was arguably the biggest bust in fantasy football in 2021, and he was pretty bad once again this past season. Even in Los Angeles with an upgrade at quarterback in Matthew Stafford, Robinson still posted a gross 339 receiving yards and missed seven games due to injuries. With two stinker seasons in the stat sheets and health and production questions about Stafford, Robinson's stock has sunk.
78. Garrett Wilson started his rookie campaign slowly overall, averaging 10.2 points in his first seven games. That includes five games where he scored in single digits. Wilson was also 22nd in targets among wide receivers, averaging 7.4 per contest.
79. Wilson went off over his final 10 contests, however, posting 17-plus points five times and ranking as the WR14 in that time. He saw his targets per game average rise 9.5 per contest as well. In all, Wilson finished as the highest-scoring rookie at both the wide receiver and running back positions with 215.7 fantasy points.
80. Wilson's 215.7 fantasy points is also the most of any rookie wide receiver or running back in the history of the Jets franchise. He broke the previous record of 197.4 points, which was set by Keyshawn Johnson during his rookie year of 1996.
81. The second-best rookie wideout based on fantasy points was Chris Olave, who scored 198.2 points and finished as the WR34 overall. While he had his ups and downs, Olave did score 15-plus points six times and recorded 1,042 yards. That's the second-most yards by a Saints rookie wideout, behind Thomas's 1,137 in 2016.
82. Wilson and Olave were the lone rookie wideouts to score more than 190 points in 2022. Over the last decade, we've had two or fewer rookie wide receivers hit that mark seven times. Three rookies scored 190-plus points in 2021, and four reached that total in 2019. The most first-year receivers to make that mark is five, which came in 2014. That season saw Odell Beckham Jr., Mike Evans, Kelvin Benjamin, Jordan Matthews and Sammy Watkins all score more than 190 fantasy points.
83. Christian Watson, another rookie wideout, finished 10th in fantasy points at the position over the final nine weeks of the season. He found the end zone seven times in those eight games, which tied (ironically) former Packer Davante Adams. The first-year wideout caught a touchdown pass on 13.5% of his catches during that time.
84. Fantasy fans looking for a potential sleeper next season should remember the name K.J. Osborn. He ranked eighth in points among wideouts during the fantasy playoffs with 27 targets, 20 catches, 233 yards and three touchdowns. He also found the end zone in Minnesota's postseason loss to the Giants. With Adam Thielen heading into his age-33 season, Osborn could become a bigger option in 2023.
85. A total of 19 wide receivers finished with at least 900 offensive snaps this past season. The lone players who didn't average double-digit fantasy points among those players were Donovan Peoples-Jones (9.8 PPG), Mack Hollins (9.1 PPG) and Parris Campbell (8.8 PPG). Believe it or not, Peoples-Jones played the fourth-most snaps of any wide receiver and still finished just 39th in total fantasy points.
Tight Ends
86. The tight end position was a complete nightmare to predict this season. In fact, 53 different players finished in the top 10 in fantasy points from Weeks 1-17. That list includes the likes of Colby Parkinson, Brock Wright, Shane Zylstra, Josh Oliver and Mitchell Wilcox. None of those players (and many others) were on the radar.
87. The top-10 tight ends based on fantasy points includes four players who had an ADP of 128.5 or lower, including Cole Kmet (ADP - TE14), Tyler Higbee (TE20), Evan Engram (TE24) and Taysom Hill (TE32). Five others, Travis Kelce (TE1), Mark Andrews (TE2), George Kittle (TE4), Dalton Schultz (TE8) and T.J. Hockenson (TE9) all had ADP values within the top 10 and were able to meet expectations.
88. Kelce hauled in a career-best 110 catches and 1,338 yards (second best of his career) at the age of 33. Jason Witten and Dallas Clark are the only other tight ends to post over 100 catches at age 30 or older in NFL history, and Kelce now holds the top three spots in terms of all-time receiving yards for tight ends at age 30 or older.
89. Kelce finished as the No. 1 tight end in fantasy football, scoring 316.3 points. It's the sixth time in the last seven seasons that he's been the top scorer at the position. Kelce scored 100.9 more points than the next best tight end, Hockenson. That's the biggest gap between the No. 1 and No. 2 tight ends in at least the last 31 years. Tony Gonzalez scored 89.3 more points than Shannon Sharpe in 2000.
90. Kelce now ranks fourth all-time in career fantasy points at the tight end position with 2,270. He is still 557.1 points behind Antonio Gates, who is third all time, and 1,240.7 points behind the leader in this category, Gonzalez. Kelce, however, has played in 92 fewer games than Gates, 127 fewer games than Witten (who ranks second all-time among tight ends) and 126 fewer games than Gonzalez.
91. If we use Kelce's points per game average (15.8 PPG), which is the most all time, and multiply it by the number of games Gonzalez played (270), he will project to score 4,266 points. That would make him the NFL leader by 755.3 points.
92. Andrews finished fourth in fantasy points among tight ends, scoring 190.5 points. That's 110.6 fewer points than the 301.1 he had during his bananas 2021 campaign. His 12.7 points a game from this past season is actually more in line with his prior two campaigns (2019-20), when he averaged 13 points in 29 games overall.
93. Hockenson recorded the second-most points among tight ends, averaging a career best 12.7 points in his 17 games. He averaged the fifth-most points in his first seven games as a member of the Detroit Lions but moved up to second over the final nine games as a member of the Minnesota Vikings. Hockenson averaged two more points per contest after being traded, not to mention 3.3 more targets.
94. Hockenson played more snaps (981) and more snaps on passing downs (652) than any tight end in the league. Kelce was second in both categories. The player with the third-most snaps on passing down was … Tyler Conklin. Unfortunately for his fantasy prospects, he was targeted on just 15.7% of those passing downs. By comparison, Hockenson was targeted on 20% of pass snaps and Kelce on 24.7%.
95. Kittle averaged 10.7 fantasy points over his first 10 games of the season with Trey Lance and Jimmy Garoppolo at the helm. He scored just four touchdowns in that time, not to mention he finished with single-digit points seven times.
96. Over his final five games, all with Brock Purdy under center, Kittle averaged a league-high 18.7 points. He scored seven touchdowns in that time, and he scored single digits points just once. Kittle was a fantasy postseason hero too, as he put up five touchdowns and averaged a bananas 22.5 fantasy points in Weeks 15-17.
97. Pitts was the third tight end selected on average in 2022 drafts, but he finished outside of the top 30 in points. While he did miss seven games with an injured knee, he had just 28 catches for 356 yards and two touchdowns beforehand. If we project those numbers over 17 games, Pitts would have finished with a pitiful 128.5 points. That would have ranked him as the TE17 behind Conklin and Juwan Johnson.
98. Darren Waller was the fifth tight end drafted on average, but he finished just 31st at the position. He missed eight games due to injuries and averaged a mere 9.4 points, which ranked 10th at the position. Waller has now missed 14 games over the last two seasons, and his fantasy points totals have now declined in three straight years.
99. In the first nine weeks of the season, Zach Ertz averaged 12.6 fantasy points and ranked third among tight ends in PPR formats. Kelce was the lone player at the position with more targets in that time. Unfortunately, he suffered a serious knee injury in Week 10 that cost him the remainder of the 2022 campaign. Still, Ertz did rank sixth in points-per-game average among tight ends with at least 10 games.
100. Engram averaged just 4.7 targets and 7.3 points over his first 11 games and was the TE17 in that time. Over the final six weeks, however, the veteran averaged 7.7 targets and 16.1 points. His 96.3 points ranked second in that time behind Kittle. In all, Engram finished his first year with the Jaguars with a career-best 176.9 points.
101. Fantasy managers looking for a potential sleeper next season should keep the name Chigoziem Okonkwo in mind. Over the final six weeks of the year, he scored 10 fantasy points per game and ranked seventh at the position with 59.9 points. He also averaged a very respectable 2.6 fantasy points per touch during that time.
---
Michael Fabiano is an award-winning fantasy football analyst on Sports Illustrated and a member of the Fantasy Sports Writers Association (FSWA) Hall of Fame. Click here to read all his articles here on SI Fantasy. You can follow Michael on Twitter, Facebook, YouTube, and Instagram for your late breaking fantasy news and the best analysis in the business!