The Jets are absolutely right to want Aaron Rodgers, one of the best players in NFL history, and Rodgers was wise to choose the Jets, who would have won at least 10 games with competent quarterbacking last year. I love this fit. Now all the Jets have to do, after they consummate a trade with Green Bay, is move the team.
Rodgers in New York will be a science experiment designed to test the limits of human nature, and not in the way Rodgers seems to enjoy. This will be the opposite of a darkness retreat. Controversial stars in New York are forced to stand under a bright light 24 hours a day, seven days a week. Everything they do gets scrutinized.
Rodgers could be the best quarterback the Jets ever had and the least suited to play in New York. He hears everything and bristles at a lot of it. For this to work, one of two things has to happen: Either Rodgers needs to completely change his personality, which is not realistic (or fair to ask), or he needs to play so exceptionally well from the first snap that nothing else seems to matter.
He is capable of that kind of play. Rodgers is only one year removed from winning his second consecutive MVP, and he will be highly motivated to prove he is not done. The Jets will run a scheme to suit him, with an offensive coordinator, Nathaniel Hackett, that he adores, and they should have at least two of the brightest young skill position players in the game: receiver Garrett Willson and running back Breece Hall.
That all sounds good. But what happens when Rodgers spouts a conspiracy theory, takes shots at reporters on The Pat McAfee Show, dates a famous actress and has a lousy game? That's not some wild hypothetical. It was a typical week for Rodgers last season.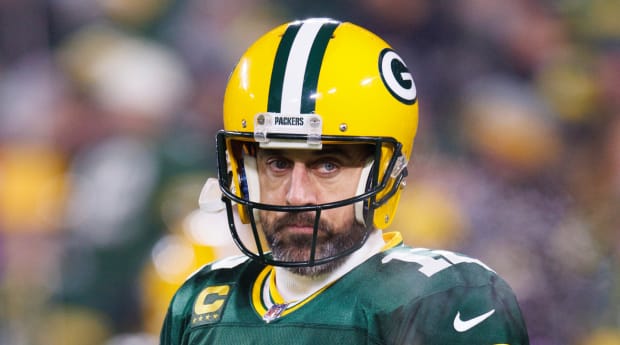 It's not like Rodgers is coming straight from Butte College. The Packers are one of the NFL's marquee franchises, and they have a more fervent following than the Jets. But the nature of the following is quite different.
Try to intimidate the media in Green Bay, and you'll have some success. Try it in New York, and you'll have problems. The two athletes who thrived there most in the modern-media age, Derek Jeter and Eli Manning, both understood this. Jeter didn't care for the scrutiny but was too smart to feed the mob. Manning had pretty much the same demeanor every day of his career.
Rodgers? He called a well-reported Athletic story a "nothingburger." He implied that the U.S. shot down a Chinese spy balloon to distract people from Jeffrey Epstein's client list.
He thinks he knows more about COVID-19 than infectious-disease specialists. He tried to outsmart everybody by answering a question about his vaccination status with "yeah, I've been immunized" rather than saying he declined the shot. He claimed "one of the main [NFL] doctors said it's impossible for a vaccinated person to get COVID or spread COVID," a preposterous statement.
Oh, and one of his former backups, DeShone Kizer, says Rodgers is a Sept. 11 conspiracy theorist. Does Rodgers have any idea how that would play in New York? Does he realize that somebody is almost certain to ask him about it?
Rodgers seems to see his appearances on McAfee's show as a chance to tell the unvarnished truth. But he often sounds petty, vindictive and detached from reality, and he creates more controversies than he quashes. For his own sake, Rodgers should tell McAfee to lose his number until he retires or leaves the Jets. He should hire somebody to advise him on dealing with the media and actually listen to them. And even if he does all that, this will be a challenge for him.
In Green Bay, Rodgers could date Danica Patrick, Olivia Munn and Shailene Woodley without worrying about what local tabloids said about it. In New York, his dating life will be catnip. This would annoy most celebrities, understandably, and it will almost certainly annoy Rodgers. But acting annoyed will only make it worse. That might not be right, but it's reality.
Then there is the inevitable criticism of Rodgers's play. Yes, he is the man who told everybody to "relax" and said the Packers could run the table, which they did. But even by the standards of star quarterbacks, for whom psychological imbalance is considered a positive attribute, Rodgers takes slights extremely seriously. He took his draft fall at least as personally as Tom Brady took his, and Rodgers was drafted in the first round!
The Jets have to do this. Even if Rodgers finds a podcast host or Reddit thread telling him to eat poison ivy, soak his eyes in deer blood and throw left-handed, he will still be better than Zach Wilson. Rodgers at his best is a breathtaking player. But the disaster potential here is real, and it goes far beyond his ability to play football.
In the past few years, Rodgers was pretty clearly searching for something—some kind of answer, some sort of emotional equilibrium, something spiritual. Good for him. Unfortunately, he looked in a lot of the wrong places and came away with some disturbing beliefs. Sometime between now and September, he will be headed to New York, and he might not like what he discovers there.