If you think Nikola Jokić is the league MVP, you hate Joel Embiid.
If you're Team Embiid, you're dismissive of Jokić.
If you would cast your hypothetical ballot for Giannis Antetokounmpo, you think those who don't should spend more time watching games up in Milwaukee.
With the NBA's regular season winding down, so too is one of the most toxic MVP debates in memory. Fans and some research-averse talking heads are not just supportive of who they believe to be MVP. They are determined to tear down the competition. Voters who cast ballots they disagree with, they reason, should not be voting at all.
On Monday, hours before Embiid submitted an MVP-caliber performance in a double-overtime loss against the Bulls, Sixers coach Doc Rivers, whose boss, Daryl Morey, does his share of stirring the pot, lamented the state of the MVP debate.
"Can we stop trying to put people down?" Rivers asked. "We should be celebrating our guys in the league. Giannis, Jayson Tatum, Joker, all of them are great. We don't need to push one down to elevate the other guy. They all are completely different players."
Good one, Doc. Getting everyone to agree about the Oscars is easier.
With less than three weeks to go, voters are down to three realistic choices. Jokić, the two-time MVP and leader of the Western Conference–leading Nuggets, who is having another superior statistical season; Embiid, a two-way force who has been piling up numbers since the All-Star break; and Antetokounmpo, another two-time MVP who has powered the Bucks to the NBA's best record.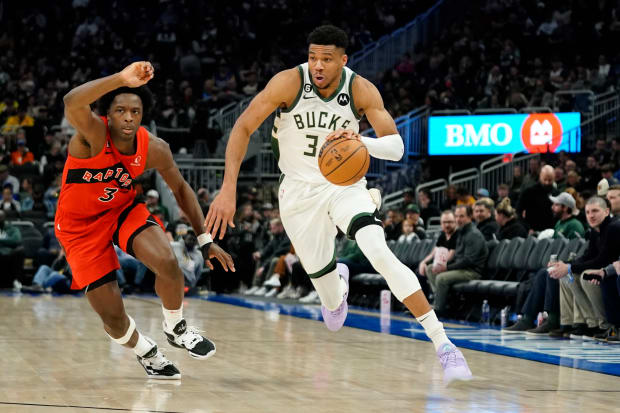 A first-place vote for any of the three is defensible. Jokić has been the front-runner for months. (If you are looking for the catalyst for the nastiness surrounding the MVP, blame ESPN's Tim Bontemps, the czar of the straw poll, whose most recent tally of likely voters, posted on Feb. 16, had Jokić as the runaway leader.) Jokić's traditional numbers—he's a fraction of an assist away from averaging a triple double—are excellent. His advanced numbers (yes, those count) are better. His team has been atop the standings for most of the second half of the season.
Asked about Jokić's critics, Nuggets coach Michael Malone recently said, "Maybe they're just tired of this player, this nonathletic player from Sombor, Serbia, who continues to kick everybody's ass."
Still, in recent weeks Jokić's grip on a third straight MVP has loosened. Critics have highlighted his defensive deficiencies, particularly when compared to Embiid and Antetokounmpo. Denver's recent skid—the Nuggets dropped four straight in mid-March and have lost five of their past seven games—has not helped either.
Embiid has been the biggest beneficiary. The two-time runner-up has been on a tear of late, averaging 35 points since the All-Star break. The 37 points Embiid scored Monday marked his 10th straight 30-plus-point game. No player in 76ers history has done that. More importantly, the Sixers have won eight of those games, pushing Philadelphia into a dead heat with Boston for the East's second seed.
"He's probably the MVP with what their team is doing and how he's elevated his game," Pacers coach Rick Carlisle said after Embiid dropped 31 on Indiana on Saturday. "He's as difficult a guy to game plan for as there is. Giannis is crazy ridiculous. Jokić is [the] same, and this guy may be even more difficult, if that's possible."
Then there is Antetokounmpo. Statistically, he is submitting another spectacular season. He's fourth in the NBA in scoring. He's second in rebounding. He's dishing out a shade under six assists per game and shooting 54.6% from the floor. Only three players in NBA history have produced those kinds of numbers. Giannis is one. Kareem Abdul-Jabbar and Wilt Chamberlain are the others.
There's more. Like Embiid, Antetokounmpo is a dynamic defender, coanchoring the NBA's top defense alongside Brook Lopez and Jrue Holiday. And he's pushed the Bucks to a league-best record with his costar, Khris Middleton, playing less than half the season.
It's going to be close. Very close. About 100 media members vote for league MVP—I have traditionally been one of them—and there is no telling which way they will lean by April 9, when the NBA regular season ends and ballots are due. Will they value durability? Jokić will likely once again have an edge in games played but nothing like the 21-game lead he had on Embiid in the COVID-19-shortened 2020–21 season. Defense? Embiid and Antetokounmpo could be battling for it. Winning? Jokić and Antetokounmpo could be duking it out.
All three are worthy. And, for all three, a win would be historic. Jokić could become just the fourth player to win three straight MVPs, joining Chamberlain, Bill Russell and Larry Bird. Antetokounmpo would join a small group of three-time winners that includes Magic Johnson and Moses Malone. Embiid would become the first African-born player since Hakeem Olajuwon to take home the NBA's top honor.
That won't be the focus, of course. The television take machine will grind into gear with DID JOKIĆ/EMBIID/GIANNIS DESERVE MVP? chyrons splashed across screens. Social media will spit out 240-character reactions. Fans will demand changes to the voting system.
By late April, we will have a winner.
The only sure thing is most will not agree with it.