For the casual football fan, it must be strange seeing backup quarterbacks such as Jarrett Stidham and Mike White quickly agree to multiyear contracts on the first day of free agency, while versatile safety C.J. Gardner-Johnson waited nearly a week to get a one-year, prove-it deal from Detroit.
Every situation is different, and contract negotiations definitely play a role in why some prized free agents take longer to find a team, but let's focus on position value here because backup quarterbacks have plenty of value for NFL teams.
A quality No. 2 quarterback is a top priority in free agency for multiple reasons: They're hard to find, a pain to develop and the key to keeping a team afloat in case of emergency. Many quickly write off a team after seeing the name listed behind the injured star quarterback on the depth chart, and, in many cases, those overreactions tend to be accurate.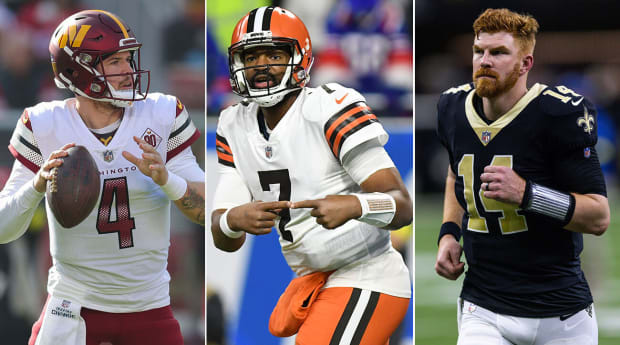 The Broncos are hoping Stidham's name can offer confidence in case he has to play for Russell Wilson this season. Stidham flashed during his first career start last season in a game in which he took the Raiders to overtime against the 49ers before eventually losing. His performance earned him a two-year, $10 million contract from the Broncos.
Two-year deals are common for backup quarterbacks, because coaches and executives don't have to have endless long nights the following offseason worrying about whether they'll land the best insurance for their respective star quarterback. Chad Henne, the recently retired longtime backup, provided many peaceful nights for various teams during his 15-year career.
As for why backups are a pain to develop, most teams want the No. 2 QB to have game experience, and it's why many former first-round picks often receive opportunities, despite lackluster results on the field. But the best backups are the ones who know their role and the playbook, and the ones who offer a spurt of confidence when disaster strikes.
With many notable backup quarterbacks agreeing to contracts during the first week of free agency, the MMQB staff decided to rank the 16 best backup quarterbacks in the NFL. Let's start the debates: