I wondered about three things before I settled in to watch the Chiefs take on the Jets for Sunday Night Football. None of those curiosities, however, had me thinking this would be the night that Zach Wilson outplays Patrick Mahomes for nearly four quarters.
The unthinkable happened, and Wilson's surprising performance shouldn't be forgotten solely because the Jets fell short of upsetting the Chiefs, who prevailed 23–20 to improve their record to 3–1.
The Jets had the reigning champs on the ropes and might have finished the job had Sauce Gardner not been flagged for a questionable defensive pass interference penalty. Cornerback Michael Carter II picked off Mahomes after the official threw the flag. But, again, Wilson's performance shouldn't get lost. His performance gave the 1–3 Jets a glimmer of hope.
Now going back to the three things I wondered about. First, how many times would the NBC broadcast show Taylor Swift on television? And not because I'm annoyed about this love story with Travis Kelce. Heck, I would not be opposed to a corner box with a Swift cam running at all times for every Chiefs game, similar to what ESPN attempted during the Monday night doubleheaders.
Second, how many times would the broadcast show Aaron Rodgers on television? That one was connected to my third curiosity, because if Rodgers is getting up from his crutches to clap a handful of times that likely meant the Jets were playing well, and they did for a lengthy stretch Sunday night, but more on that in a bit.
I also wondered whether this would be the game in which Jets coach Robert Saleh finally pulled quarterback Wilson in favor of Tim Boyle, especially after New York fell behind 17 points in the first quarter. Oh, how foolish of me to let that cross my mind. Yes, I understand Wilson had a costly fumble in the fourth quarter, but his play allowed the Jets to erase the 17-point deficit.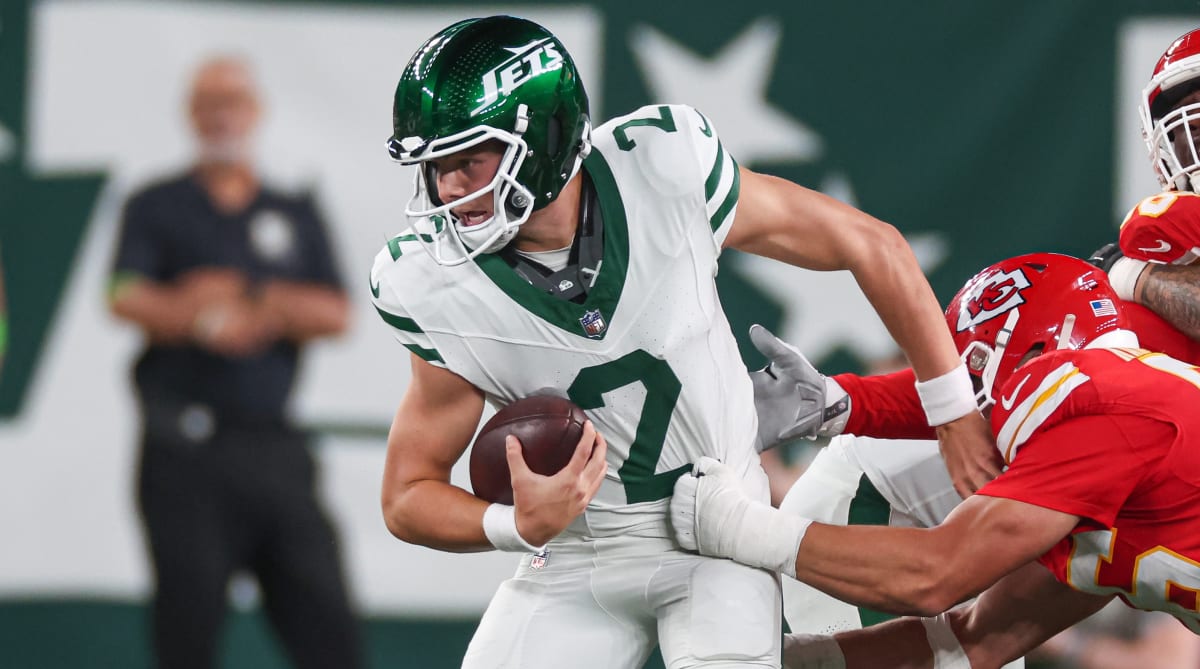 The Jets seemed to have gotten a fresh start after their first two points of the game came on a safety in the second quarter. It was as if that safety gave them the cleanse they needed after having so much bad luck, most notably Rodgers rupturing his Achilles four plays into the 2023 season.
I know I'm reaching with the supernatural reasoning for why the Jets made it a 20–12 game heading into halftime. (This probably won't be my last spooky reference in the month of October.) But how else do you explain Mahomes throwing two bad interceptions in the second quarter? It probably should have been three interceptions, because the official was very late to hit Gardner with a holding penalty. Sure, Gardner held Marquez Valdes-Scantling a bit but Mahomes hadn't even thrown the ball and the receiver was able to finish his route. Saleh had the right to be upset, and you already know social media was filled with posts about how Mahomes gets all the calls.
Mahomes finished 18-of-30 for 203 yards, one touchdown and the two turnovers. Wilson went 28-of-39 for 245 yards, two touchdowns and no interceptions.
For the Jets, they likely aren't searching for answers as to why it finally clicked for Wilson in the second quarter. They're probably just thrilled that the patience in Wilson paid off for at least a few quarters against the reigning Super Bowl champions.
Maybe we all owe Saleh an apology after calling him stubborn last week when he told reporters he was sticking with Wilson and saying the 24-year-old gives his team the best chance to win.
While we all dwelled on Wilson's turnovers and stagnant drives, Saleh probably saw a third-year quarterback on the verge of turning a corner with his new offensive coordinator Nathaniel Hackett. That story line was overlooked quickly with the football public trying to label the No. 2 pick in the 2021 draft as a bust two-plus seasons into his career.
Even with the Jets falling behind early, Hackett prioritized getting Wilson in a rhythm by throwing to star wide receiver Garrett Wilson, plays that took less than two seconds and rarely went past the second read. Once Zach Wilson gained his confidence, Hackett expanded the playbook in the second quarter, starting with the 39-yard completion to wide receiver Allen Lazard in the second quarter.
Suddenly, Wilson was doing discreet handoffs and back-shoulder throws just the way Rodgers taught him in the summer. Even NBC analyst Cris Collinsworth couldn't help himself with the Rodgers comparisons.
Wilson really got rolling after throwing a 10-yard touchdown pass to Lazard. That was followed with Wilson running for the two-point conversion, tying the game 20–20 with 10:40 left in the third quarter. At this point, I stopped caring whether the broadcast would show Swift again. She got more TV time midway through the third quarter, for those keeping track. Oh, and she was also shown with a concerned look as the two teams headed into the fourth quarter tied, 20–20.
The stars aligned for Wilson with Rodgers and Swift in attendance. And who knows whether Wilson will continue to play this way, but I'm sure it was a relief for everyone in the Jets' organization to see Wilson playing freely and remind many why they chose him No. 2 coming out of BYU more than two years ago.
The Jets are playing catch-up in the standings, but they do have a winnable game next week against the Broncos. They'll truly need Wilson to play with his hair on fire for their Oct. 15 meeting against the Eagles. But that's getting too far ahead.
We should all remain patient and let the Jets build off Sunday's moral victory. They have hope now.
For now, let me go write that apology letter to Saleh, who was proven right about Wilson, at least for one magical night.