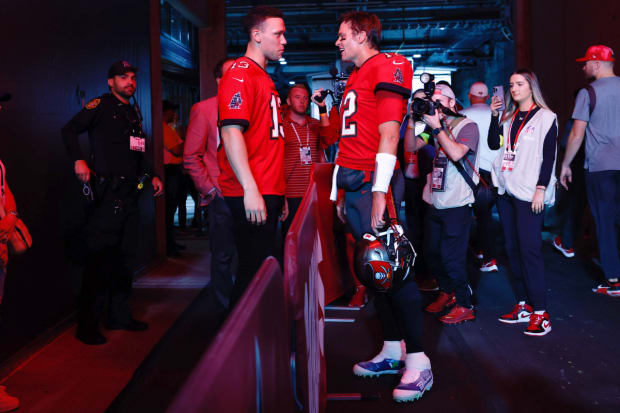 • The last active pro athlete drafted by the Montreal Expos has retired. You might have heard of him: Tom Brady (18th round in 1995, 507th overall). In an age when multi-sport athletes were common, Brady was one of seven future NFL players (Chad Hutchinson, Ricky Williams, Brady, Lawyer Milloy, Danny Kanell, Daunte Culpepper and Michael Bishop) and two future NBA draft selections (Ryan Minor and Mark Hendrickson) taken in the '95 MLB draft.
The 1995 MLB draft included five future NFL quarterbacks (Hutchinson, Brady, Kanell, Culpepper and Bishop), half as many as the '95 NFL draft. The '95 MLB draft also included three future managers: A.J. Hinch (3rd round), David Ross (19th round, 20 picks after Brady) and Gabe Kapler (57th).
• The Rays smartly have locked up eight players on multi-year deals, including third baseman Yandy Díaz, lefthander Jeffrey Springs and righty reliever Pete Fairbanks, their three arbitration-eligible players who signed extensions this winter.
The 31-year-old Díaz, whose contract was for three years and $24 million, was one of six MLB players with an on-base percentage above .400 last year. Springs, 30, went 9–5 with a 2.46 ERA in 2022, signed a four-year, $31 million deal. Fairbanks, 29, was extended for three years and $12 million after he posted a 1.13 ERA in 24 games last season. The deals for all three players include a club option for an additional year.
Four other Tampa Bay players had agreed to multi-year extensions in previous years: shortstop Wander Franco, starting pitcher Tyler Glasnow, outfielder Manuel Margot and second baseman Brandon Lowe. The eighth player, righthander Zach Eflin, signed as a free agent for three years and $40 million this offseason.
These deals give the Rays fixed costs against the possibility of some of their best players driving up their future values in arbitration or free agency after strong seasons. But another side to the Tampa Bay strategy is trade value. Controllable years are a key currency in the trade market. The more years of control, the more value. The Rays know this well. They have traded Evan Longoria, Ben Zobrist, Blake Snell, Chris Archer and Matt Moore all while under multi-year deals.
• Wonder why the Phillies are so excited about prospect Andrew Painter? At 6'7", he is one of the rarest pitchers to be found: a tall power pitcher with command. At 19 years old with a smooth delivery, Painter in 26 minor league starts has posted a strikeout-to-walk rate of 6.68. Taller pitchers generally don't repeat their delivery and fill up the strike zone like that.
In major league history, only four pitchers 6'6" or taller (min. 100 starts) have done better than a 3.5 strikeout-to-walk rate: Chris Sale (5.33), Noah Syndergaard (4.43), Michael Pineda (4.37) and Roy Halladay (3.58).
Painter and Grayson Rodriguez, 23, of the Orioles could dominate as rookies this season. Keep this in mind when it comes to their innings limits: no team has allowed a pitcher to make 28 starts in his debut season in a decade. The last one to do so was the late José Fernández for the Marlins in 2013.
• Guess which major leaguer increased his pull hitting the most last year? Yep, time to rip up those old scouting reports on Aaron Judge about how he loves to take fastballs the other way. Judge became a much more dangerous hitter and the all-time AL single season home run champion by flat-out turning on pitches like never before. He increased his pull-side hitting from 35.8% to 46.3%, the biggest jump among qualified hitters. After six seasons with a high of 50 hits to the pull side, Judge smashed 73 pulled hits last season. It was the biggest change behind his huge season.
• Cardinals shortstop Paul DeJong is trying to rebuild his career with a swing overhaul reminiscent of that of former teammate Matt Carpenter. With an average launch angle of 21.6 degrees, DeJong ranked in the 96th percentile among players who saw at least 750 pitches. He could not hit a high pitch with that upward cut. As often as you hear about Launch Angle Generation success stories, the failures are just as numerous but get less attention.
DeJong has company when it comes to hitters who need a swing reboot against elevated pitchers. The worst hitters last season on such pitches were James McCann, now of the Orioles (.061), Nolan Gorman of the Cardinals (.067), Max Stassi of the Angels (.073), Keston Hiura of the Brewers (.077) and DeJong (.078). The major league average on all elevated pitches is .227, which is why pitchers live up there, throwing the most elevated pitches last season in a dozen years.
• Defending the running game will be a point of emphasis among all clubs in spring training as they adapt to the new rules, which include a limit on pickoff throws, a pitch timer, bigger bases and less distance between bases—all of which give an edge to baserunners. Mariners manager Scott Servais, a former catcher, believes there will be increased importance of arm strength and accuracy among catchers, who will face more stolen base attempts and will have to assist defense of the running game with more pickoff attempts. (There is no limit to how many times a catcher can attempt a pickoff.)
"In the past eight to 10 years it's been almost an afterthought," Servais says. "The value of throwing among catchers will revert back to where it was."
• The Rays are one of several teams that must retrofit their infield to abide by the new anti-shift rules. Infielders can play no deeper than the edge of the infield dirt/cutout, which has been designated as a uniform 95 feet from the front of the pitching rubber. It had been 97 feet at Tropicana Field.
The shortstops who play the deepest (pull side without a shift) who will be impacted the most by the rule change are Miguel Rojas (Dodgers), who plays at 152 feet, Xander Bogaerts (Padres), Dansby Swanson (Cubs), Oneil Cruz (Pirates), Tommy Edman (Cardinals) and Carlos Correa (Twins), who all line up an average of 151 feet. Among returning second basemen, Jeff McNeil of the Mets (159), Gleyber Torres of the Yankees (157) and all second basemen for the Blue Jays and Rays, who love to play deep on turf, face the biggest adjustment.