This is an archived article and the information in the article may be outdated. Please look at the time stamp on the story to see when it was last updated.
CLEVELAND – The Cavs clinched the Eastern Conference Championship late Friday night…and so early Saturday morning, the team opened up their shop for fans to start buying the Eastern Conference Champion Cleveland Cavaliers Official Locker Room Hat and T-Shirt that the team wore after the game.
More Cleveland Cavs coverage here. 
Fans lined up early down at the team shop at the Q, which opened at 8:30 a.m. Saturday.
The team store is planning on staying open until 5 p.m. Saturday, but you can always shop online for your Finals gear. Click here for the Cavs team store site.  In fact, the actual team store is out of the hats now, so online might be your best bet.
There's also a pop-up team store at Crocker Park, although the line there looks pretty long too!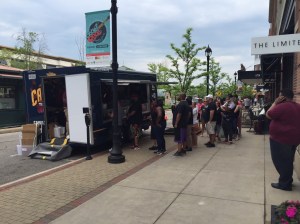 In addition to the Cavs shop opening early, Dick's stores throughout the area opened up again after Friday night's win in order to sell Conference Championship gear. They re-opened at 6 a.m. on Saturday as well.
Go Cavs! #Allin216