This is an archived article and the information in the article may be outdated. Please look at the time stamp on the story to see when it was last updated.
CLEVELAND – Several Cavs players will be all throughout Northeast Ohio today to sign autographs and take pictures with fans while celebrating their NBA Championship.
Matthew Dellavedova and Richard Jefferson will both be at local Dick's Sporting Goods stores.
Delly will be at the Dick's at Crocker Park, 300 Crocker Park Blvd, Westlake, from 3-4 p.m., while Jefferson will be at the Dick's at Great Northern Mall, 200 Great Northern Boulevard, North Olmsted,  from 4-5 p.m. Wristbands will be distributed to the first 20 customers, and distribution will began at 9 a.m. Friday.
Autographs will be restricted to licensed NBA merchandise and player photo cards, which will be provided.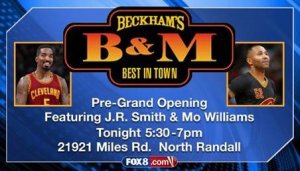 Mo Williams and J.R. Smith will be at Beckham's B&M BBQ, 21921 Miles Road, North Randall, to celebrate their win and the restaurant's pre grand opening.
They will be there from 5:30 p.m. to 7 p.m.
Autographed photos, autographed basketballs and memorabilia will be available for purchase.
On Thursday, Delly had a little fun tricking customers the Panera in Rocky River. Before sitting down to a 'Dinner with Delly' event, he dressed up as an employee named Hugh and took a few orders.
**For more on Delly's Panera visit, click here**
More on the Cavaliers NBA Championship here.