This is an archived article and the information in the article may be outdated. Please look at the time stamp on the story to see when it was last updated.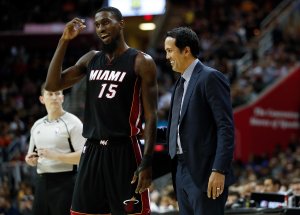 CLEVELAND — The Cleveland Cavaliers have signed free agent Okaro White to a 10-day contract the team announced Sunday.
White played at Florida State University.  After college, he played professionally in both Italy and Greece, where he was named 2016's "Most Spectacular Player" in the Greek league.
That summer he returned to the U.S. to play in the NBA D-League.  In 2017, White was a D-League All-Star for the Sioux Falls Skyforce, before the Miami Heat signed him to a 10-day contract.
The Cleveland Cavaliers are signing free agent forward Okaro White to a 10-day contract, league sources tell Yahoo Sports.

— Shams Charania (@ShamsCharania) March 18, 2018
He made the most of his opportunity, and the Heat eventually signed him for the rest of the 2016-17 season.  White played a total of 41 games for the Heat over the past two seasons, before Miami traded him to the Atlanta Hawks in February.
Atlanta then waived White and he was a free agent until the Cavs reportedly signed him to a 10-day contract on Sunday.
White will help the Cavs over the next two weeks, while they wait for big men Kevin Love, Tristan Thompson and Larry Nance, Jr. to return from injuries.
The Cavs just finished their longest road trip of the season, with a win in Chicago, to finish with a 3-3 record on the 6-game, 10-day trip.
They return home Monday night to host the Milwaukee Bucks at 7:00 p.m.
**More on the Cleveland Cavaliers, here**