This is an archived article and the information in the article may be outdated. Please look at the time stamp on the story to see when it was last updated.
FINAL SCORE: Browns 13, Tampa Bay 9
TAMPA BAY, Florida – Just days after a group of Cleveland Browns players took a knee during the National Anthem in Cleveland, all of the players stood for the National Anthem on Saturday ahead of their preseason game against Tampa Bay.
Many #Browns players had their arms locked together while standing for the national anthem behind the front row of players. pic.twitter.com/ZbN9HvkTlV

— Trevor Sikkema (@TampaBayTre) August 26, 2017
Browns radio said that Browns legend Jim Brown spoke to the team and told them to "not disrespect" their country or the flag.
#Browns radio said Jim Brown spoke to the team and told them "do not disrespect your country, do not disrespect the flag''

— Mary Kay Cabot (@MaryKayCabot) August 26, 2017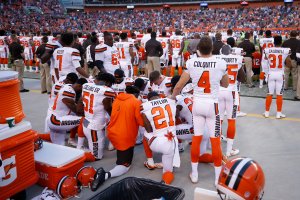 On Monday, August 21, more than a dozen players huddled together on the team's bench  to protest during the national anthem. They later explained that they "were just praying for everyone."
The action set off a nationwide controversy, with people both condemning and defending their actions.
A VFW hall in Strongsville even said that it would no longer broadcast the Browns games.