This is an archived article and the information in the article may be outdated. Please look at the time stamp on the story to see when it was last updated.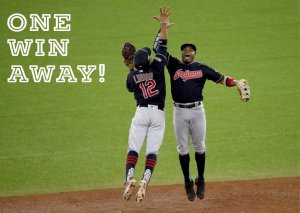 CLEVELAND, Ohio — The Cleveland Indians have a three-games-to-none lead in the AL Championship Series after their bullpen tossed 8 1/3 innings to lead a 4-2 victory at Toronto.
The Indians went through six relievers once starter Trevor Bauer had to leave the game due to a cut on the pinkie finger of his pitching hand.
Jason Kipnis broke a 2-2 tie with a solo homer in the sixth after Mike Napoli supplied a solo shot and an RBI double in his first two at-bats.
Corey Kluber with start Game 4 at 4 p.m. If they win, Game 1 of the World Series will be Oct. 25 at Progressive Field.
If the Tribe does not win, Game 5 will be tomorrow afternoon.