This is an archived article and the information in the article may be outdated. Please look at the time stamp on the story to see when it was last updated.
COLUMBUS, Ohio- Students at the Ohio State University woke up with more than bragging rights. There was a national championship hangover after students partied into the wee hours of the morning.
The Oval at The Ohio State University, usually bustling with students on the second day of the semester, reduced to a ghost town just hours after the Ohio State Buckeyes won the national championship by beating Oregon.
"I think the third day will be better for all of us, but you gotta do it though because when does this ever happen?" said OSU student Cassandra Kubiak of Buffalo.
It was a long and joyous night for Buckeye fans and Ohio State students, many who watched the national championship game from start to finish.
"Class this morning everyone kind of has their head down, they're quiet. Everyone is still recouping, but you know we are national champions,"said Ohio State Junior Aaron Shaw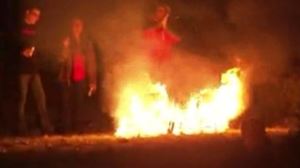 There was quite a scene on campus Monday night as the Buckeyes claimed the first College Football Playoff National Championship. The celebrations quickly poured onto the streets where police used pepper spray to disperse the large crowds.
"On High Street right outside of Big Bar, there was a lot of commotion. It was fun, man. It was unbelievable, honestly," said OSU student Richard Bailey of Shaker Heights.
Trash filled High Street; broken beer bottles all remnants of a huge party fit for a national champion
"I had to be a part of it. It was a good social movement. It was the coming together of a very strong-minded university. It was great. It was definitely an experience," said OSU student Akil Blanton of Lorain.
An experience many Buckeye fans won't soon forget.
"It's still sinking in. It's incredible. I'm telling everybody my family, my friends, this is us," Blanton said. "Go Bucks!"
Nearly 90 fires were set throughout the night and at one point one of the goal posts at Ohio Stadium was torn down by students. Police made several arrests.
**Continuing coverage on the Buckeyes' championship win**