This is an archived article and the information in the article may be outdated. Please look at the time stamp on the story to see when it was last updated.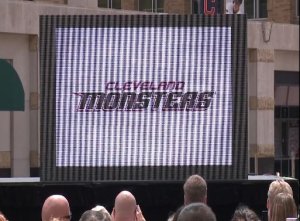 CLEVELAND, Ohio — The Lake Erie Monsters are now the Cleveland Monsters.
Fresh off their first Calder Cup Championship, the team made the announcement on Tuesday afternoon.
Mike Ostrowski, COO of the Lake Erie Monsters, said as the Monsters enter their 10th anniversary, there was no better way to incorporate the city of Cleveland even further into the team's brand.
Already over the past few years, the team has integrated the letters "CLE" on the players' shoulder patches, on the ice and on other merchandise. Cleveland was also incorporated into the team's primary logo.
Also announced Tuesday was that the team will have newly-designed uniforms for the upcoming season.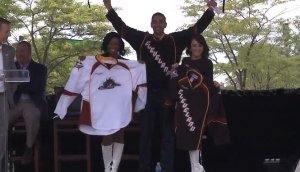 The team incorporated a new design and color scheme. The color scheme is black and wine with a splash of gold.
The white jerseys will be worn at home during the first half of the season and the dark jerseys during the second half. A gold jersey will also be debuted mid-season.
Len Komoroski, CEO for the Cavaliers/Quicken Loans Arena, said this past summer's events like — the Cavaliers' championship win and the Republican National Convention — have resembled a "Hollywood movie script."
"One team set the tone early on," he said, referring to the Monsters and the Calder Cup.
The Lake Erie Monsters won the Calder Cup Finals back in June. It was the city's first Calder Cup Championship in 52 years. It was Lake Erie's first AHL title in team history.
CLICK HERE for much more on the Lake Erie Monsters.
"We are excited to announce today that our team will be named the Cleveland Monsters." – COO @_MikeOstrowski pic.twitter.com/GE0a1jIJPC

— Cleveland Monsters (@monstershockey) August 9, 2016