This is an archived article and the information in the article may be outdated. Please look at the time stamp on the story to see when it was last updated.
COOPERSTOWN, NY – Jim Thome has been inducted into the Baseball Hall of Fame.
Emotional during a Hall of Fame visit in February to tour the museum to prepare for this day, Thome held it together despite having to wipe away tears after his daughter sang the national anthem.
"I'm so honored to be part of something so special," Thome said. "Baseball is beautiful and I am forever in its service."
**Watch the moment Thome learned he was voted into the HOF**
The lefty-swinging Thome hit 612 home runs, eighth all-time, and had an MLB record 13 walk-off homers , mostly for the Cleveland Indians. He also had 1,699 RBIs, scored 1,583 runs and drew 1,747 walks.
Among the many he thanked, Thome praised former Cleveland manager Charlie Manuel, who served as the Indians' hitting coach in the late 1980s and 1990s. Manuel was in the audience.
"He told me I could hit as many home runs as I wanted to," Thome said. "I knew this was someone I could connect with."
A first look at the Jim Thome Hall of Fame plaque. 📷Milo Stewart Jr. #HOFWKND pic.twitter.com/yvcUglfBck

— National Baseball Hall of Fame and Museum ⚾ (@baseballhall) July 29, 2018
A crowd estimated to number around 50,000 gathered outside the Clark Sports Center in the village of Cooperstown for the annual Baseball Hall of Fame induction ceremony.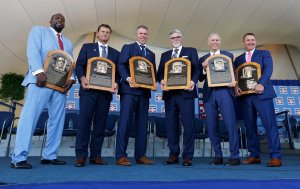 Sluggers Chipper Jones and Jim Thome, first-ballot electees, headline a class that also includes Vladimir Guerrero, Trevor Hoffman and former Detroit Tigers teammates Jack Morris and Alan Trammell.
Jones spoke first because his wife Taylor is due to give birth to a son on Monday or earlier. They made plans to have the delivery at the local hospital if she goes into labor and have already selected the name Cooper in honor of the special day.
With the six new inductees, a record 57 living Hall of Famers were on the stage. Among those  watching from in front was Vladimir Guerrero Jr., the top prospect of the Toronto Blue Jays.
The family arranged for him to get the day off before the season. He'll report to Triple-A Buffalo on Tuesday in a promotion that comes as no surprise.