This is an archived article and the information in the article may be outdated. Please look at the time stamp on the story to see when it was last updated.
INDEPENDENCE, Ohio– On Tuesday, the Cleveland Cavaliers will accept their championship rings before their home opener. Across Gateway Plaza, the Cleveland Indians will play Game 1 of the World Series.
NBA Finals MVP LeBron James knows it's a great time to be a Cleveland fan.
"It's going to be great. From the fans' perspective, is there any better way? I don't know, maybe having an ice cream truck outside both arenas at the same time as well? Icing on the cake," James joked with reporters on Thursday. "We get to host the World Series and we get our rings on the same night at the same time. If we had a retractable roof, it's probably be the loudest we've ever heard. It's pretty special."
"We all know the excitement that's going on in our town right now. As good as it is for players, on both sides, it's even better for the fans. Our fans get an opportunity. People who have followed the Indians, covered the Indians, followed the Cavs, covered the Cavs for so many years, it's great for them."
LeBron watched the Indians' Game 5 win over Toronto with a few other Cavs at Townhall in Ohio City Wednesday night. He said even though teammate Tristan Thompson is from Canada, he's still pumped for the Tribe.
"He has a right to still root for the Blue Jays. He is Canadian. He's happy for those guys and happy to be a part of this. Now, Tristan's friends on the other hand, they were not," LeBron said with a smile.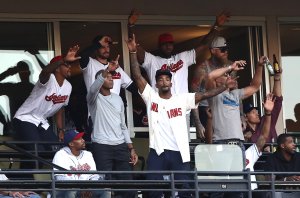 James, JR Smith, Richard Jefferson and Kevin Love have been at a few Indians games this postseason, cheering on the Tribe and getting the crowd amped.
"That's part of my whole mindset is to inspire as many people as I can, from kids growing up in my inner city to professional athletes in our city. And if I can do that, if we can do that as a group, then, you know, that's part of my DNA every day. That's part of my walk of life," James said.
You can follow all the World Series action on FOX 8!