This is an archived article and the information in the article may be outdated. Please look at the time stamp on the story to see when it was last updated.
CLEVELAND  — Indians second baseman Jason Kipnis sprained his left ankle during a postgame celebration in the AL playoffs, but is expected to be ready for Game 1 of the World Series.
Got a little too close to @Lindor12BC during the celebration!! Freak accident but should be good to go by Tuesday! #cantkeepmeoutofthisgame! pic.twitter.com/2DKgpzP0lq

— Jason Kipnis (@TheJK_Kid) October 23, 2016
Cleveland manager Terry Francona said Sunday that Kipnis rolled his ankle last Wednesday when he hugged teammate Francisco Lindor on the field after the final out in Game 5 of the AL Championship Series in Toronto
Francona says he expects Kipnis to be OK for the World Series opener on Tuesday night at home against the Chicago Cubs.
Every interview you guys saw of mine was post-injury… So it clearly didn't break my spirits or keep me from enjoying the moment!

— Jason Kipnis (@TheJK_Kid) October 23, 2016
Francona described Kipinis' injury as a low ankle sprain. He's confident rest and the adrenaline Kipnis will feel with 37,000 screaming fans in Progressive Field will help him recover.
Kipnis, who is batting just .167 with seven strikeouts so far in the postseason, took some grounders Sunday while being watched by a member of Cleveland's training staff before the Indians held a team workout.
Kipnis was in the batting cage and not available for interviews during the period Cleveland's clubhouse was open to the media.
The World Series is on Fox 8! Make your plans to join us for the each and every game!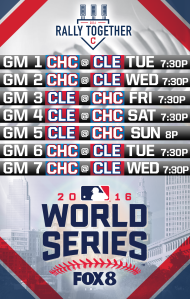 More on our Cleveland Indians,  right here.