This is an archived article and the information in the article may be outdated. Please look at the time stamp on the story to see when it was last updated.
BEREA, Ohio-- The Cleveland Browns wide receiving corp looks much different than it did last season.
The Browns added five rookie wideouts, released veteran Brian Hartline and will get Josh Gordon back after a four-game suspension.
"They're all hungry. That's all you can ask for," WR Terrelle Pryor said of the rookie class.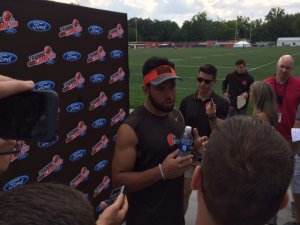 For first-year player Jordan Payton, he knows what's at stake. That's why he's trying to make his mark the best way he knows how. He's trying to be consistent and learn from veterans like Andrew Hawkins.
"He's an unbelievable person, unbelievable player," Payton said.
There's also a new face on the sidelines. Former Cincinnati wide receiver Chad Johnson is adding his two cents and Pryor said that's awesome.
"It's a Bengal guy, so I don't know if you like that," Pryor said with a smile. "He's helping out and doing whatever he can even though he's pretty much staying back."
"We definitely all respect him," Pryor said. He added that his teammates are quick to ask Ochocinco questions, especially about running routes.
But obviously, there's a lot of interest in how Gordon is making the adjustment. He hasn't played a game since 2014 and this training camp marks his return to team activities.
Pryor said Gordon is coming to all the meetings he can, including special teams. The former Ohio State quarterback said Gordon is working hard, asking questions and wants to be involved.
Pryor also acknowledged he had a few misconceptions about the troubled wide receiver.
"He broke the rules and he dealt with the consequences," Pryor said. "If you knew Josh, if you really knew him, you'd know he has a huge heart."
On Ray Horton:
The defense is working under a new coordinator; a guy linebacker Christian Kirksey called a "mad scientist."
"He lets us be ourselves really. He lets us get after the quarterback, lets us do our own thing. He doesn't really try to turn us into different players," John Hughes said. "When we get on the field, he sees what everybody is good at and lets us go."
On the sirens:
New head coach Hue Jackson added sirens to training camp this year, to signal when players can make contact.
"As a defensive player, when you hear the sirens, you know you get an extra pump because you know it's a live period. You finally get to tackle and that's what we need to work on as a whole," Kirksey said. "Getting guys on the ground, seeing who's physical, getting after it."
More stories on the Cleveland Browns here