This is an archived article and the information in the article may be outdated. Please look at the time stamp on the story to see when it was last updated.
CLEVELAND - The new lucky charm for Cleveland Indians fans everywhere is the billy goat.
And the goat is lucky for the Tribe because it's unlucky for the Chicago Cubs.
Here's how it all started:
Legend has it that a Chicago tavern owner named Bill "Billy Goat" Sianis pronounced a curse on the club on October 6, 1945 — just a month after the end of World War II.
Sianis went to Wrigley to cheer on his beloved Cubs against the Detroit Tigers in the World Series, according to the tavern website, which dedicates a page to the Billy Goat curse.
For Game 4, he purchased a ticket for himself and one for his pet goat Murphy, thinking it would bring the Cubs luck.
But ushers stopped Sianis from entering with Murphy. Sianis appealed directly to then club owner P.K. Wrigley, asking him why he couldn't take his personal mascot to the game.
"Because the goat stinks," Wrigley replied, according to the Billy Goat Tavern.
So Sianis threw his arms up and cursed the team.
"The Cubs ain't gonna win no more!" he declared.
And that was that. They didn't. Until this year, when they made it to the World Series. But that doesn't mean that they will WIN the World Series though. Right?
So in the spirit of keeping the curse of the billy goat alive, Fox 8 News in the Morning invited some billy goats down to the set at Progressive Field. These particular goats come from Haulin' Goats in Valley City and they brought along their pro-goat, anti-Cubs signs with them.
***Fox 8 is your official World Series station - you can watch all the fun only on Fox 8. We'll be bringing you continuing coverage of all the games***

The folks from Haulin' Goats said that the idea to use their goats came upon them when the Cubs clinched the National League Pennant Saturday night.
Also at Progressive Field ahead of Game 1 was Al Mancuso, his daughter Rachel, and their goat, who we are told  is an Indians fan. (As if you couldn't tell by his blanket!)
Here's hoping that the curse of the billy goat holds true! And to help it along a bit, Fox 8 has designed a Tribe lover appropriate profile picture for your Facebook page: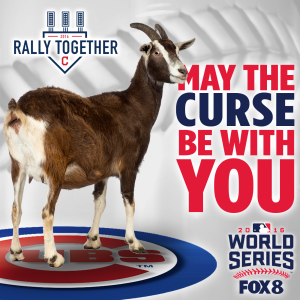 Spread the bad luck, Tribe fans!
Continuing Indians coverage here.