This is an archived article and the information in the article may be outdated. Please look at the time stamp on the story to see when it was last updated.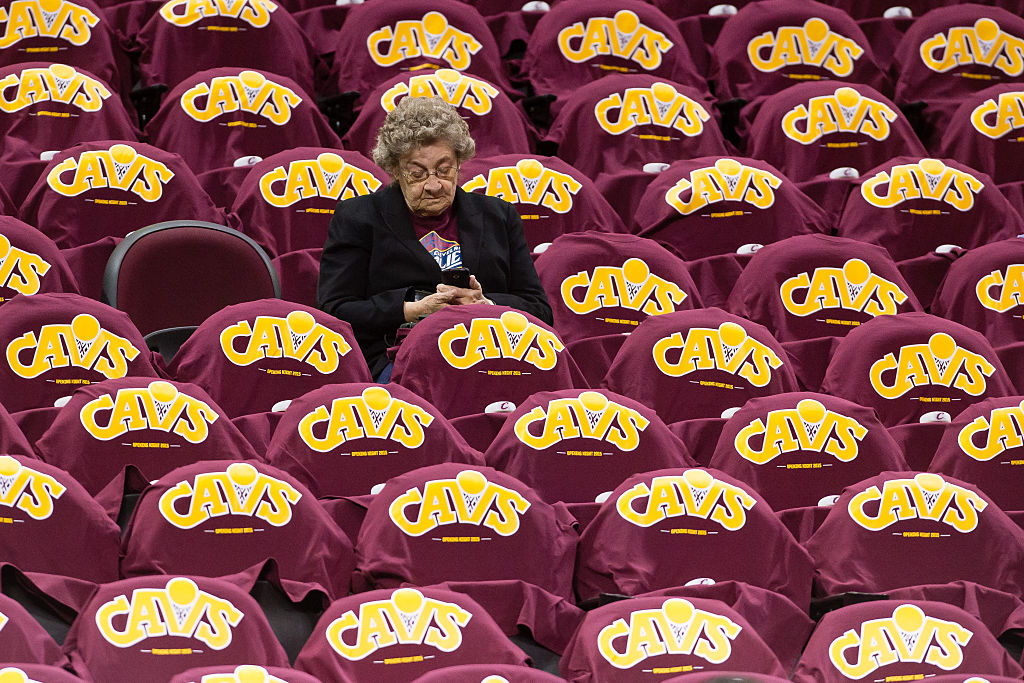 CLEVELAND — Cavaliers fans, you've gotta believe. With the Cavs down 3-2 to the Golden State Warriors heading into Thursday's Game 6 of the NBA Finals, there's no bigger expression of your devotion to the Wine and Gold than to put your money where your mouth is.
Cleveland is a 2.5-point favorite hosting Golden State but laying points on LeBron & Co. is just one of the ways you can wager on this do-or-die contest. Here are five basketball bets only a Cavs fan could make heading into Game 6:
Kyrie for MVP
First, if you're pushing for Cleveland you've got to go all in at this point. Let's not mess around here. That means you're calling for a Game 6 win and a Game 7 victory back in the Bay Area. So why not take a Cleveland player to win Finals MVP as well?
After Kyrie Irving's Game 6 performance, dropping 41 points on the heels of 34 points in Game 5 and 30 in Game 4, the Cavaliers point guard is providing outstanding value to win MVP. Irving is priced at +1,000 to win MVP ($100 wager will win you $1,000) at Sportsbook.ag, behind Draymond Green (+120), Stephen Curry (+220), LeBron James (+350), Klay Thompson (+500), and even Andre Iguodala (+800).
These finals are Kyrie's redemption song after missing last year's championship date with Golden State due to injury. So if an NBA title isn't enough motivation, Irving is out to prove he's the difference in 2016.
Green from Green
Draymond Green didn't have a very big fan club before getting tangled with LeBron in Game 5, thanks to his constant efforts to sterilize Oklahoma City Thunder big man Steven Adams in the Western Conference finals.
But once the Warriors' all-star forward took a shot at King James' "Crown Jewels", he quickly skyrocketed to public enemy No. 1 among Cleveland sports fans – which is saying something… "Johnny Football"… *Cough* *Cough*.
If Cavaliers faithful want to funnel that hate into cold hard cash, then toss some coin on whether Green will "hit another player in the groin during the remainder of the NBA Finals?" as Bookmaker.eu so eloquently puts it. Another jolt like that delivered by Draymond is paying +1,000 odds on "Yes" (with "No" an expensive -3,000, meaning you must bet $3,000 to win $100).
You can also find odds on whether Green will be ejected from Game 6 (Yes +1,200/No -3,500), suspended for a possible Game 7 (Yes +1,500/No -4,000), and the first Cavs player he will get in an altercation with Thursday night (LeBron is a +120 front runner).
Hail to the King
It's crazy to think that LeBron's 41-point showing in Game 5 was the first time James has topped the 40-point mark this entire NBA season. In fact, the last time he hung 40 or more on an opponent before Game 5 was versus Golden State in last year's finals, putting up 44 points in Game 1, and 40 points in both Games 3 and 5.
Oddsmakers have pegged LeBron with a Game 6 total points Over/Under of 31.5, which is pretty much on the money when you look at his offensive production in games following a 40-point eruption.
Since returning to "The Land" in 2014, James had registered six games with 40 or more before Monday's Game 5 and averaged just under 31.2 points in his following outing. LeBron is currently averaging 25.5 points per game this postseason and 28.0 points in the NBA Finals. At home, "The Chosen One" hung an average of 25.7 points on visitors this season.
Perhaps the most telling stat when it comes to James and his Game 6 point total: Cleveland is 11-3 straight up but just 6-7-1 against the spread this season when LeBron scored 32 or more points – which he'll have to do in order to cash in the Over on this player prop Thursday.
No love for Love
Kevin Love is having a NBA Finals to forget. It's on the same level of memory suppression as that time you farted on the trampoline in gym class right in front of your grade school crush. Ugh.
His futility came to a head in Game 5, with Love scoring just two points, pulling down three rebounds and recording only one assist in almost 33 minutes of floor time. That brought his finals averages down to 8.75 points, 0.75 assists, and six rebounds.
Yes, we know he's a little dinged up, having missed Game 2 with a concussion and has not looked right since, but this is the finals man. C'mon.
If you've already tossed your No. 0 jersey in the trash, then perhaps you double down and go against Love's player props in Game 6. Oddsmakers have his points + rebounds Over/Under set at 18.5, with both the Over and Under priced at -115 (wager $115 to win $100).
You can also bet on whether Love's first 3-point attempt will be a make or miss, with "missed 3-point field goal" listed as a -165 favorite (Make +140). He's coming off a 0-for-3 night beyond the arc in Game 5 and is just 4 for 14 from 3-point land in the finals.
For those who have simply washed their hands of Love, you can put the cherry on top of his very disappointing sundae by betting on whether he'll be back in Cleveland next season, with "No" an EVEN money favorite over "Yes" at +130.
Worst-case scenario
OK, let's get real for a moment. Golden State is a good team, right? According to the Warriors' regular season record (73-9) they're the greatest NBA team of all time. So it's not too far out in orbit for Cavs fans to concede that Golden State has a pretty good chance of winning its second straight title – roughly an 80 percent chance if you size up the math on the series odds.
If Stephen Curry and the Warriors do wrap up the series Thursday or back in Oakland for Game 7, the big question on Cleveland's mind will be what will LeBron do? James has an option to become a free agent this summer, stirring up ghosts of that fateful day in early July 2010.
But rest easy Ohio. According to oddsmakers at Bookmaker.eu, LeBron will likely stay put – so much so you'd have to wager $900 just to win $100 on "Yes, James be with the Cleveland Cavaliers for the 2016-17 season".
If you believe LBJ is as good as gone, take a flyer on "No" at +550. That payout would net you enough money to get some sweet season tickets to the Cavaliers' 2016-17 campaign, since Quicken Loans Arena would likely be half empty without LeBron on the court.
READ MORE:
Favored Cavaliers battling some nasty NBA betting trends in Game 6
NBA Finals Game 6 betting preview and odds: Warriors at Cavaliers
Jason Logan is the Senior Managing Editor for Covers.com, which is owned by Tribune Media. You can follow them on Twitter @Covers.