This is an archived article and the information in the article may be outdated. Please look at the time stamp on the story to see when it was last updated.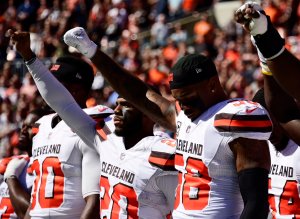 CLEVELAND — No Browns players on Sunday knelt during the national anthem ahead of the matchup against the Cincinnati Bengals, but nine of them stood with their fists raised, including linebacker Christian Kirksey, Associated Press Sports Writer Tom Withers reported.
Some Browns players on Friday told FOX 8 News they still weren't sure of their plans during the national anthem today.
"We want to unify Cleveland and just send unity around the whole us; still trying to figure it out because we have to focus on the game on Sunday. We are trying to come up with something right now, but the main thing is to make sure we are sending the same message," said Browns cornerback Jamar Taylor.
No players knelt during anthem but nine #Browns players, including LB Christian Kirksey raised their right arms with closed fists.

— Tom Withers (@twithersAP) October 1, 2017
Meanwhile, the Browns are hoping to get off to a fast start on Sunday, they have yet to lead in a game this season. DeShone Kizer will start his 4th career game, he is looking to improve on his 4th quarter performance against the Indianapolis Colts in which he helped lead the Browns on a second-half rally.