This is an archived article and the information in the article may be outdated. Please look at the time stamp on the story to see when it was last updated.
CLEVELAND–Major League Baseball will let players show a little more personalities during the newly-created Players Weekend.
Players across the league got a chance to pick out nicknames for colorful jerseys, inspired by youth baseball. A patch on the uniforms symbolizes the path from Little League to the MLB.
"The journey from youth leagues to Major League Baseball is one that players don't take alone," said commissioner Robert Manfred in a news release on Wednesday.
"Major League players have been supported by family members, coaches, and organizations that helped them develop their unique skills and overcome challenges to reach the highest level of the sport. These games will allow the players to thank those who were important in their lives while showcasing their personality in a fun way that fits baseball's community-driven focus."
Tribe shortstop Francisco Lindor was named one of the ambassadors for the weekend, which runs from Aug. 25 to Aug. 27.
The jerseys are available for purchase on MLBShop.com. Game-worn jerseys will be auctioned online with 100 percent of the profits going to the MLB-MLBPA Youth Development Foundation.
Here are the nicknames the Cleveland Indians chose:
Allen: Pollo
Almonte: El Varon
Armstrong: Armie
Bauer: Bauer Outage
Brantley: Dr. Smooth
Carrasco: Cookie
Chisenhall: Big Lon
Clevinger: Sunshine
Crockett: Crock
Encarnacion: EE
Gomes: Gomer
Gonzalez: La Parita
Goody: Goods
Guyer: BG
Jackson: AJax
Kipnis: Kip
Kluber: Klubes
Lindor: Mr. Smile
Logan: Booner
McAllister: Z-Mac
Miller: Miller Time
Olson: Oly
Otero: OT
Perez: Bebo
Ramirez: Ramirez
Robertson: Sparky
Salazar: Sally
Santana: Slamtana
Shaw: Geek
Smith: Sidewinder
Tomlin: Scrubs
Urshela: Gio
Zimmer: Machine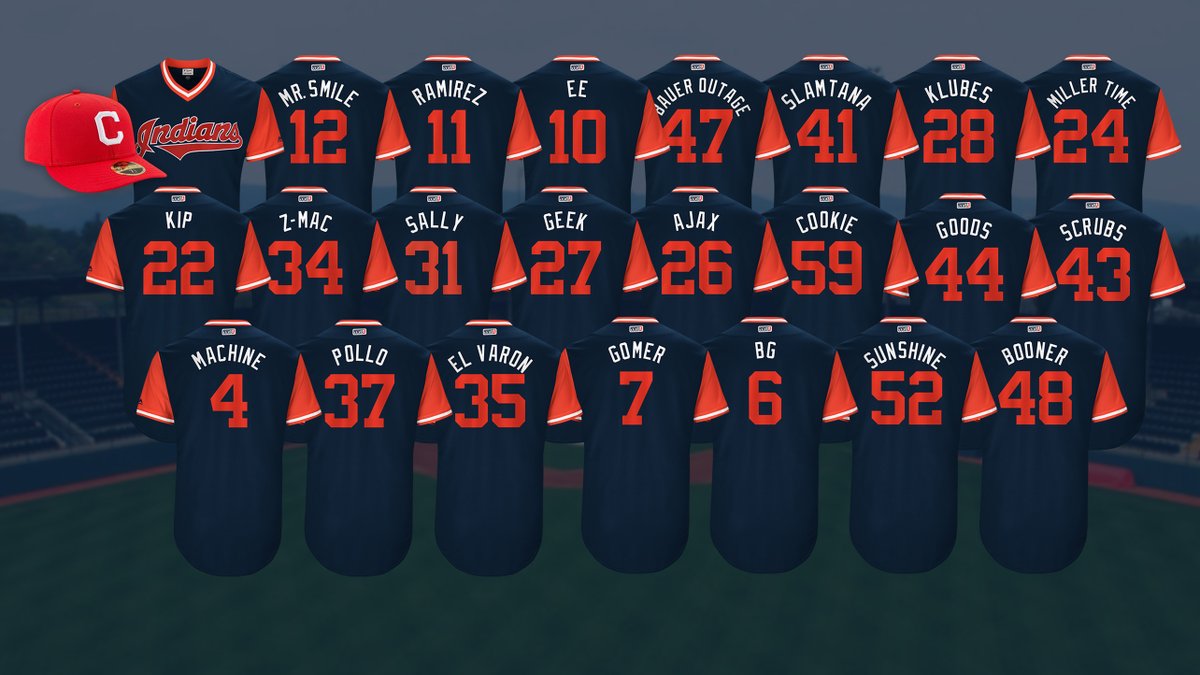 Coaches/support staff:
Alomar: Santos
Bere: Dad
Callaway: Mick
Camacaro: Dog Head
Francona: Tito
Mills: Millsie
Pacione: Pecks
Quatraro: Q
Sarbaugh: Sarby
More stories on the Cleveland Indians here