This is an archived article and the information in the article may be outdated. Please look at the time stamp on the story to see when it was last updated.
CLEVELAND- The Cavaliers' journey to repeat appearances in the NBA Finals starts this week.
Cleveland opens the season in Chicago on Oct. 27. They return home to play the Miami Heat at Quicken Loans Arena on Oct. 30. at 7 p.m.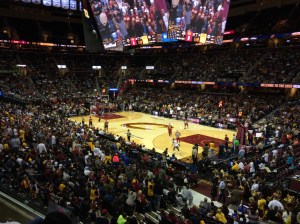 Tickets
Tickets are still available to the home opener at Cavs.com/tickets. Prices range from $49 in Loudville to $245 in the 100 level.
All fans in attendance will received a wine-colored Cavs T-shirt and a 2015-2016 schedule magnet.
Fan Fest
The free Cavs Fan Fest starts at 4 p.m. on game day outside the Q on the Gateway Plaza. There will be live music, food trucks, face painting, and performances from the Cavaliers Girls and the Scream Team.
When the game starts, fans can watch on two large video screens.
New at the Q
Quicken Loans Arena has a few new food options for the new Cavs season. There's Michael Symon's Milkshake Cart and the Nom Nom Popcorn Cart. In section 116, fans will find an interactive beer vending machine.
The Q is also introducing "Recharge the Concourse" with 22 free phone charging stations. The locations are quipped with universally-compatible cables and USB ports.
The Q Social Zone, located in sections 123 and 124, is a permanent area displaying fans' social media content.
The game
The Cavs are favored to the take the Eastern Conference for a second year and keeping the team healthy will be key. They are 1-1 with a season-opening loss to Chicago.
Kevin Love is back in action, making his preseason debut against the Toronto Raptors on Oct. 18. Love suffered a season-ending shoulder injury against the Celtics and sat on the sidelines during the NBA Finals.
Kyrie Irving did not in the preseason and head coach David Blatt refuses to speculate on his return to the court. The point guard was knocked out of last season's playoffs with a fractured knee cap.
Cleveland's opponent for the home opener, the Heat, enters their second season without LeBron James. During the King's stay in Miami, the Heat appeared in four NBA Finals and won twice. Without him, they finished with a 37-45 record last season.
Watch parties
Not able to go to the game? More than 40 bars in downtown Cleveland and Ohio City will host official #AllForCLE watch parties. See the full list here.
More stories on the Cavaliers here