This is an archived article and the information in the article may be outdated. Please look at the time stamp on the story to see when it was last updated.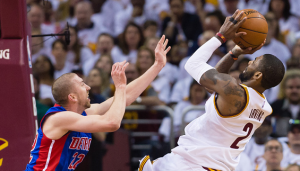 CLEVELAND – The Cleveland Cavaliers defeated the Detroit Pistons, 106-101, in Game 1 of a best-of-seven playoff series.
They now lead the series 1-0.
The Pistons took the early lead, keeping themselves a couple points ahead most of the first quarter. The Cavaliers closed in as the quarter ended though, taking a 27-25 lead right at the buzzer.
The second quarter was close as well, but the Pistons came away with the lead going into halftime, 58-53.
Kevin Love lead the Cavs with 18 points at the half, while Marcus Morris lead the Pistons with 19.
The third quarter wasn't much of a change from the first half when it came to scoring and the Cavs continued to struggle, missing several 3-pointers. The Pistons lead 78-76 going into the fourth.
Things changed in the fourth quarter as both teams got much more physical. The Cavs managed to create a gap with a few minutes left in the game. They stepped up defensively in the final minutes and were able to hold onto their lead and take the win.
Game 2 is on Wednesday night at 8 p.m. at Quicken Loans Arena.
Cavs win, 106-101 #ALLin216 #cavs #CavsPistons pic.twitter.com/9B8kiT9d4u

— fox8news (@fox8news) April 17, 2016
The Cavs and Pistons faced off in the regular-season finale, where the Pistons came away with the win. Neither LeBron James or Kyrie Irving played in that game.
On Saturday, Kevin Love told media that the they don't want to get ahead of themselves and they know they have a tough opponent in the Pistons.
This postseason will be much different for the Cavaliers compared to last year. Kevin Love and Kyrie Irving are both healthy and playing well after they were both injured during the NBA playoffs in 2015.
Eleven-year-old Allison was honored by the Cavs for donating her allowance for the Canton K-9s' bulletproof vests.

The crowd sang the National Anthem before the game.

The fans go crazy as LeBron James is introduced before the game.

Almost game time at Quicken Loans Arena.

"All in 216" shirts cover the seats in the arena.

Fans measure up against the Cavs.

Kevin Love warming up before Game 1.

Iman Shumpert takes a few shots before the game.

Tristan Thompson during pre-game warmups.

Tristan Thompson during pre-game warmups.
Schedule:
Game 2 Wednesday, April 20 at Quicken Loans Arena at 8 p.m.
Game 3 Friday, April 22 at the Palace of Auburn Hills at 7 p.m.
Game 4 Sunday, April 24 at the Palace of Auburn Hills at 8:30 p.m.
Game 5* Tuesday, April 26 at Quicken Loans Arena time TBD
Game 6* Thursday, April 28 at the Palace of Auburn Hills time TBD
Game 7* Saturday, April 30 at Quicken Loans Arena time TBD
*If necessary
**More on the Cleveland Cavaliers here**