This is an archived article and the information in the article may be outdated. Please look at the time stamp on the story to see when it was last updated.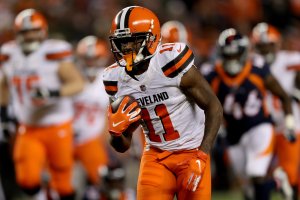 CLEVELAND (WJW) — The Cleveland Browns have waived wide receiver Antonio Callaway from their roster.
According to the team, offensive lineman Drew Forbes has been activated from the injured reserve; Callaway was waived to make room on the roster for Forbes.
The Browns selected Forbes, a rookie who previously played for Southeast Missouri State, during the sixth round of the 2019 NFL Draft.  He started in one of four preseason games for the club this year.
He suffered a knee injury during the Browns' preseason finale against the Detroit Lions and was placed on injured reserve September 2.  He was designated for return on October 24.
Callaway, a fourth-round pick in 2018, appeared in four games this season and recorded eight receptions for 89 yards.
According to Ian Rapoport, National Insider for NFL Network, Callaway is also appealing a 10-game suspension for violating the NFL's substance abuse policy. He told those poised to administer the suspension that it stems from a tainted CBD product.
He reportedly had a hearing regarding the issue last week.  Raporport says this is not the only reason the team waived Callaway, but definitely was an important factor.
ESPN Insider Jeremy Fowler also says a source told him that Callaway was late to practices and team events again this week. This happened just days after he showed up past the scheduled time for Cleveland's game against Buffalo. Fowler says the team is "fed up."
This announcement comes just hours before the Browns kick off against the Pittsburgh Steelers in FirstEnergy Stadium Thursday night.  You can watch the rivalry game on FOX 8 at 8:20 p.m.
Our game day coverage begins at 7 p.m. with John Telich, P.J. Ziegler and Andre Knott. Don't miss our exclusive interview with former Browns coach Hue Jackson, who has a message for Browns fans. Plus, we go one-on-one with the Scottish Hammer, punter Jamie Gillan.
More stories on the Cleveland Browns, here.