This is an archived article and the information in the article may be outdated. Please look at the time stamp on the story to see when it was last updated.
BEREA, Ohio– The Cleveland Browns' first-round selections from the 2017 NFL Draft met with members of the media Friday afternoon.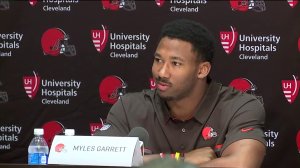 For the first time in team history, the Browns selected three players in the opening round. Cleveland took Texas A&M defensive end Myles Garrett as the No. 1 overall pick. The Browns had legendary running back Jim Brown call Garrett to deliver the good news. It's a moment that made the rookie grateful to his new team.
"Hearing him speak on the phone was absolutely amazing. Couldn't have my announcement come in a better way," Garrett told reporters on Friday.
The defensive end addressed a variety of topics, including his passion for poetry and his relationship with fellow Texas A&M alum Johnny Manziel, who he called "an acquaintance."
The Browns had a second first-round pick through a 2016 draft-day trade with the Philadelphia Eagles. The team gained a third first rounder by trading with the Green Bay Packers.
Those trades enabled Cleveland to draft Michigan safety Jabrill Peppers and Miami tight end David Njoku.
These rookies were full of praise for each other, marveling at the talent they individually possess.
"He's too big to run that fast," Peppers said amount Garrett. He had a big smile on his face, adding having them both on defense will, "Be a sight to see."
Peppers also addressed his diluted sample at the NFL combine and was thankful the Browns were willing to draft him.
"They know I'm a high-character guy," Peppers said. "If a dilute sample is the worst problem I've had in my life, I'll take it."
The three rookies emphasized their love of football and their desire to compete. They also want to learn from the coaching staff and veteran players.
"We're eager to gel with the guys in the locker room and learn from veterans," Pepper said.
"They're the foundation. We're another piece of the puzzle," Garrett said.
More stories on the Cleveland Browns and the 2017 NFL Draft here