This is an archived article and the information in the article may be outdated. Please look at the time stamp on the story to see when it was last updated.
CHICAGO, Ill -It's #ALLinCLE as Cleveland prepares to cheer the Cavs on as they look to even the second round playoff series against the Chicago Bulls.   Game four is at 3:30 today and game five will be Tuesday night here in Cleveland.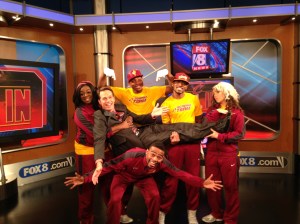 The Cavs' Scream Team visited the Fox 8 studios this morning for some pre-game pumping up....watch the fun in the video above. They also had a little fun with our Todd Meany.
As for the players, they had the day off on Saturday as head coach David Blatt wanted them to get off their feet and get rest and rehabilitation for any injuries the players may have. That includes Cavaliers guard Kyrie Irving, who has been playing with a foot injury.
** Fox 8's P.J. Ziegler will be live in Chicago and we will have the latest right here on FOX8.com and on FOX 8 News**
As always, there's a big watch party at The Q. Doors will open at 2:30 p.m. The party will feature interactive activities on the court,  games, inflatables and lots and lots of food and drinks.
The official hash tag for the 2015 Cavs playoffs is #ALLinCLE.
 *Continuing coverage on the Cavs right here*
*We want to see your Cavs pride! Share your fan photos*