This is an archived article and the information in the article may be outdated. Please look at the time stamp on the story to see when it was last updated.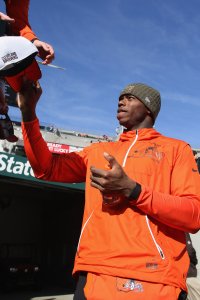 BEREA, Ohio– Josh Gordon will make his return to the playing field on Sunday.
Browns head coach Hue Jackson announced he plans to start the wide receiver against the Chargers. Jackson told reporters on Thursday he believes Gordon has a grasp of the team's playbook.
NFL Commissioner Roger Goodell conditionally reinstated Gordon earlier this month following several suspensions for violated league substance abuse policies.
Gordon discussed some of the drug use in a Sports Illustrated article published on Tuesday. He said he made about $10,000 a month selling marijuana in college.
Gordon returned to practice last week. This will be his first regular-season game since 2014.
More stories on the Cleveland Browns here