This is an archived article and the information in the article may be outdated. Please look at the time stamp on the story to see when it was last updated.
BEREA, Ohio—It was back to work for the Cleveland Browns who are preparing for their season opener on Sunday against the New York Jets.
All 53 players were present for practice, but missing was offensive line coach Andy Moeller.
Moeller is serving an indefinite suspension from the team following an incident over the weekend at his home. Berea police received a 911 call on Saturday night from a female claiming to be Moeller's fiancée. In the 911 call, the woman states Moeller tried to beat and strangle her.
Moeller was not arrested and has not been charged. The Browns are taking the allegations seriously.
Continuing coverage of Andy Moeller's suspension here
"Everything about the incident is troubling, the allegations, all the information that is available it is disturbing," said head coach Mike Pettine. "However, we are not going to comment any further. It's an ongoing investigation. There is a process that we have established internally as to how we handle any conduct issue and we are going to stick to it."
The Browns have already put in motion the steps needed to fill Moeller's game day role.
As for the game itself, the Browns head into the first week fairly healthy. Duke Johnson Jr. and Pierre Desir were cleared to return to practice on Wednesday after being placed in the league's concussion protocol. Johnson said he was feeling good and ready to go in whatever capacity the team needed him on Sunday.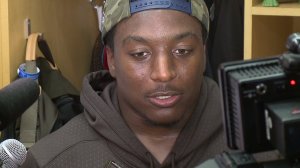 "I think I can step right in. I am preparing myself," he said. "My teammates and my coaches also helped me prepare even though I wasn't out there. I am happy to be preparing for the game, mentally and now that I am out there I can take some reps and after practice even get some more conditioning."
Quarterback Josh McCown is gearing up for his first start as a member of the Cleveland Browns. He has not played in a game-like atmosphere since leading the Browns to their only victory of the preseason against the Tampa Bay Buccaneers. He is confident in the running game, despite the lack of run production the team produced during the preseason.
"I do I feel confident in our running game," McCown said. "Like I have said before, running games, especially this week, the good ones – it is a war of attrition. You have to get runs and runs and runs called, and wear on people and then you break big ones and that is how you build a good running game."
Notes: WR Terrelle Pryor changed his number from 87 to 17. Head coach Mike Pettine said the number change was Pryor's personal preference. Pryor said he did not want to wear a high-number jersey, thus changing it from 87 to 17.
More Cleveland Browns stories here