This is an archived article and the information in the article may be outdated. Please look at the time stamp on the story to see when it was last updated.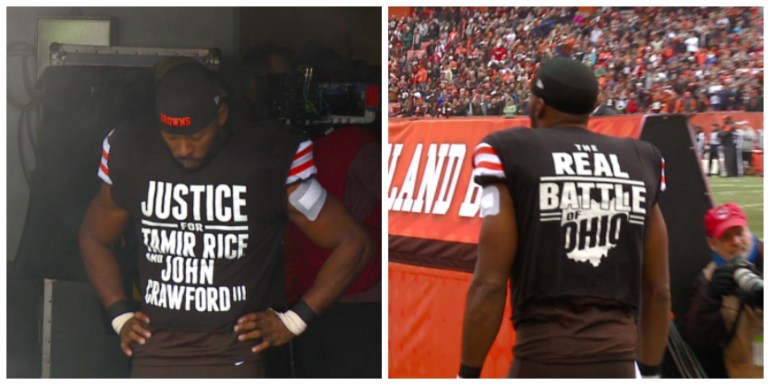 CLEVELAND, Ohio — Cleveland Browns wide receiver Andrew Hawkins made a silent statement during pre-game introductions at Sunday's game against the Bengals.
Hawkins wore a shirt bearing the names Tamir Rice and John Crawford, both of whom died in police-involved incidents in Ohio.
Rice, 12, was shot by a Cleveland police officer Nov. 22 after reports of a male pointing what appeared to be a gun near the Cudell Recreation Center playground. It turns out Rice had a airsoft gun. He died from his injuries Nov. 23.
John Crawford, 22, was shot to death back in August at a WalMart in a Dayton suburb after a 911 caller reported he was waving what appeared to be a rifle. It turned out to be an air rifle.
The front of Hawkins' shirt said "Justice for Tamir Rice and John Crawford," and the back said "The real battle of Ohio."
Cleveland Police Patrolman's Association President Jeff Follmer released the following statement in reaction to Hawkins' message:
"It's pretty pathetic when athletes think they know the law. They should stick to what they know best on the field. The Cleveland police protect and serve the browns stadium and the Browns organization owes us an apology."
In response, the Cleveland Browns released this statement:
"We have great respect for the Cleveland Police Department and the work that they do to protect and serve our city. We also respect our players' rights to project their support and bring awareness to issues that are important to them if done so in a responsible manner."
Hawkins is the latest athlete to wear a shirt or uniform protesting recent police-involved deaths.
LeBron James, Kyrie Irving and multiple Brooklyn players wore "I Can't Breathe" shirts as they warmed up for the game between the Cleveland Cavaliers and the Nets last week, for example.