This is an archived article and the information in the article may be outdated. Please look at the time stamp on the story to see when it was last updated.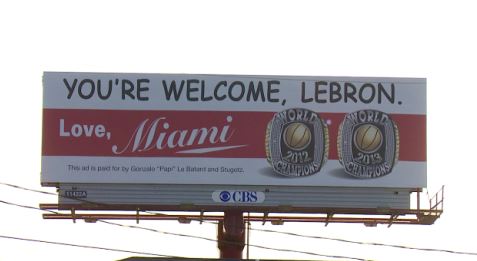 AKRON — A billboard that criticizes LeBron James is installed in the very same neighborhood where James spent most of his childhood.
Media outlets report the billboard was paid for by Dan Le Batard. He hosts a sports talk show on a Miami radio station along with a national television show on ESPN.
The billboard reads, "You're welcome, LeBron." It is signed, "Love, Miami."
Le Batard reportedly said, "It's just fun anarchy. All meant in fun."
One Northeast Ohioan tweeted a picture of the billboard soon after it was unveiled. Thousands of people quickly re-tweeted it and he's received calls from media outlets around the country.
Me with the sign behind me @AnthonyLimaFAN to prove its real pic.twitter.com/f9Qhf16D6p

— Trade Wiggins (@JeremyinAkron) August 6, 2014
Jeremy Powell of Akron said he disagrees with the billboard's message. "It should say, 'thank you, LeBron, from Miami.' Miami fans– all they did for LeBron was show up late and leave early, even from the finals. So who can fault a guy for wanting to go home? So, that's a bit ridiculous and I don't think he owes anything to the Miami fans," said Powell.
Meanwhile, fans are getting ready to welcome home LeBron with a huge party at InfoCision Stadium in Akron on Friday night.
CLICK HERE to read more about the celebration.