This is an archived article and the information in the article may be outdated. Please look at the time stamp on the story to see when it was last updated.
Air hockey is easy to get into, but if you want to become the undisputed champion in your neighborhood, there are a few things you must know.
If you have lightning-quick reflexes and a powerful pushing arm, you'll crush your opponents in no time. But don't worry about not having the slapping power of Wayne Gretzky or the goalie abilities of Martin Brodeur. The most significant thing to remember is that it's not always about winning or losing. First and foremost, you must have fun.
In this article: EastPoint Air Hockey Table, ESPN Sports Air Hockey Game Table and MD Sports Air Hockey Table.
How air hockey tables work
Air hockey tables mostly consist of a flat surface with thousands of tiny holes. A compressor or fan blows air through the holes, causing anything placed on top to float a small distance off the surface.
Usually, this is a plastic puck, measuring 2.5 inches for smaller versions and 2.9 inches for larger pucks. Depending on the size, a puck weighs between two-tenths and seven-tenths of an ounce, which influences the difficulty of controlling it.
How you play
You strike the puck around the air hockey table with a paddle. This looks similar to a hamburger patty press, made from plastic with a large knob on the top. The paddle must always touch the air table, and you strike the puck with the edges, trying to get it into your opponent's goal.
The person with the most goals after a predetermined time can be the winner. You also can decide that there's a winner when a certain number of goals have been scored.
Either way, instead of trying to count up and remember the tally in your head, there are plenty of tools you can use for keeping score. While old-fashioned pen and paper is an option, there are some nifty analog and digital scorekeepers. There are even air hockey scoring apps for mobile phones.
Getting the right size table
Nothing will spoil your planned neighborhood air hockey championship more than realizing that the table doesn't fit where you want it. So, before buying a table, consider the best location for it, keeping in mind that you'll need some room around it to move.
They come in different sizes, ranging from full-size tables with electronic scoreboards and professional pucks to smaller versions that easily fit on a dining room table or in the back of your car for mobility.
Best air hockey tables for home use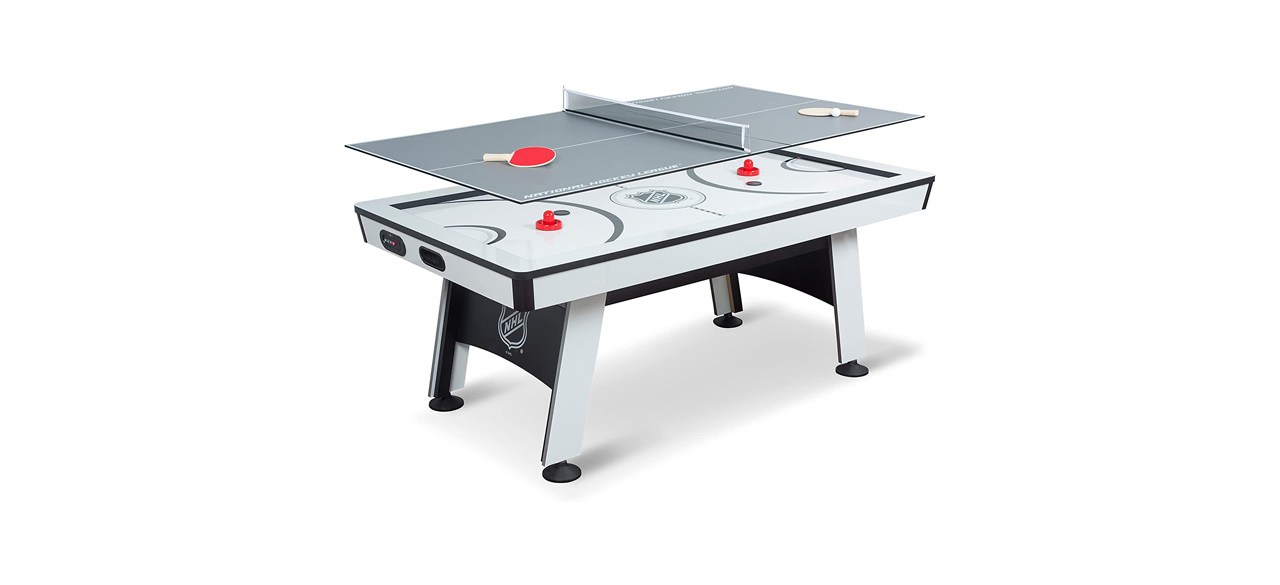 This is one of the best air hockey tables, easily converting into a table tennis surface. The beautifully designed table has NHL decals on the sides and has an official-looking white and black color scheme. It comes with two pushers, two pucks, two table tennis paddles and a net.
Sold by Amazon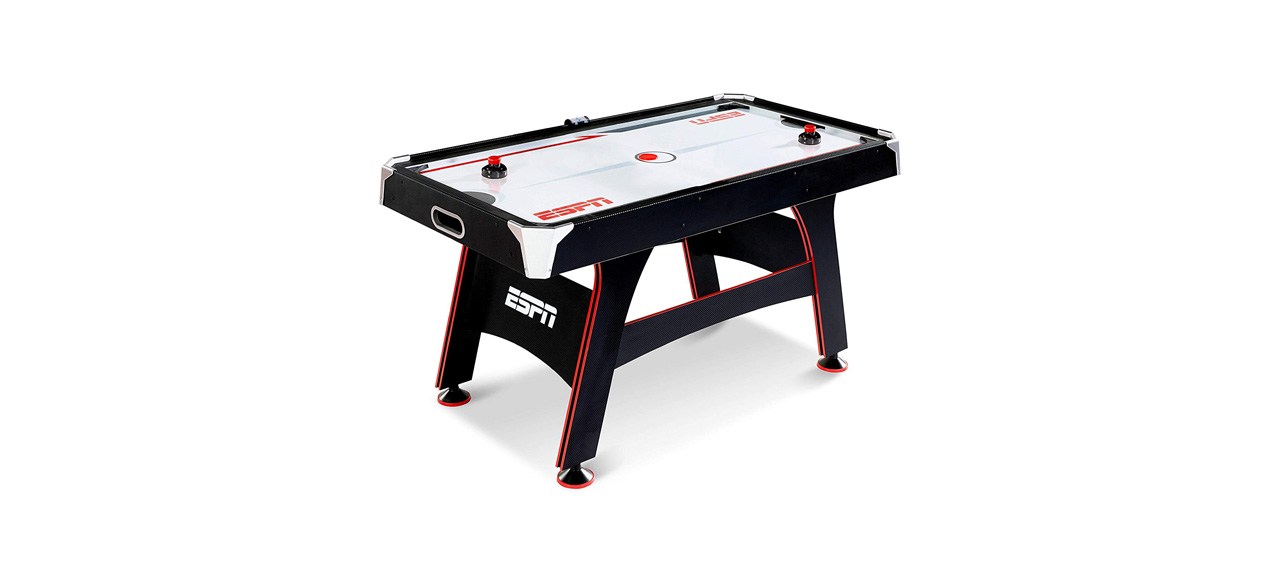 ESPN Sports Air Hockey Game Table
This black and red air hockey table has ESPN logos on both sides and on the ultra-smooth surface and includes an LED electronic scorekeeper with push-button controls. The table comes with two pushers and two pucks.
Sold by Amazon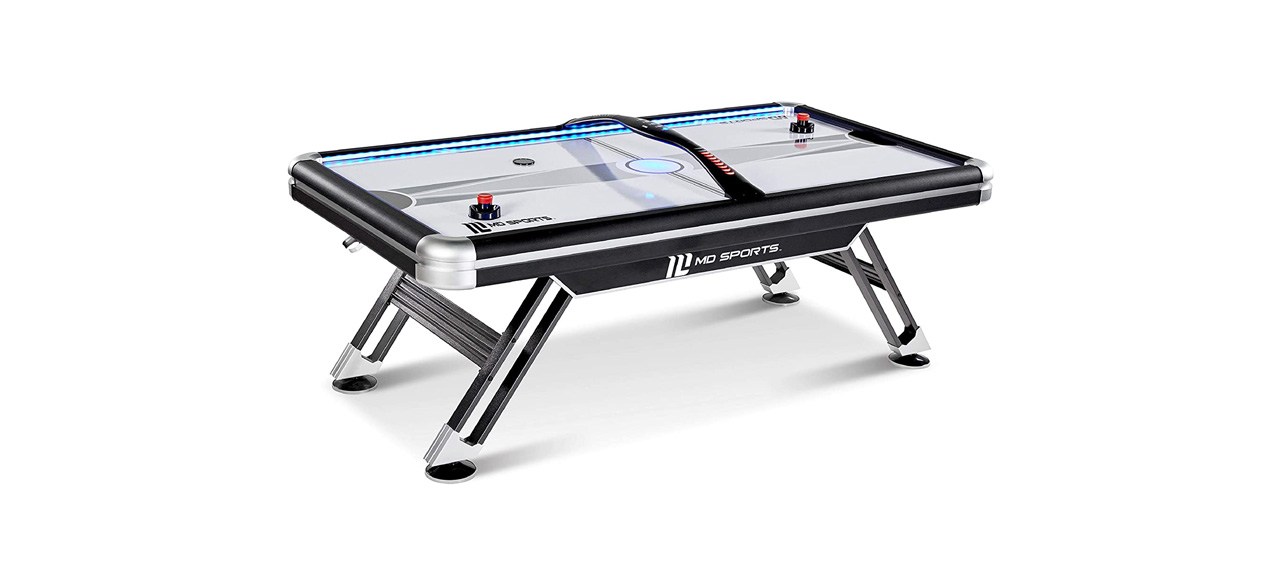 If you want an air hockey table with a futuristic look, this table is perfect. It has an electronic scorekeeper that bridges over the table and easy-to-push buttons for setting up the next game. The table is 90 inches long and 50 inches wide and comes with four pucks and four pushers.
Sold by Amazon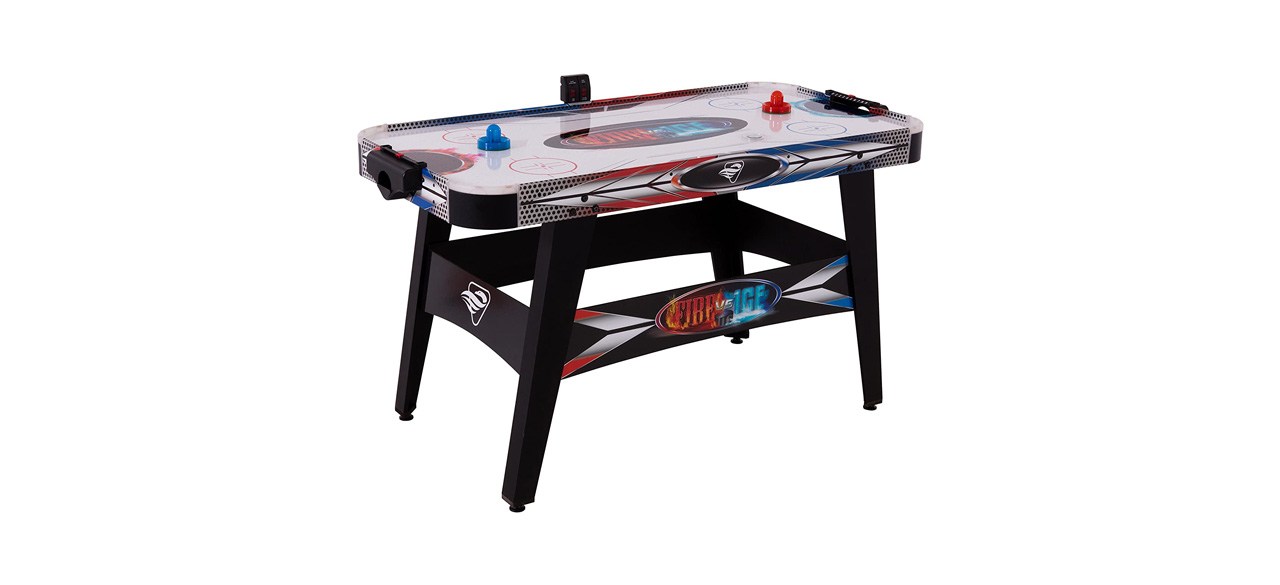 Triumph Fire 'N Ice LED Light-Up 54-Inch Air Hockey Table
This table is excellent if you don't have a lot of space or just need an air hockey table smaller than normal. It has light-up corners when a goal is scored and comes with two differently colored pushers and a puck.
Sold by Amazon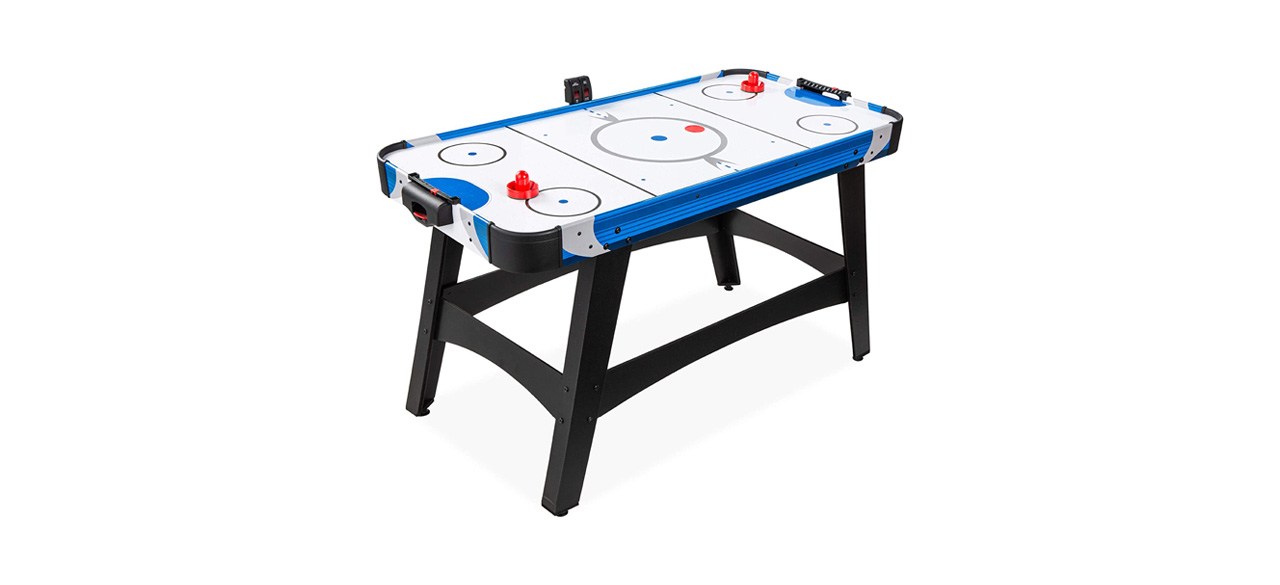 Best Choice Products 58-Inch Mid-Size Arcade Style Air Hockey Table
This 54-inch table resembles the air hockey tables you'd find in arcade centers. The white and blue design with red pushers gives it a classic look and it has an electronic scorekeeper on one side.
Sold by Amazon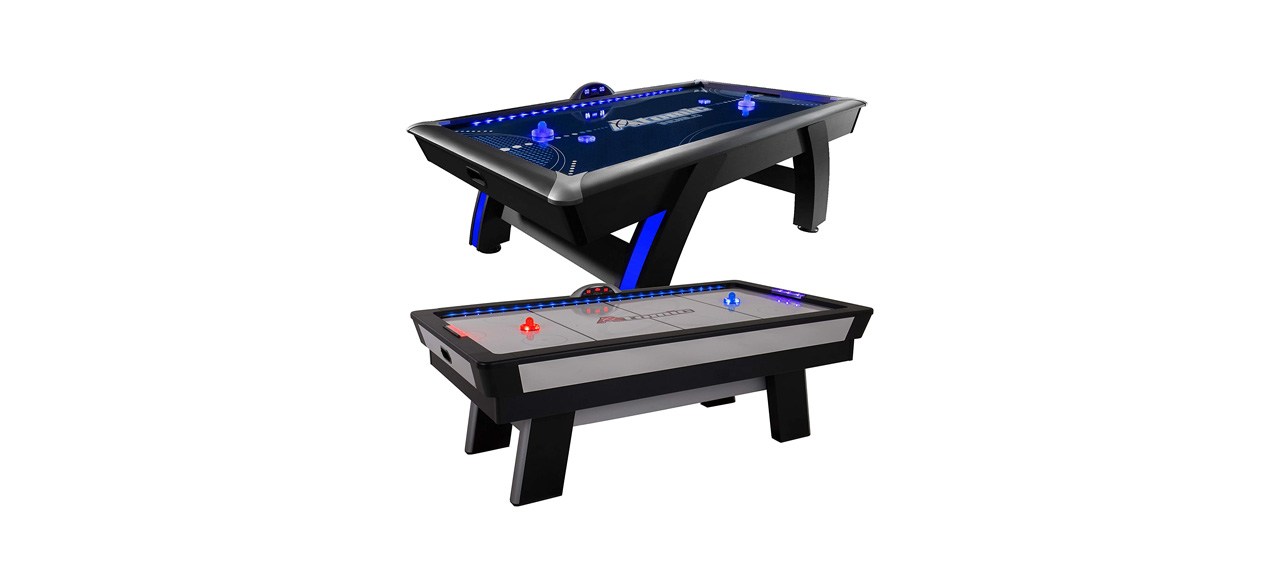 Atomic 90-Inch LED Light UP Arcade Air-Powered Hockey Table
This is an excellent table if you have a lot of room, since it's 90 inches long, 50 inches wide and 31 inches tall. The sturdy construction will be durable for a long time and it includes two light-up pucks and pushers. When a goal is scored, it plays high-tempo music for added effect.
Sold by Amazon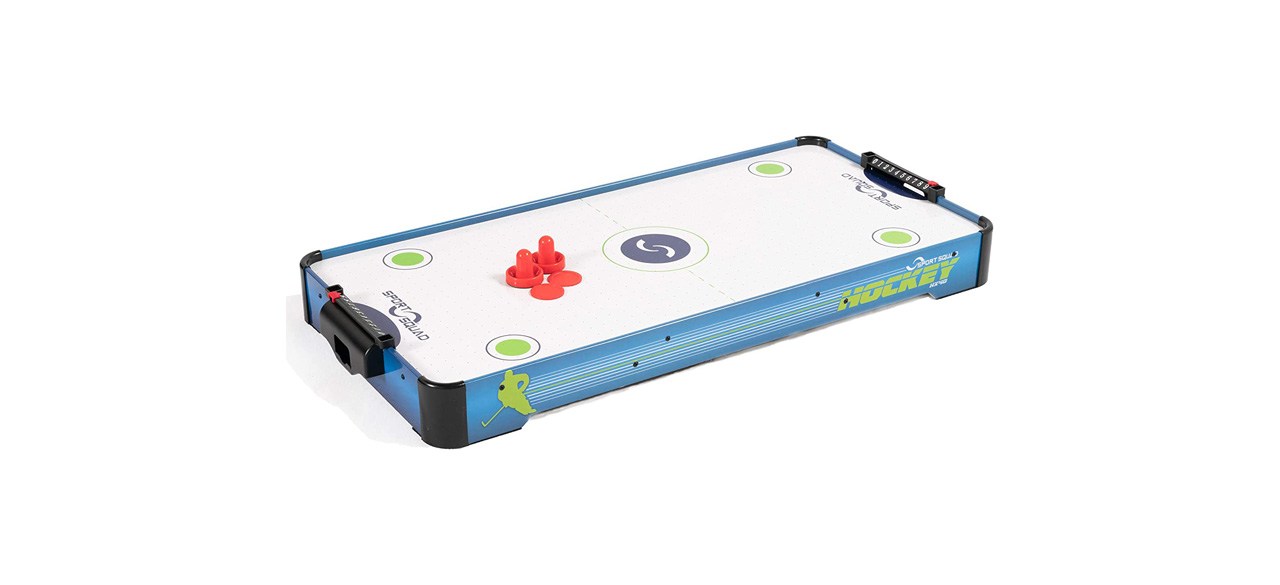 Joola Sport Squad HX40 40-Inch Table Top Air Hockey Table
Perfect for camping or when space is limited, this air hockey table measures 40 inches long and 20 inches wide and is best played on a flat surface such as a dining room table countertop. It has two analog scorekeepers on either side and comes with two pushers and two pucks.
Sold by Amazon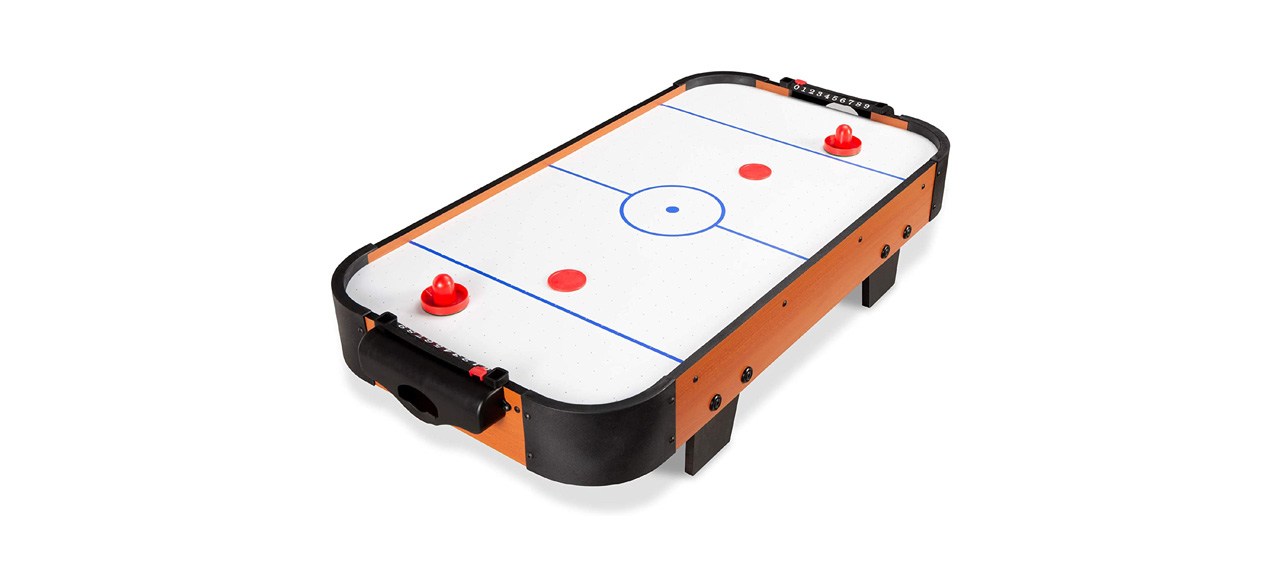 Best Choice Products 40-Inch Portable Tabletop Air Hockey
This tabletop air hockey table comes with two pushers and two pucks and has ice hockey lines drawn on the surface. It has analog scorekeepers at either end and stands on four stable feet.
Sold by Amazon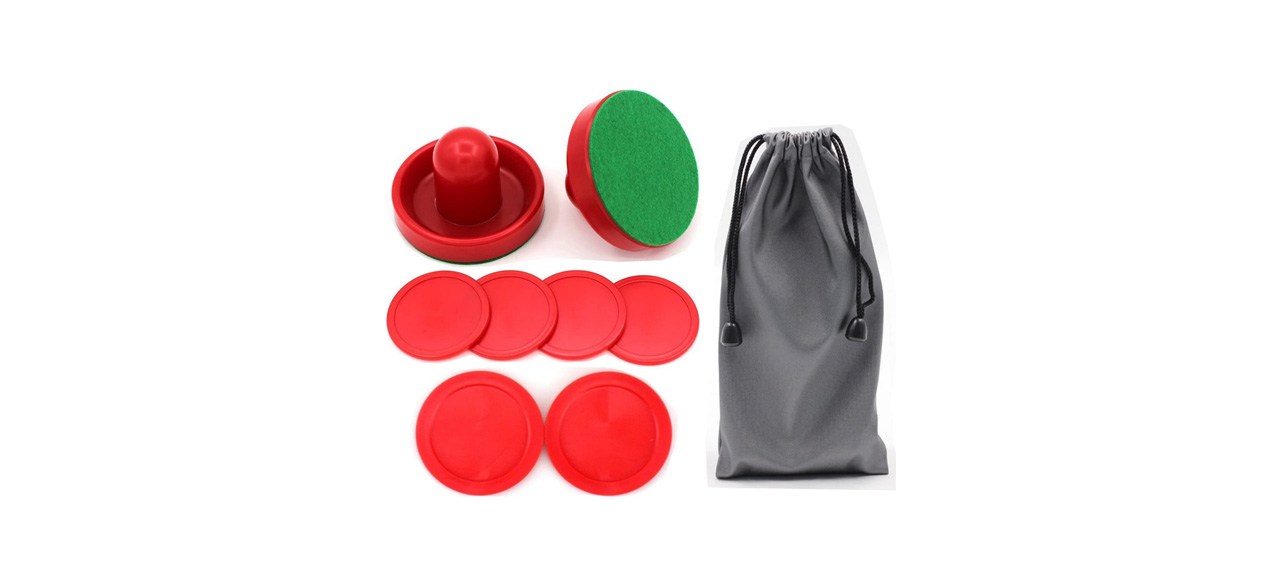 Qtimal Home Standard Air Hockey Paddles and Pucks
This bundle is a perfect choice if you need more pushers or pucks. It includes two standard-size pushers with felt underneath, two 2.5-inch pucks and two 2.9-inch pucks. You can safely store all your accessories in the included drawstring bag.
Sold by Amazon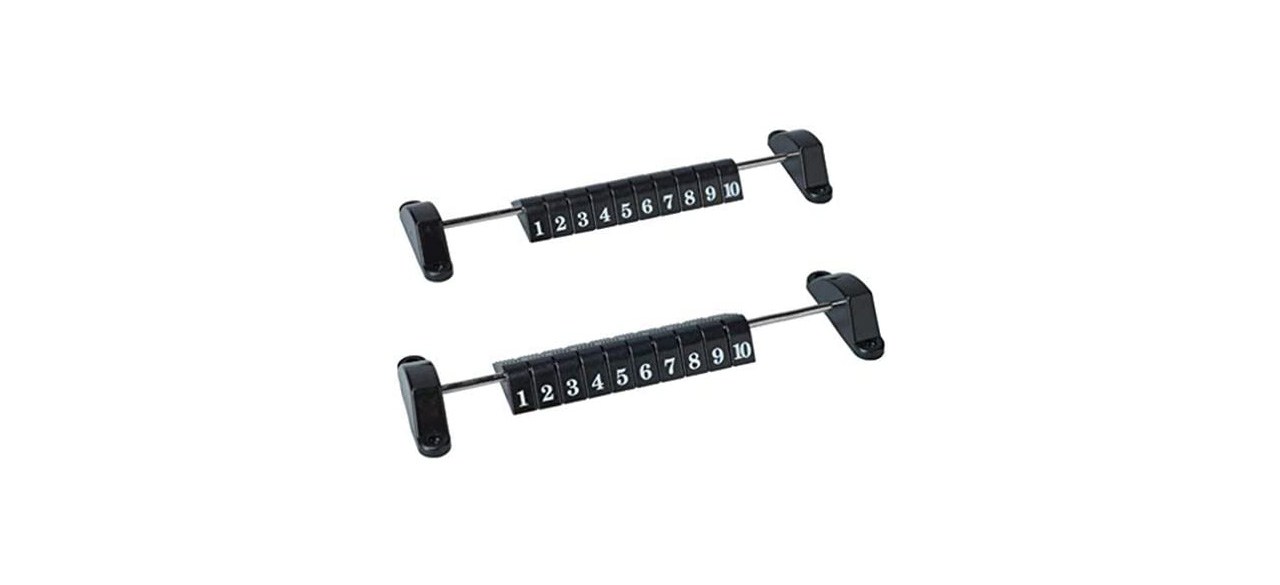 Action Foosball and Air Hockey Scoreboard
You can leave the pen and paper in your desk if you keep score with these analog scoreboards. They easily rest on any flat surface, are about 12 inches long and the numbers go from one to 10.
Sold by Amazon
Want to shop the best products at the best prices? Check out Daily Deals from BestReviews.
Sign up here to receive the BestReviews weekly newsletter for useful advice on new products and noteworthy deals.
Charlie Fripp writes for BestReviews. BestReviews has helped millions of consumers simplify their purchasing decisions, saving them time and money.
BestReviews spends thousands of hours researching, analyzing and testing products to recommend the best picks for most consumers.
Copyright 2023 BestReviews, a Nexstar company. All rights reserved.