This is an archived article and the information in the article may be outdated. Please look at the time stamp on the story to see when it was last updated.
Which is better, a snow thrower or a snow blower?
If this is the winter you're ready to get a machine to handle the snow, you're going to have to choose between a snow thrower and a snow blower. To choose the one right for you, consider how many inches or feet of snow you get each year, whether the snow is usually light and powdery or wet and heavy, and the size of the area you need to clear.
Whether you choose a snow thrower or a snow blower, you'll be buying a machine that is a real back saver.
Key measurements
Generally speaking, snow blowers are bigger, heavier and have more power than snow throwers. Just like lawn mowers, snow throwers and snow blowers come in different widths. Unlike lawn mowers, snow throwers and blowers also are made to handle different depths of snowfall.
Width: Intake chutes are measured in inches and indicate how wide a path the machine can clear. The wider the chute, the fewer times you need to go back and forth, and the more quickly the snow is removed.
Depth: Intake chutes also indicate the maximum depth of snow the machine is capable of removing.
Throw distance: The farther your machine throws or blows the snow, the less chance there is of you having to clear the same area over and over again.
Volume of snow: This is usually measured in the number of pounds of snow the machine can throw or blow.
Power
More power means you spend less time outside in the cold running your machine. Wet, heavy snow takes a lot more power to remove than dry, powdery snow.
Corded electric throwers and blowers: Their power is measured in amps and generally speaking, larger numbers mean more power.
Battery-powered throwers and blowers: Battery power is measured in volts. Bigger numbers translate into longer run times before the battery needs recharging.
Gas-powered throwers and blowers: Engine displacement, horsepower and torque are the measurements you use to compare the power of machines. Bigger numbers mean you can remove more snow more quickly.
What is a snow thrower?
It's a single-stage machine that gathers snow into the intake chute with an auger and tosses out the exhaust chute in one continuous motion. All the work is done by the auger, essentially a large screw that spins horizontally, feeding the snow into the exhaust chute.
Snow thrower pros
Cost: They're more expensive than snow blowers, ranging in price from $100-$600.
Size: Because they're smaller than snow blowers, they're easier to maneuver and take up less room in your garage or shed.
Snow thrower cons
Power: They can't handle heavy, wet snow.
Volume: They're made for clearing smaller areas, such as sidewalks, porches and decks, but struggle with bigger areas.
Best snow throwers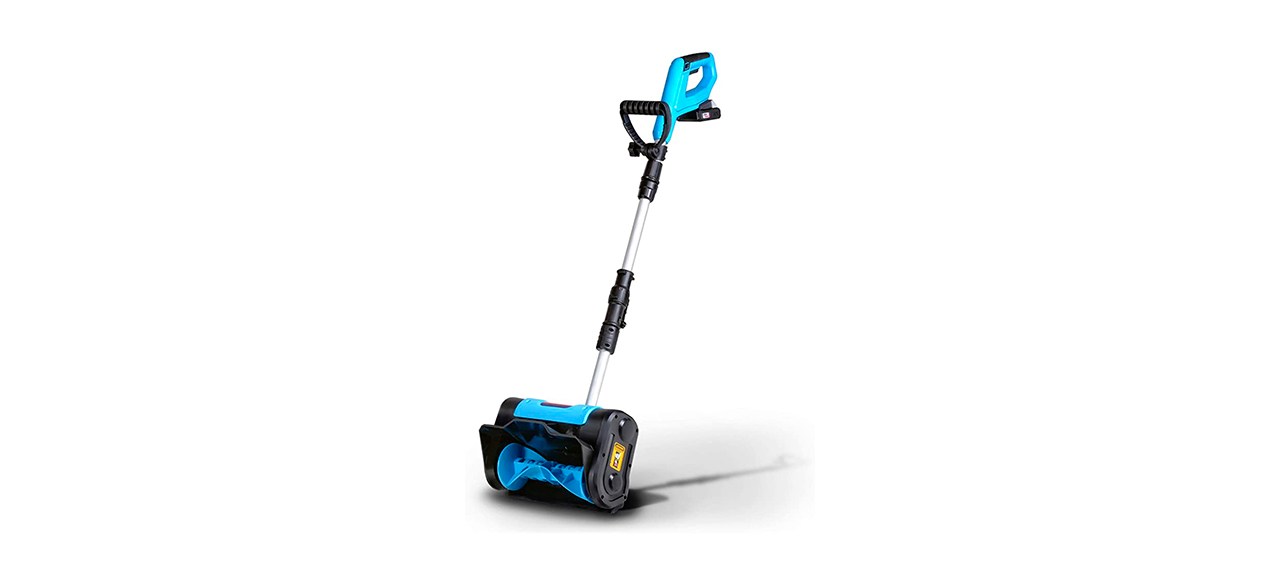 Alphaworks 10-Inch Cordless Electric Snow Thrower/Handheld Shovel
This compact, lightweight 20-volt machine's 10-inch intake chute is great for clearing light snow from sidewalks, porches, steps, patios and decks.
Sold by Amazon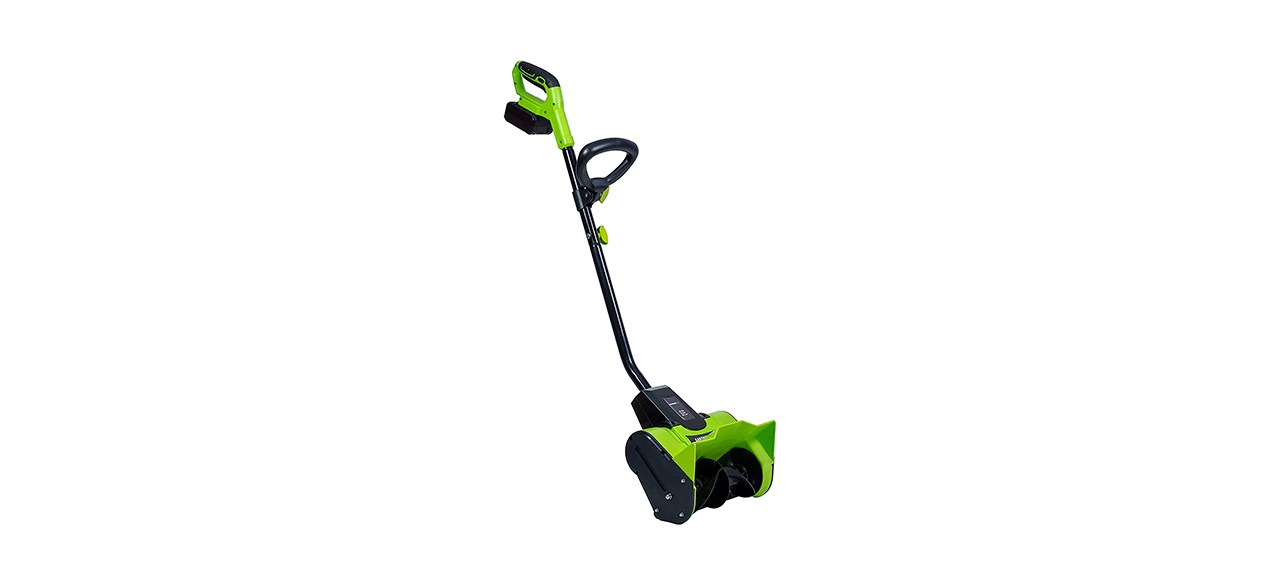 Earthwise 12-Inch Cordless Electric Snow Thrower
This 20-volt machine has dual ergonomic handles and a dual auger that can move 300 pounds of snow per minute.
Sold by Amazon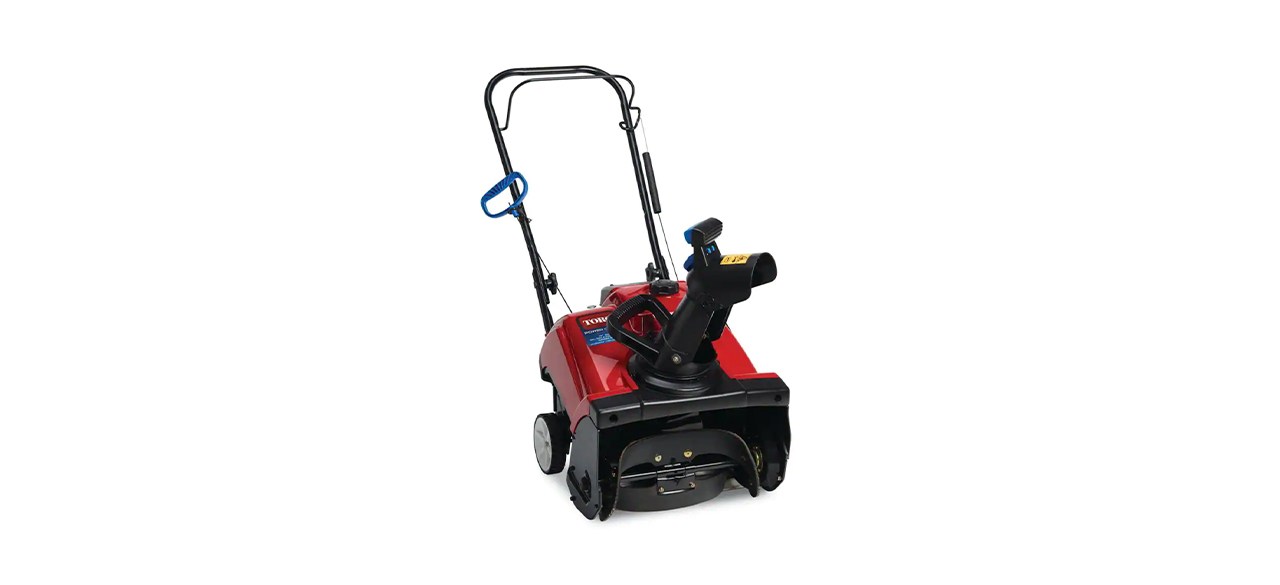 Toro Power Clear 18-Inch Single-Stage Gas Snow Thrower
The curved rubber paddles shred snow to reduce clogging and the exhaust chute lever with locking deflector lets you throw snow exactly where you want it.
Sold by Home Depot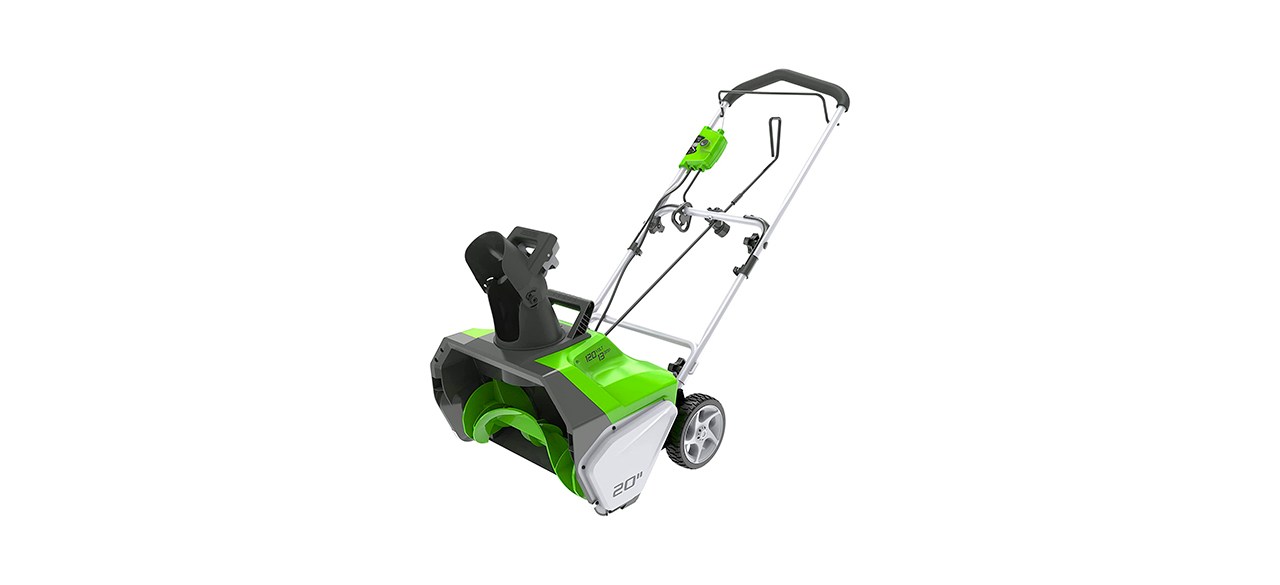 Greenworks 20-Inch Corded Electric Snow Thrower
This 13-amp machine has 7-inch wheels for greater mobility, clears a 20-inch path through 10-inch deep snow and throws it 20 feet through an adjustable 180-degree chute.
Sold by Amazon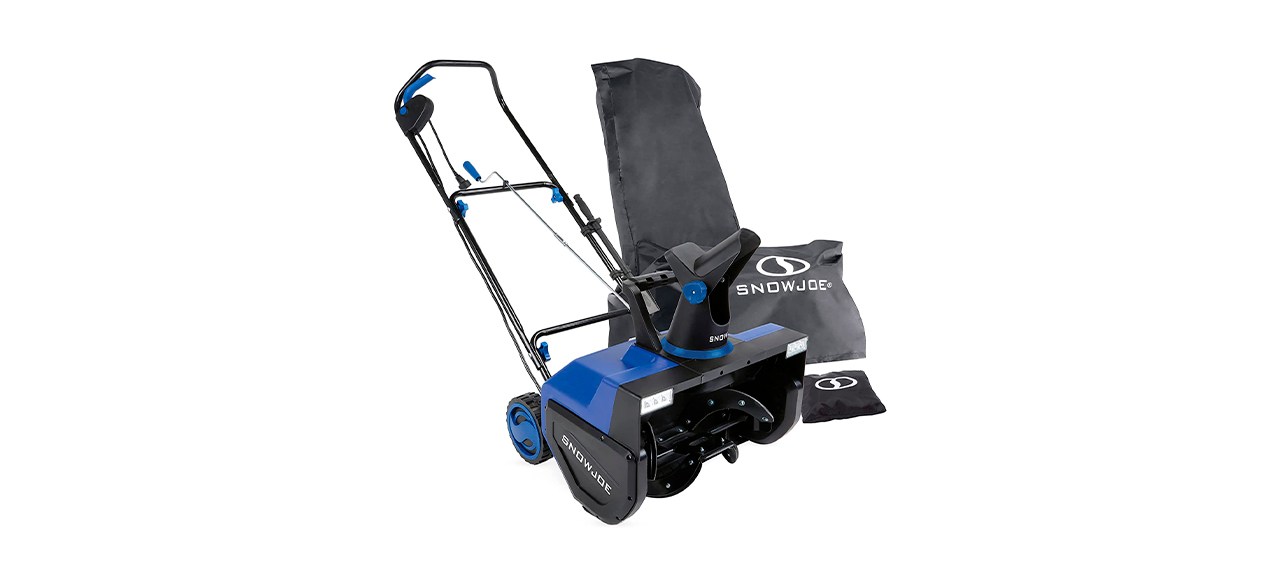 Snow Joe 22-Inch Corded Electric Snow Thrower
The all-steel auger clears a path 22 inches wide and 13 inches deep. The 15-amp motor moves 840 pounds of snow per minute and throws it up to 25 feet away.
Sold by Amazon
What is a snow blower?
It's a two-stage machine: Just like a single-stage snow thrower, a snow blower uses an auger to collect the snow. But instead of relying on the auger to push the snow out through the exhaust chute, the auger delivers the snow to an impeller, a device that throws the snow out of the exhaust chute.
Or it's a three-stage machine: The most powerful snow blowers have a third component in addition to the auger and impeller. Called an accelerator, it chews through hard-packed snow and ice, crushes it and feeds it into the impeller.
Snow blower pros
Power: They're best for clearing high volumes of wet, heavy snow.
Options: They're more likely to have features such as automatic transmissions, directional chute controls and heated handles.
Snow blower cons
Cost: They're more expensive than snow throwers, costing anywhere from $1,000-$3,000.
Storage: Larger ones take up as much space in your garage as garden tractors.
Best snow blowers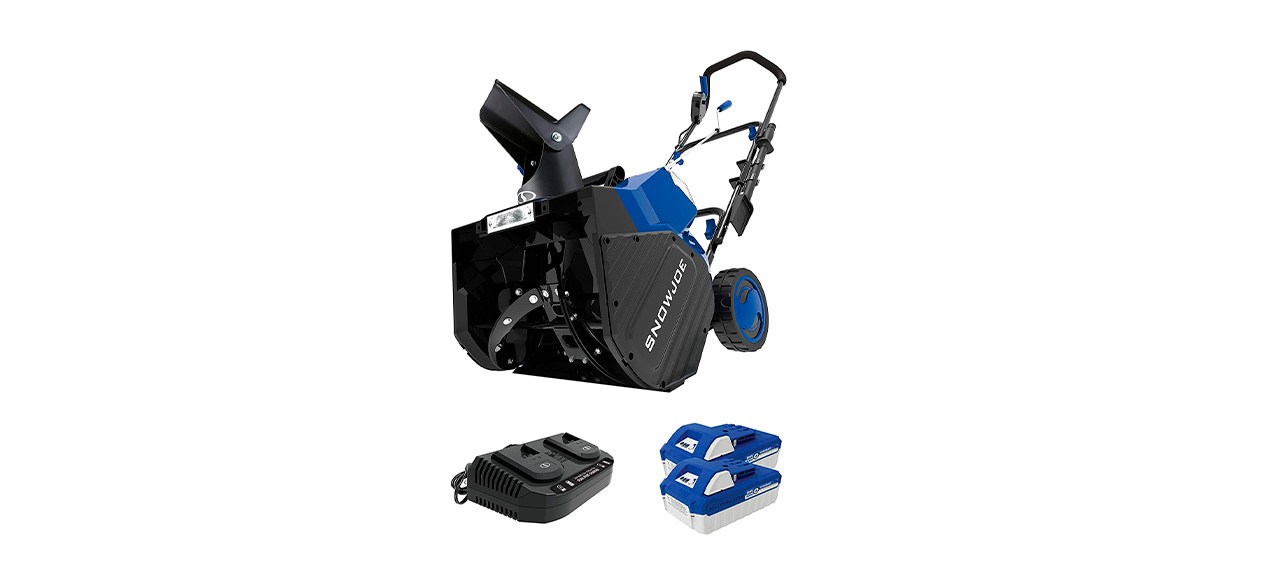 Snow Joe 18-Inch 48-Volt Cordless Snow Blower
You can clear up to 14 tons of snow per charge with 40 minutes of run time, and the four-blade rubber-tipped steel auger won't damage your driveway.
Sold by Amazon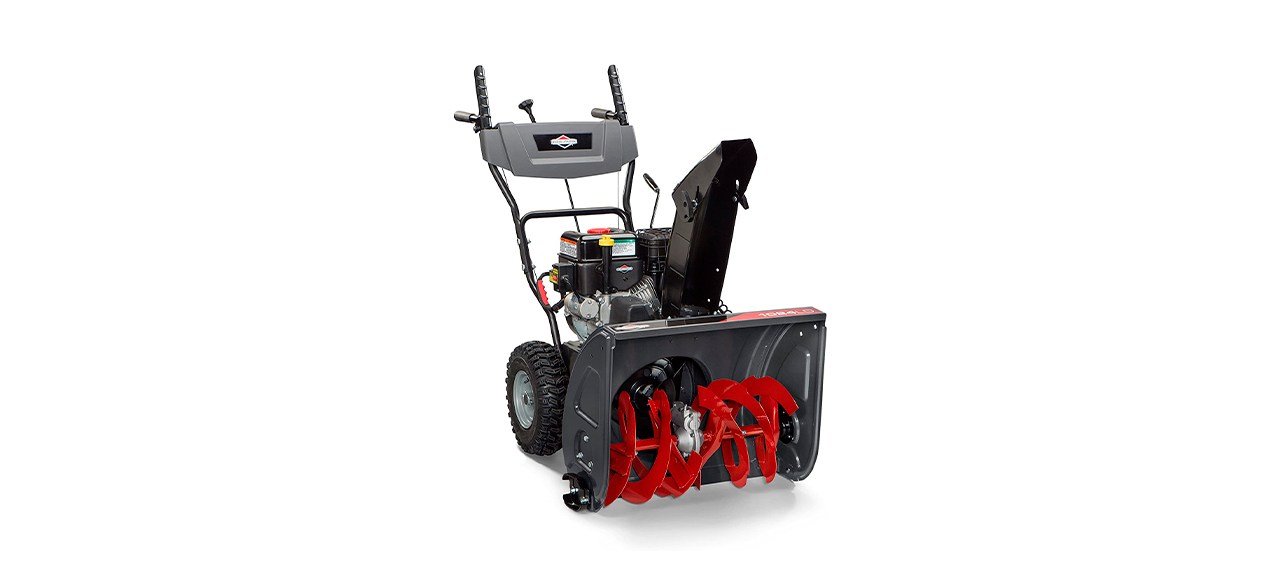 Briggs & Stratton 24-Inch Dual-Stage Snow Blower with Electric Start
The 208-cubic centimeter four-cycle gas engine has 9.5 foot pounds of torque and starts at temperatures as low as minus 20 degrees. The wheels are powered by a friction disc transmission so there's no pushing required.
Sold by Home Depot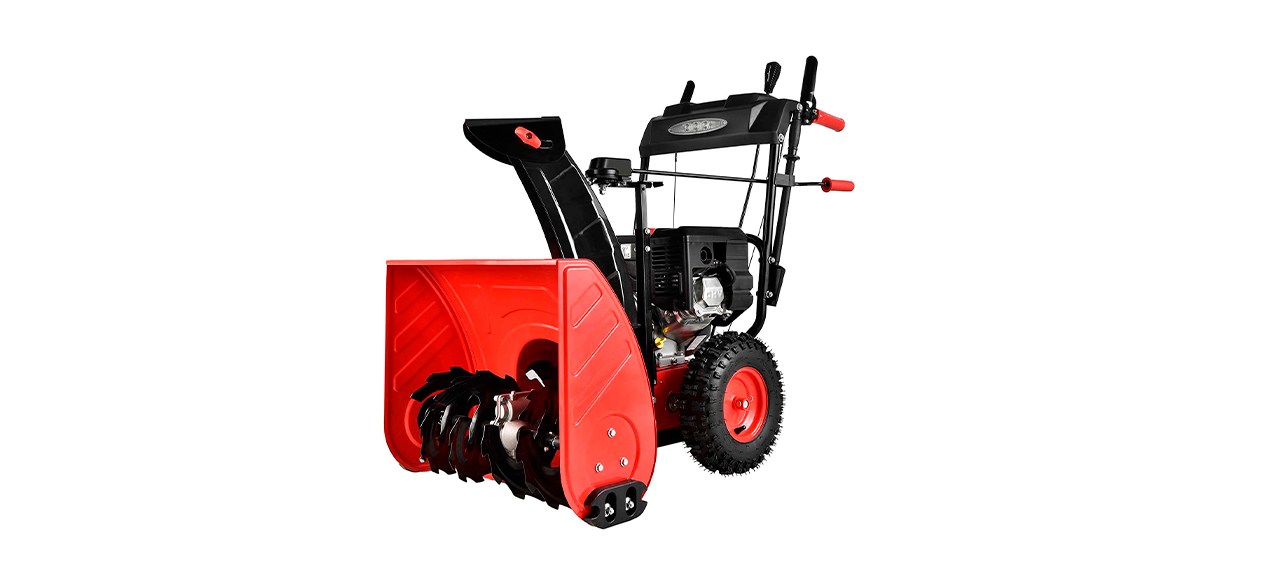 PowerSmart 26-Inch Self-Propelled Snowblower with Electric Start
The 13-inch inflatable tires have deep snow treads to bite into slippery concrete, asphalt and gravel surfaces. It has an LED headlight and a handle warmer.
Sold by Amazon
Should you get a snow thrower or snow blower?
If you want to clear smaller areas of snow, choose a snow thrower whose size matches the volume and type of snow you want to remove. If you get lots of snow all year long and have a long driveway, you'll want a large, powerful snow blower.
Want to shop the best products at the best prices? Check out Daily Deals from BestReviews.
Sign up here to receive the BestReviews weekly newsletter for useful advice on new products and noteworthy deals.
David Allan Van writes for BestReviews. BestReviews has helped millions of consumers simplify their purchasing decisions, saving them time and money.
Copyright 2023 BestReviews, a Nexstar company. All rights reserved.