This is an archived article and the information in the article may be outdated. Please look at the time stamp on the story to see when it was last updated.
Here's what you need to know about laundry detergent sheets
IN THIS ARTICLE:
With the rise of sustainability and "green" products, it's no surprise that companies are joining the trend and creating eco-friendly alternatives to everyone's must-have staples. One example is laundry detergent sheets, which aim to eliminate chemicals and plastic bottles that pollute our streams and end up in landfills. Plus, they're convenient to store or travel with and easier to recycle. While laundry detergent sheets are gaining in popularity, they're still a relatively modern development and might cause you to question if they live up to the hype.
What are laundry detergent sheets?
Laundry detergent sheets are a plastic-free and compact alternative to liquid laundry detergent or powder detergent. This plastic-free, paper-like sheet contains concentrated laundry detergent held together with biodegradable resin. With these eco-friendly sheets, the hope is that fewer people will rely on chemical-laden detergent in plastic jugs. However, they may not be widely available in all stores just yet and might be most accessible to buy online.
Using a laundry detergent sheet is as effortless as throwing a laundry detergent pod into the washing machine. However, the required amount changes depending on the brand. The instructions will advise you on whether your load needs a quarter of a sheet or up to two sheets and varies based on how soiled the load is and the load size. While most dissolve in hot or cold water and are suitable for all types of washing machines, including high-efficiency models, it's always best to refer to the guidelines on the packaging.
Pros and cons of laundry detergent sheets
Pros
Eco-friendly: The primary purpose of laundry detergent sheets is to offer an eco-friendly alternative to other forms of detergent. The packaging usually contains less material, is recyclable and might even be biodegradable. Some also make other claims, such as ensuring their entire supply chain is carbon neutral.
Space: Since they're lightweight and come in compact packaging, laundry detergent sheets take up much less space in your laundry room. But this feature also makes them the ideal traveling companion. Pack a few detergent sheets in your luggage, and you don't have to buy a heavy jug of detergent when you're on vacation.
No mess: These pre-measured strips won't make a mess while you're pouring, and you don't need to wonder what to do with the messy cup.
Cons
Price: While it depends on the brand and type, laundry detergent sheets are generally more expensive than other forms of laundry detergent.
Spot treating: You can't spot treat with laundry detergent sheets.
Availability: Depending on the laundry detergent sheets you prefer, you might only be able to find them online.
Best laundry detergent sheets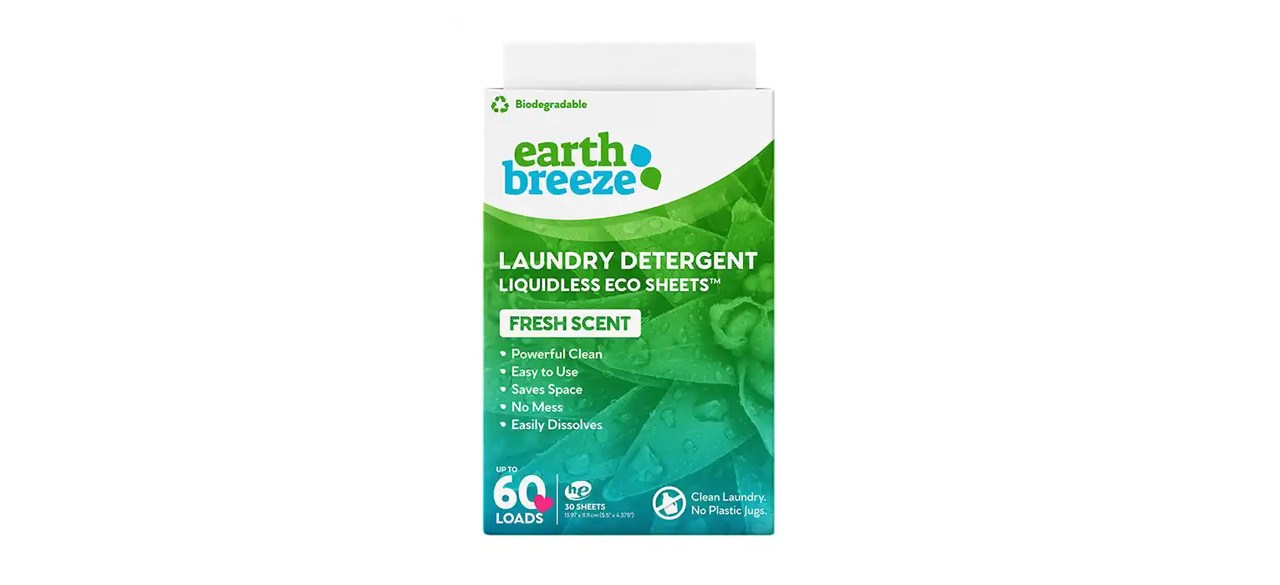 Earth Breeze Liquidless Eco Sheets
Lower your carbon footprint with these laundry detergent sheets that are not only made of biodegradable ingredients but also come in biodegradable packaging. They effortlessly dissolve in hot or cold water and work in all machines, including high-efficiency models.
Sold by Earth Breeze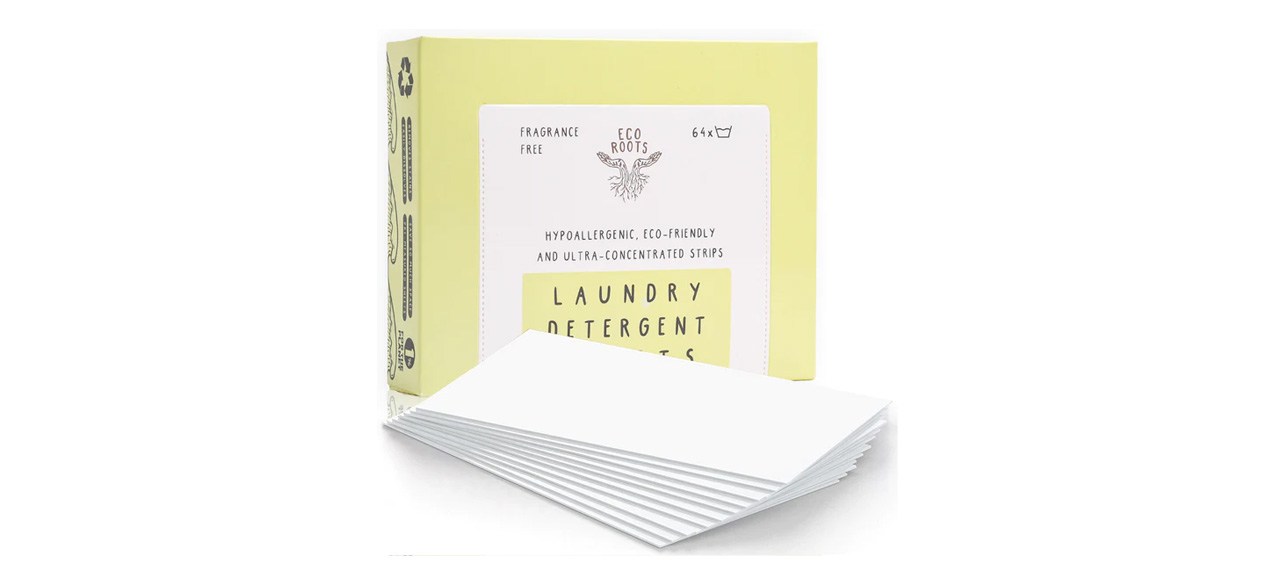 Since they're ultra-concentrated, you only need a small eco-strip to tackle a full load of messy stains. These pre-measured laundry detergent strips require no measuring or mess and dissolve in all water. They're available in fragrance-free or a scented option and are gentle enough for sensitive skin.
Sold by Eco Roots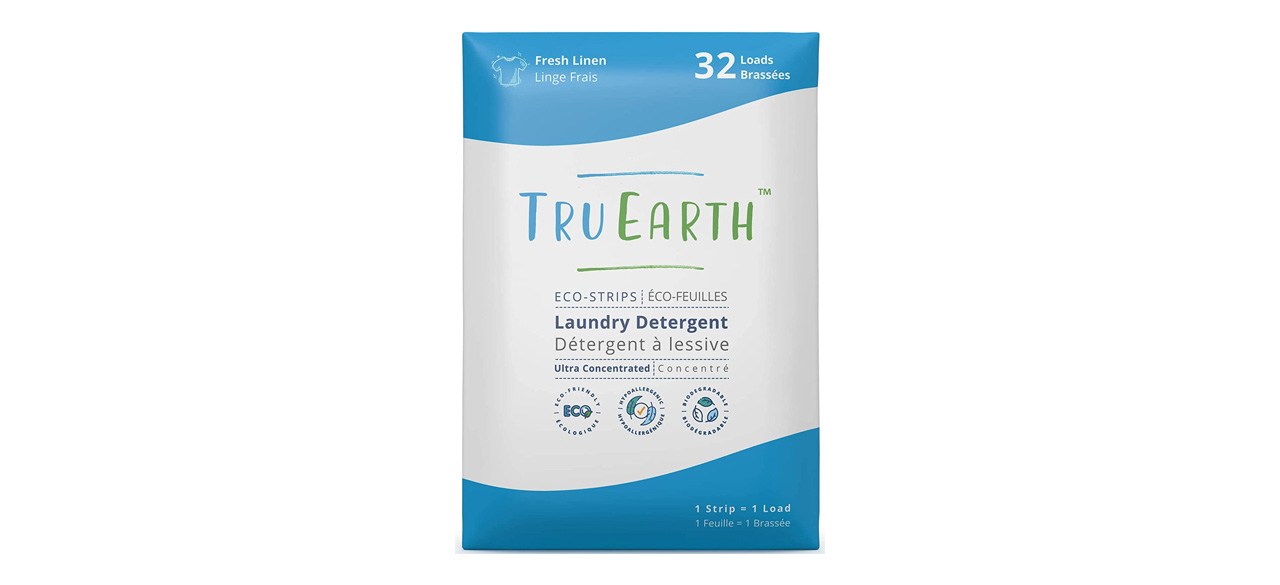 Tru Earth Eco-Strips Laundry Detergent Sheets
In addition to reducing plastic use, these laundry detergent sheets come in compostable, plastic-free packaging that reduces transportation fuel and carbon emissions by 94% when compared to top liquid and powder detergents. They're also vegan and free of parabens and phosphates.
Sold by Amazon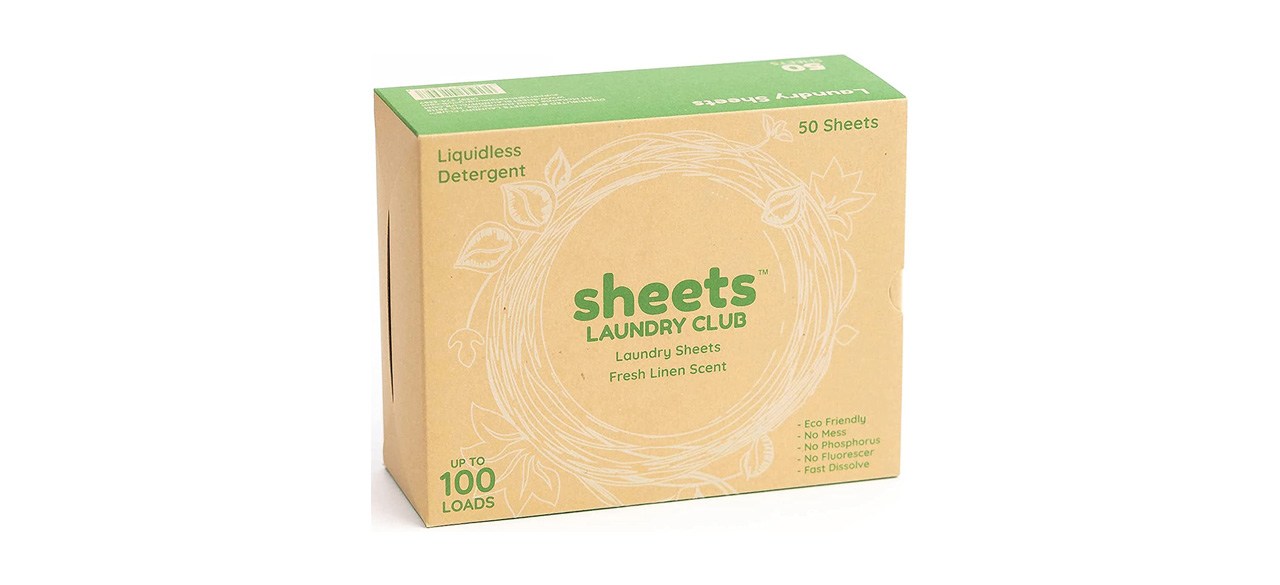 Sheets Laundry Club Laundry Sheets
Designed to reduce wrinkles and eliminate odors and stains, these laundry detergent sheets are ideal for everyday laundry. They are tested and proven safe for all materials, loads of whites or colors, hot or cold water and hard or soft water.
Sold by Amazon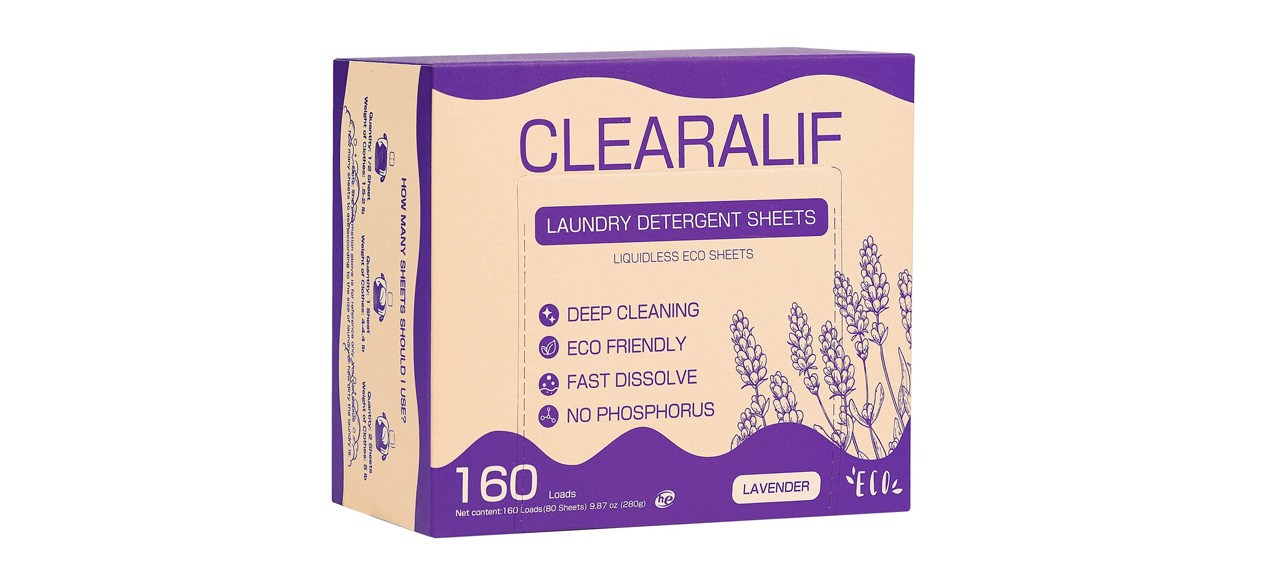 Clearalif Lavender Laundry Detergent Sheets
Red wine, oil, blood, coffee, dirt and other stains are no match for these laundry detergent sheets that use powerful surfactants and enzymes to fight tough messes. In addition, all the ingredients and packaging are plastic-free, environmentally friendly and recyclable. These pre-measured and pre-cut sheets are also ideal for taking on the go.
Sold by Amazon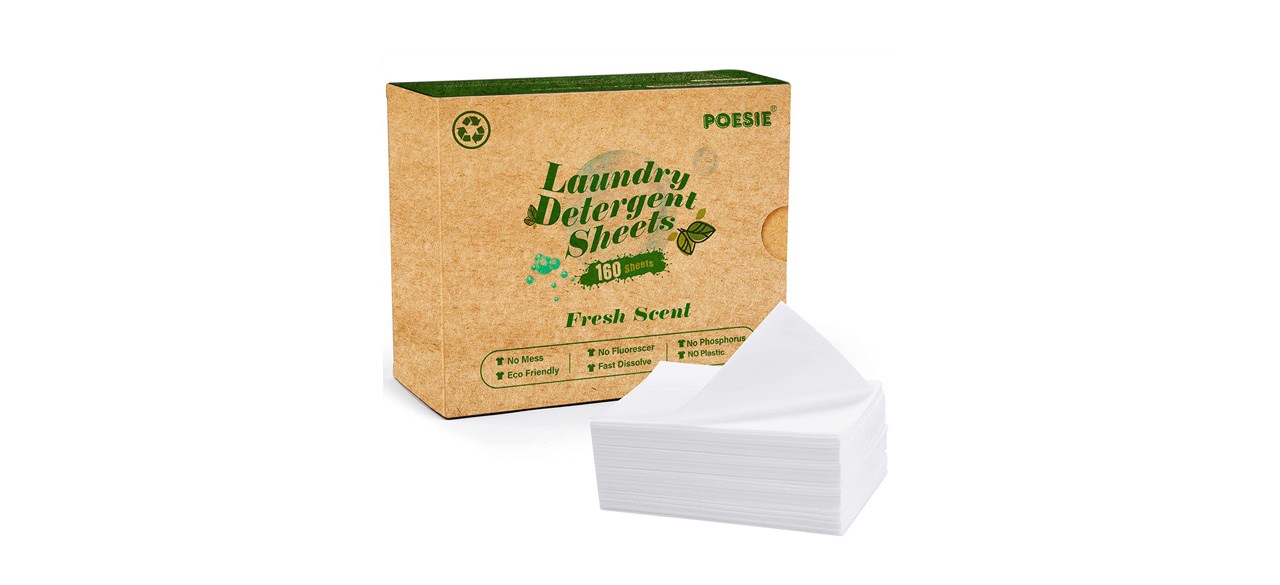 Poesie Laundry Detergent Sheets
With this one box of laundry detergent sheets, you can wash up to 160 small or 80 large loads of laundry. The concentrated sheets are designed to dissolve immediately in water. Plus, they are eco-friendly and contain no phosphorous, plastic or fluorescer.
Sold by Amazon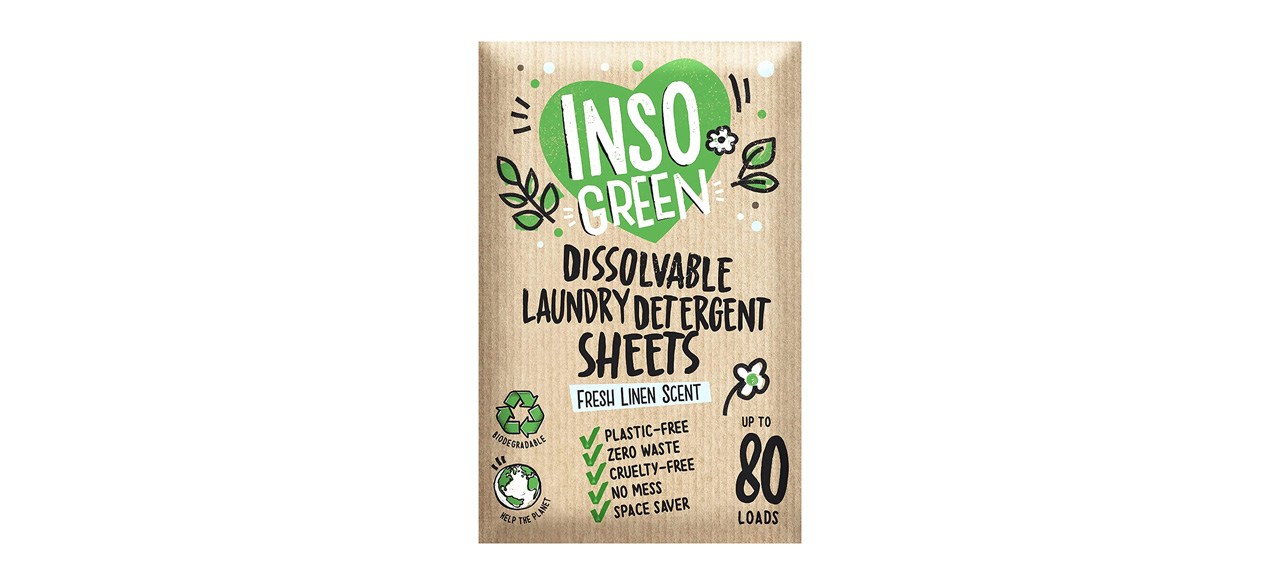 InsoGreen Laundry Detergent Sheets
While all the laundry detergent sheets provide thorough cleaning for any tough stains, they also come in zero-waste packaging to help the planet. This one pack of sheets works for up to 80 loads of laundry and is plastic-free and cruelty-free.
Sold by Amazon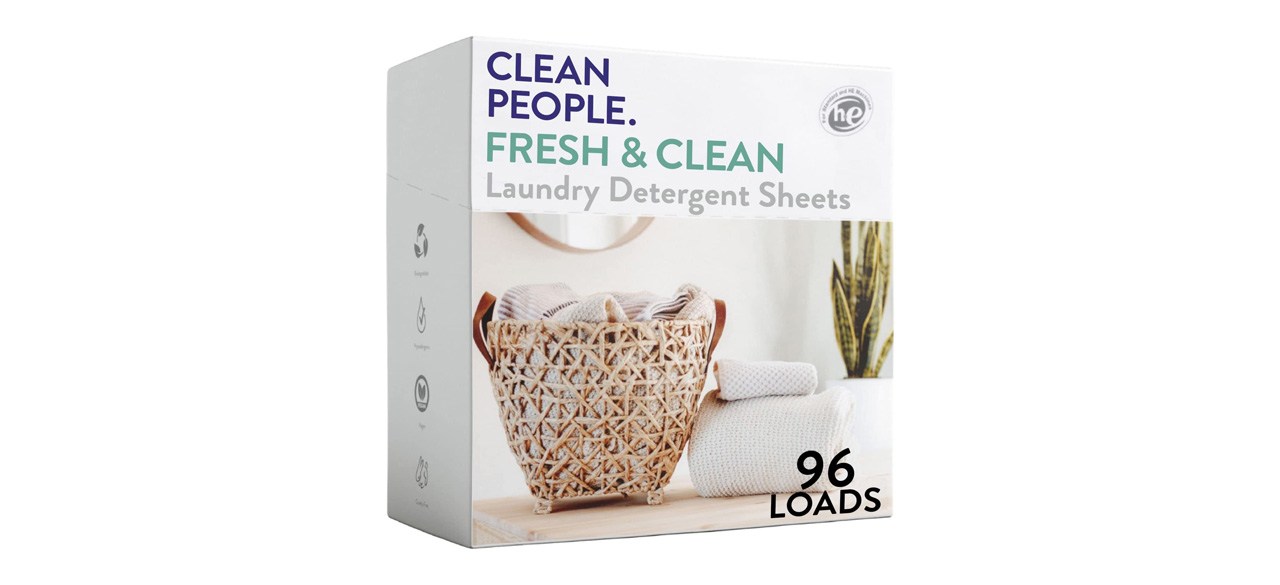 The Clean People Laundry Detergent Sheets
Not only are these laundry detergent sheets beneficial for the environment, they're also good for you. Designed with plant-based ingredients, they are free of plastic, parabens, phthalates, chlorine bleach, artificial dyes, phosphates and ammonia. They are septic-safe and compatible with all types of washing machines.
Sold by Amazon
Want to shop the best products at the best prices? Check out Daily Deals from BestReviews.
Sign up here to receive the BestReviews weekly newsletter for useful advice on new products and noteworthy deals.
Bre Richey writes for BestReviews. BestReviews has helped millions of consumers simplify their purchasing decisions, saving them time and money.
BestReviews spends thousands of hours researching, analyzing and testing products to recommend the best picks for most consumers.
Copyright 2023 BestReviews, a Nexstar company. All rights reserved.