This is an archived article and the information in the article may be outdated. Please look at the time stamp on the story to see when it was last updated.
Persistent allergy sufferers may be surprised to learn that even the tidiest indoor spaces can be full of pollutants. From dust and fungi to chemical fumes and dander, inside air carries so many allergens that determining the cause of your discomfort can be a challenge. To take a scientific look at what irritants may be floating around inside your home or office, and to decide the most effective manner by which to reduce them, you need an air quality monitor.
In this article: Airthings 2930 Wave Plus, Temtop Air Quality Monitor and Temtop LKC-1000S Air Quality Monitor.
What can air quality monitors detect?
Air quality monitors can detect the following issues, any of which can adversely affect allergy sufferers:
Excessive carbon dioxide. This results from poor ventilation. Too much carbon dioxide can cause headaches, dizziness and nausea.
Volatile organic compounds. VOCs are gases emitted by everything from carpets and shower curtains to cosmetics and cleaning products. They can build up quickly and lead to illness.
Radon. Long-term exposure to this naturally occurring radioactive gas can cause lung cancer.
Particulate matter. Particulate matter, or PM, is the mixture of tiny solid and liquid matter that collects on surfaces and floats in the air. The most common offenders, with regard to allergic reactions, are pet dander, dust and pollen.
Improper humidity. Too much indoor moisture allows mold, dust mites, insects and other sources of allergens to thrive. Too little, however, can cause otherwise harmless particles to dry out and become airborne irritants.
Virus and mold-friendly conditions. Some monitors can use the data they collect to let you know directly how conducive the conditions in your home are to the survival and spread of germs and fungus.
Air quality features to consider
Pollutants detected. Make sure that the monitor you select is designed to detect a wide range of pollutants so you can make an educated assessment of your air quality.
Smart home integration. Many monitors work with Amazon, Apple or Google smart homes and assistants. If you want to integrate your monitor, make sure you select one that is compatible with your preferred platform.
Battery life and power options. Most air quality monitors have a short battery life. To keep your monitor on at all times, purchase one that can be powered via USB.
Easy to read. While most monitors feature a simple display and color-coded air quality indicators, some show more data than you may be interested in parsing through. Make sure that the monitor you purchase lets you make quick, easy observations.
Alarms. Some monitors let you set up alarms that will sound when certain pollutants reach dangerous levels.
Air quality tracking. If you want to keep a record of your air quality over time so you can see progress or work on improving it with a purifier or other means, buy a monitor that stores its readings in the form of charts and graphs.
Best air quality monitors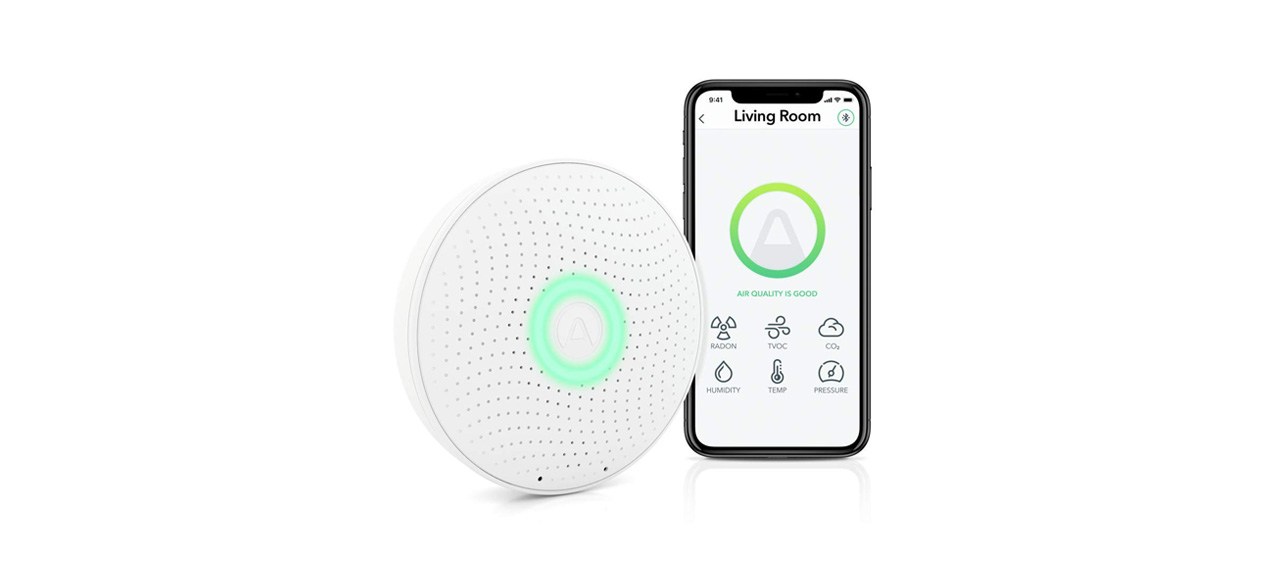 This monitor detects radon, carbon dioxide, VOCs, humidity, temperature and atmospheric pressure, giving you a broad understanding of the quality of the air in your home. You can read its findings via an app on your smart device and it also provides live, local pollen data.
Sold by Amazon and Home Depot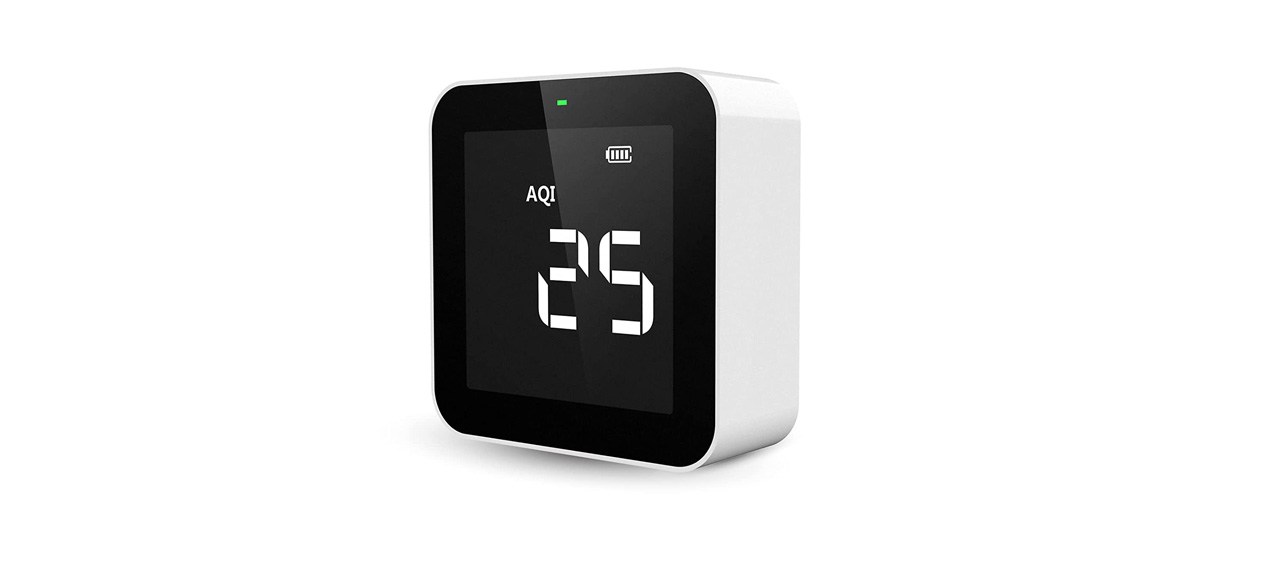 Temtop Air Quality Monitor Indoor
With its large display, single-button operation and three-color LED air quality indicator, this monitor offers a simple way to take a look at what irritants may be floating around you. It's small enough to place discreetly on a shelf or desk and charges via USB.
Sold by Amazon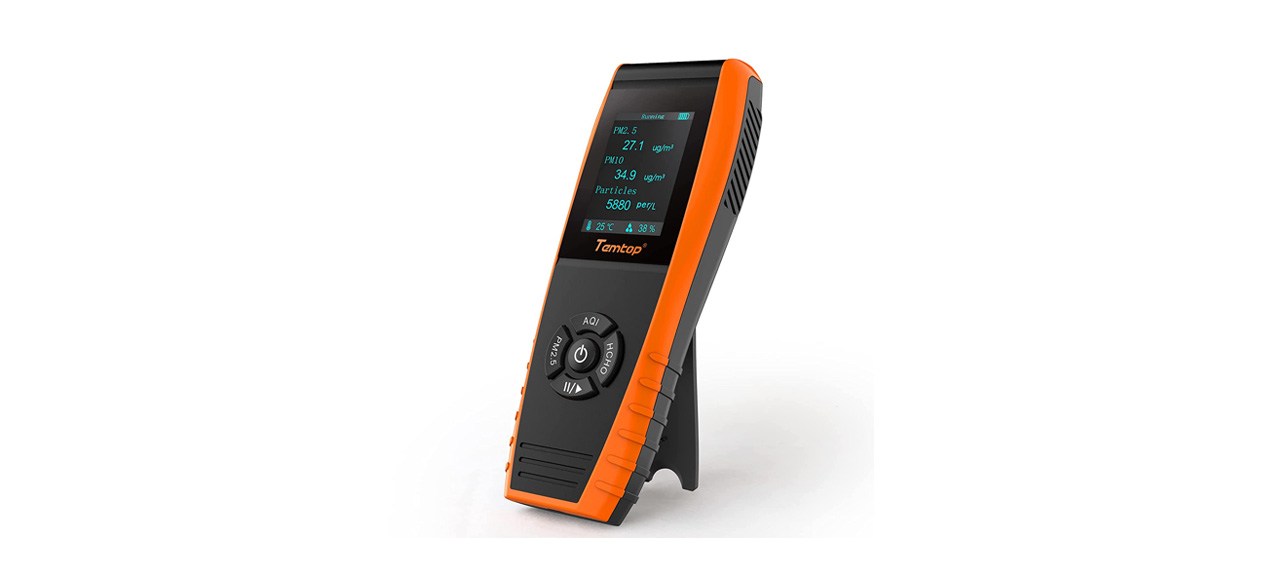 Temtop LKC-1000S Air Quality Monitor
This monitor has a bright, detailed screen that indicates air quality through six different colors. It can run for up to eight hours on a charge and even displays graphs that show you changes in your air quality over time.
Sold by Amazon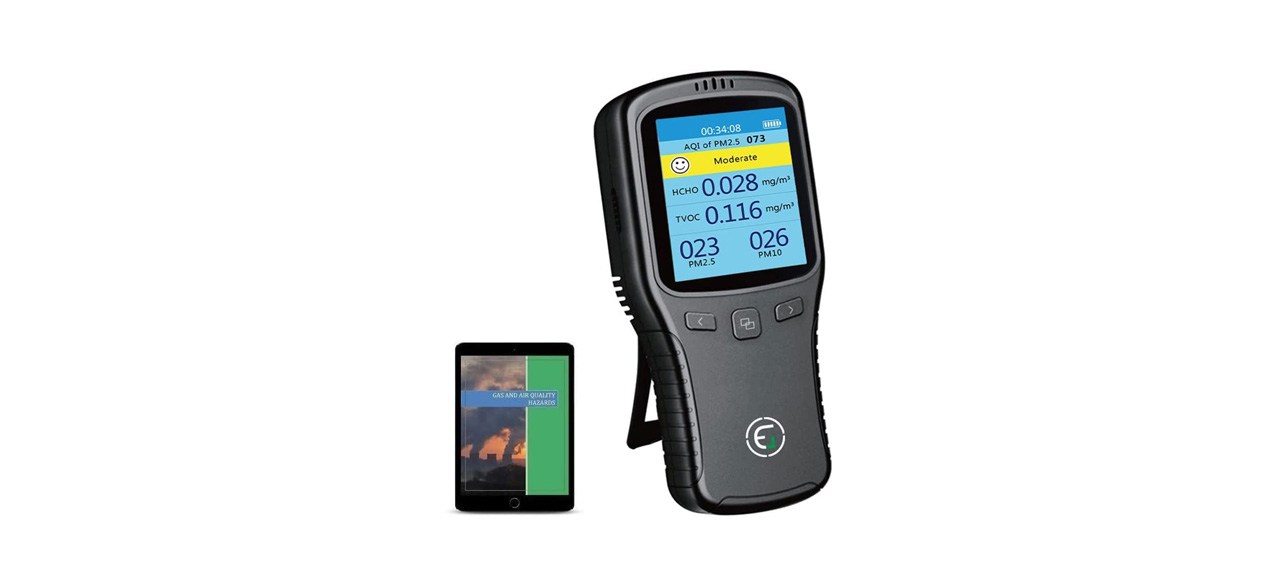 Assess the particulate and dust levels in your home with this monitor which features a built-in fan for accurate analysis. You can monitor your air in real-time and set alarms that will sound if a dangerous pollutant level is reached.
Sold by Amazon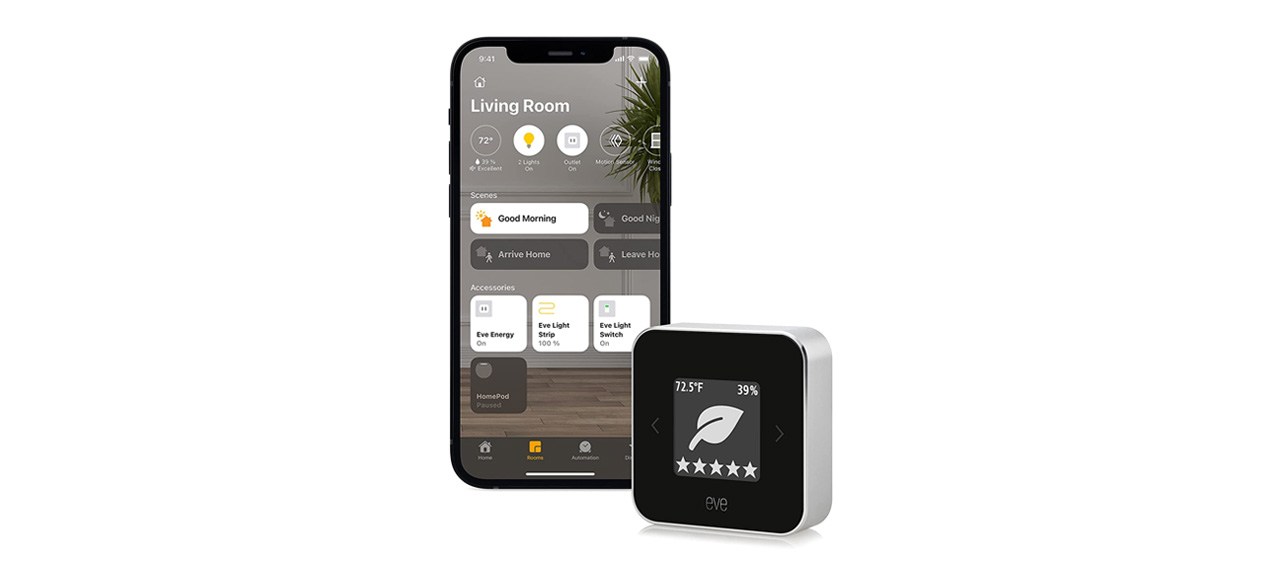 This minimalistic monitor integrates seamlessly with Apple Home and its readings can be checked via an elegant app. It works wirelessly and can last up to six weeks after fully charging its battery via a USB cable.
Sold by Amazon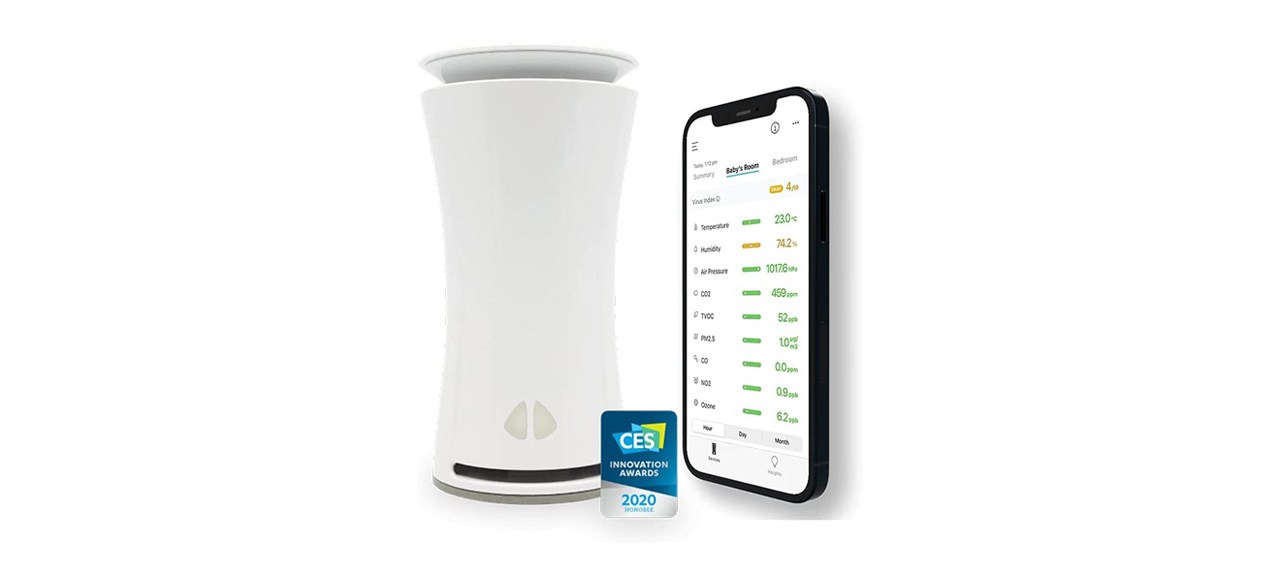 Take a look at indoor pollutants, humidity, dust particles and more with this tabletop air monitor that even informs you of how hospitable the air in your home is to viruses. You can track the quality of your air over time to see how you're making progress with cleaning things up.
Sold by Amazon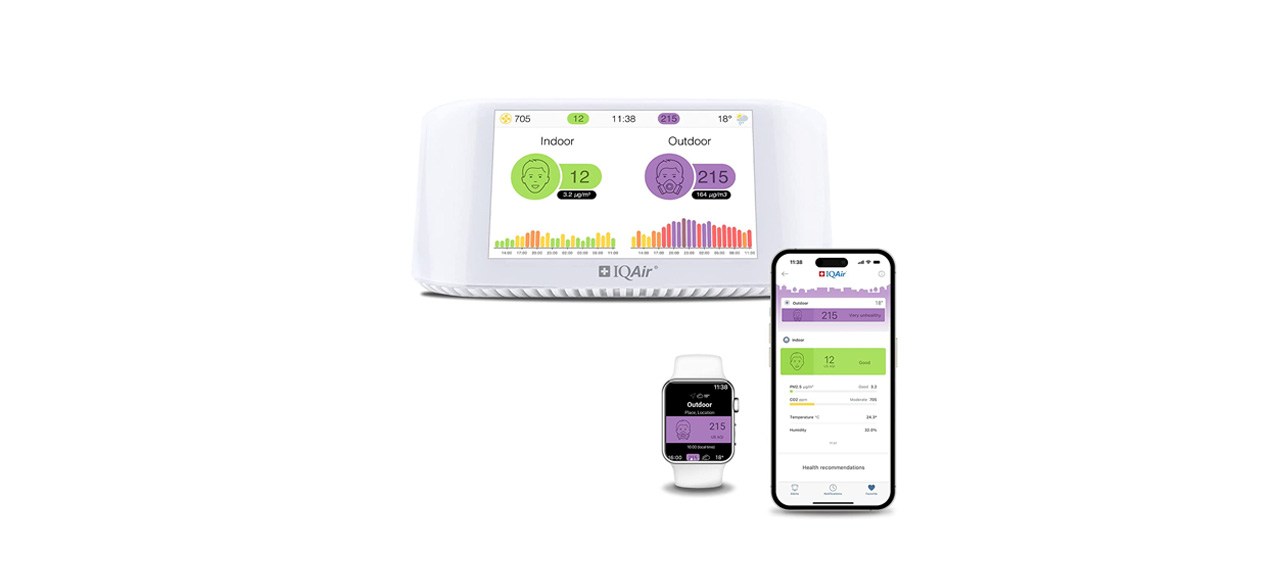 IQAir Air Quality Monitor Indoor
This monitor uses advanced laser technology to provide the most scientifically accurate readings available in a consumer appliance. It provides forecasts for the outdoors as well, so you can plan to enjoy time outside when pollen and pollution are at their lowest.
Sold by Amazon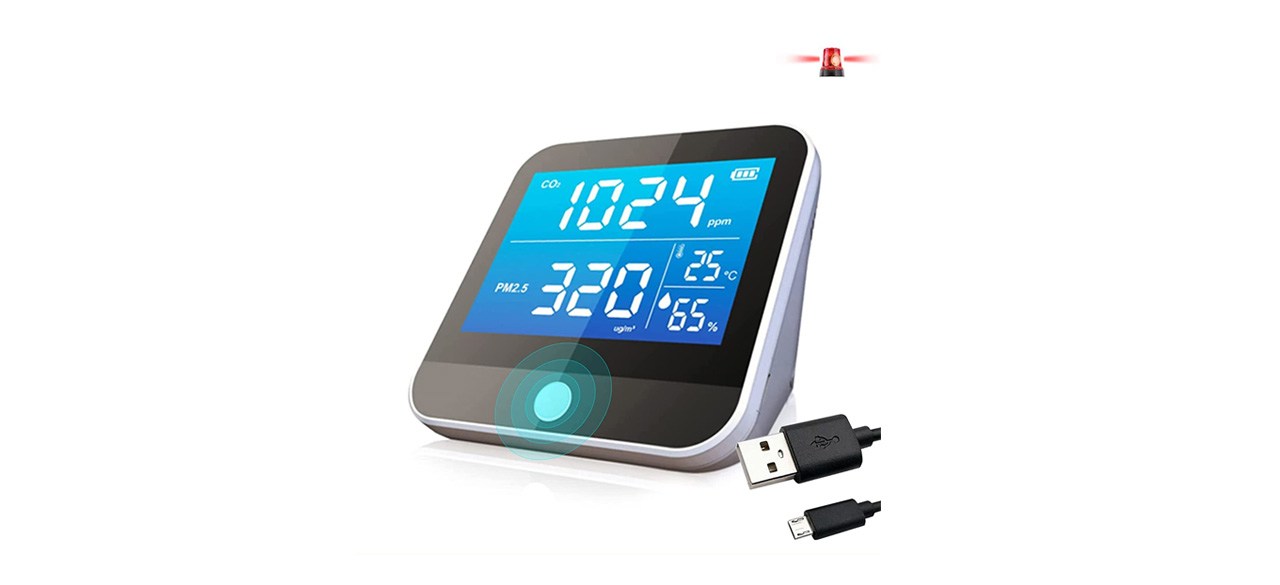 Langkou Indoor Air Quality Monitor
Affordable and easy to understand, this monitor can detect particulates, carbon dioxide, humidity and temperature. Its battery can last as long as 10 hours and its alarm feature can be set to warn you of dangerous conditions.
Sold by Amazon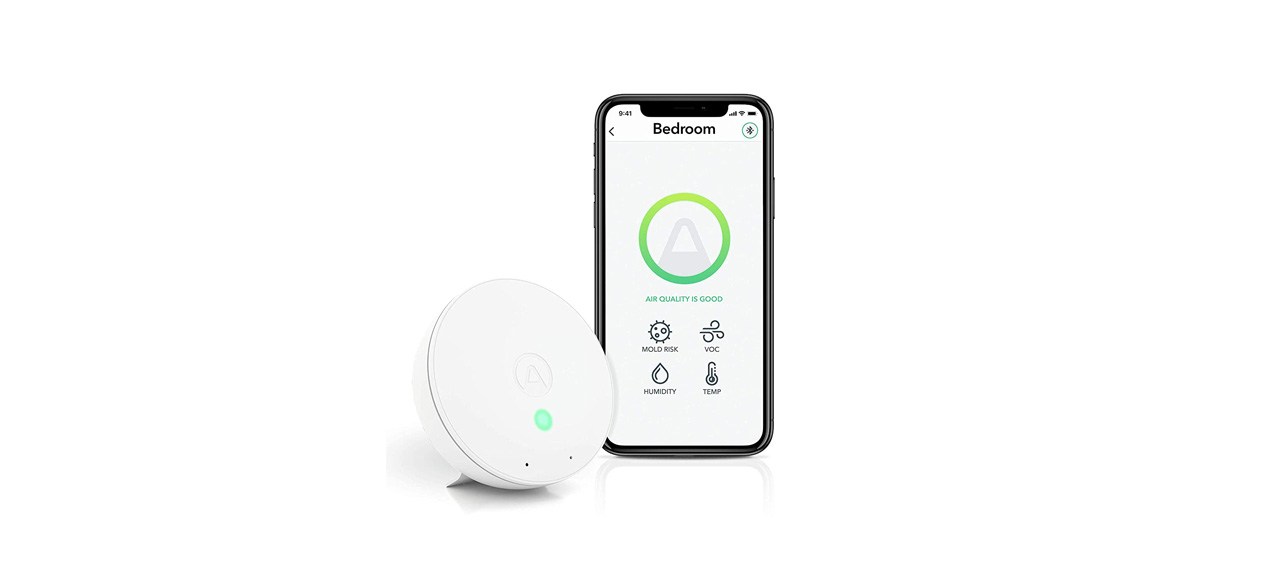 This tiny monitor can analyze your home's humidity and temperature to assess how at risk your property may be for potentially dangerous mold growth. You can observe VOC levels as they rise and fall throughout the day to determine what may be affecting your air purity.
Sold by Amazon and Home Depot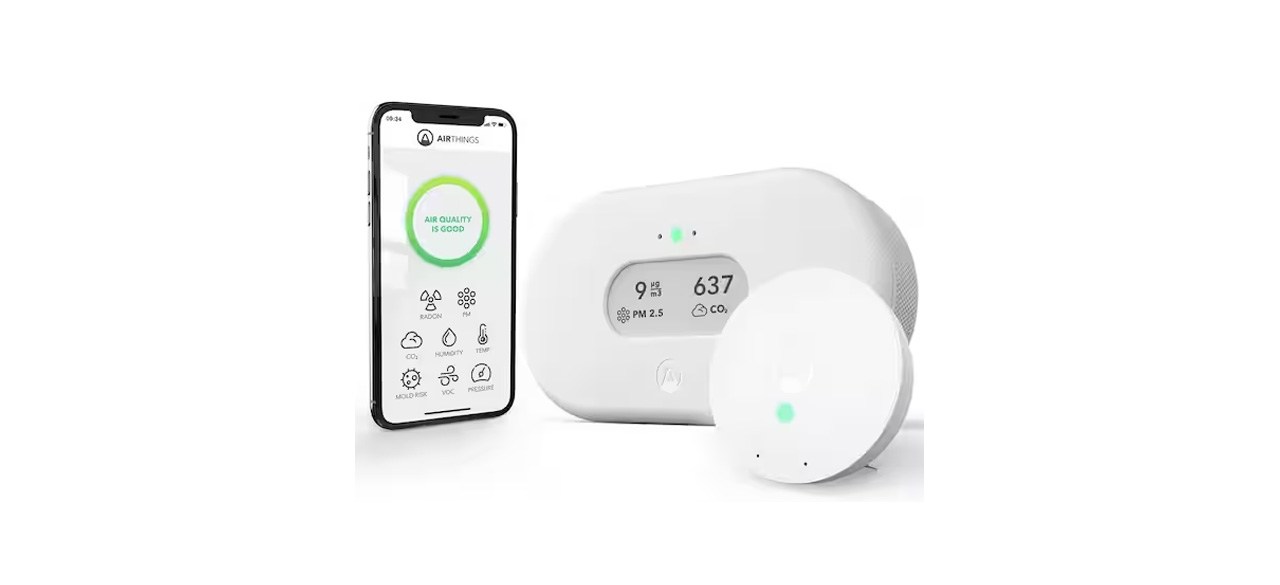 Airthings View Plus Complete Smart Indoor Air Quality Monitor
This monitor can be used by itself or as a hub connected to other Airthings products, letting you check the air quality all around your home. It can be powered by six AAA batteries or via USB and is fully compatible with Alexa and Google Assistant.
Sold by Home Depot
Want to shop the best products at the best prices? Check out Daily Deals from BestReviews.
Sign up here to receive the BestReviews weekly newsletter for useful advice on new products and noteworthy deals.
Derek Walborn writes for BestReviews. BestReviews has helped millions of consumers simplify their purchasing decisions, saving them time and money.
BestReviews spends thousands of hours researching, analyzing and testing products to recommend the best picks for most consumers.
Copyright 2023 BestReviews, a Nexstar company. All rights reserved.