Digital detox for kids
Between remote learning, video games and social media, it's common for kids to experience digital overstimulation. Digital overload occurs when a child uses tech devices that expose them to more sensory information than they can handle. With this in mind, it's worth having an occasional digital detox day to help kids unwind with screen-free activities.
While it's easy to go electronics-free for a digital detox day, it's essential to have other activities lined up to engage kids. A trip to the park or beach are fun outdoor options, especially when sports or arts and crafts are involved. Popular indoor activities include puzzles, building projects and even hands-on experience in the kitchen.
Shop this article: Intex Underwater Play Sticks, Singer M1500 Mechanical Sewing Machine, Stomp Rocket Dueling Rocket Launcher for Kids
Effects of digital overload on kids
According to a 2021 study from PubMed, overconsumption of tech devices can lead to:
Insufficient work.
Bouts of confusion.
Delayed decision-making.
Loss of control over information.
Refusal to take in information.
Higher tolerance for error.
Lack of critical thinking of information.
Mental health challenges such as anxiety and stress.
How unplugging for a day may help kids
Here's how you can help your kids detox from their devices.
Benefits eye health
Spending long hours in front of screens due to school, video games or watching TV can wear on your eyes. According to the American Optometric Association, prolonged screen time may lead to digital eye strain, dry eyes, headaches or difficulty sleeping.
As a result, it's recommended to unplug from devices when possible to alleviate these symptoms. A digital detox can help set the stage for what the AOA refers to as healthier "visual hygiene." Ideally, kids and adults should take a 20-second break from screens every 20 minutes to view an object 20 feet away to minimize digital eye strain.
Boosts activity levels
A 24-hour digital detox challenge often inspires kids to get more active during the day. In fact, the Centers for Disease Control and Prevention states that kids between the ages of 6 to 17 years should engage in an hour of "moderate-to-vigorous intense physical activity each day."
Without the hindrance or distractions of devices, kids may find it easier to enjoy sports and physical activities, whether swimming, running around a park or playing tag. Older kids, namely high school-aged kids, may prefer spending their digital detox day at the gym, track or basketball court.
Encourages family time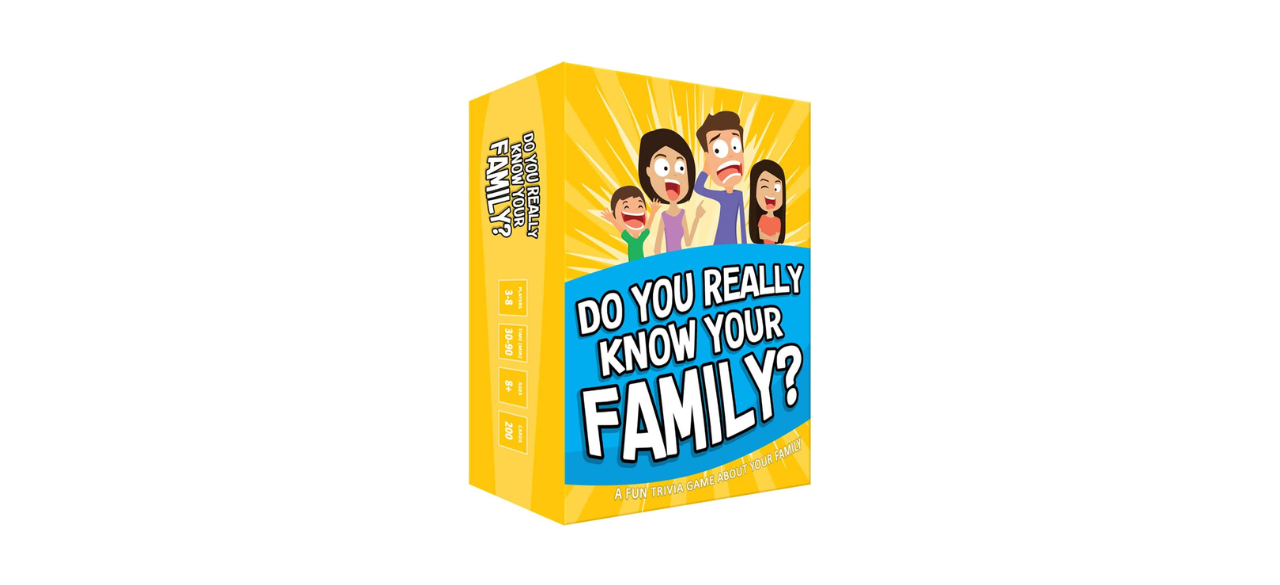 Digital detox isn't just for kids. Instead, the entire household can participate in and benefit from it.
If everyone unplugs for a day together, there's more time to bond and talk over board games, story time, or home improvement projects. Or, the digital detox may present the ideal opportunity to enjoy an undistracted day trip, museum visit or outdoor excursion.
Sold by Amazon
Best toys and activities for 24-hour digital detox challenges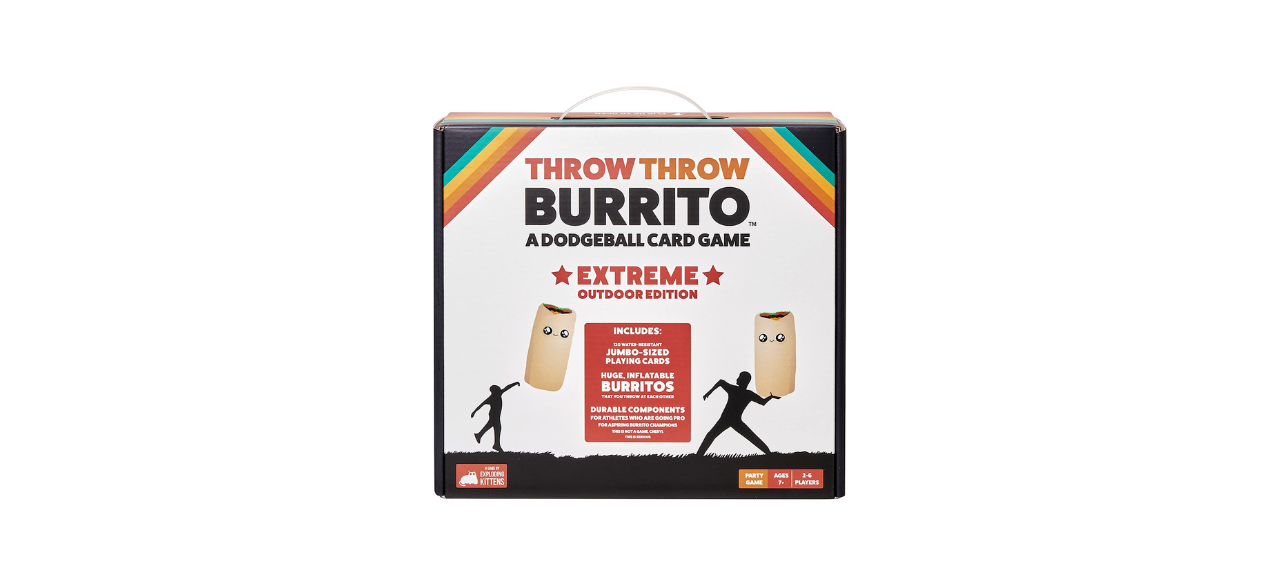 The backyard, park or pool are fun places for kids to play device-free. Investing in a new outdoor toy or game to enjoy during detox day is worth considering, too. Throw Throw Burrito, for example, is a dodgeball-inspired card game for ages 7 and older that keeps kids on their toes as they duck from flying burritos.
Sold by Amazon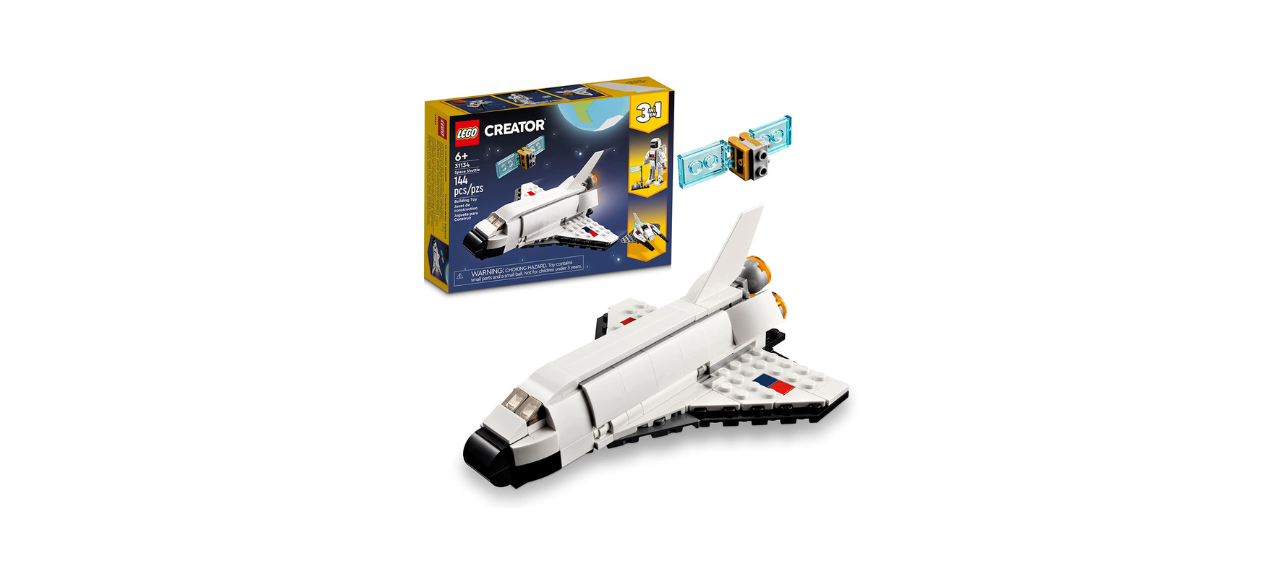 Lego Creator 3-in-1 Space Shuttle Toy to Astronaut Figure to Spaceship
This 144-piece building set that offers three project configurations. Suitable for ages 6 and older and well-received for its realistic details.
Sold by Amazon
Every household member can play this wacky word association game with outrageous comparisons. It comes with 1,000 cards and you can play with as many as eight players.
Sold by Amazon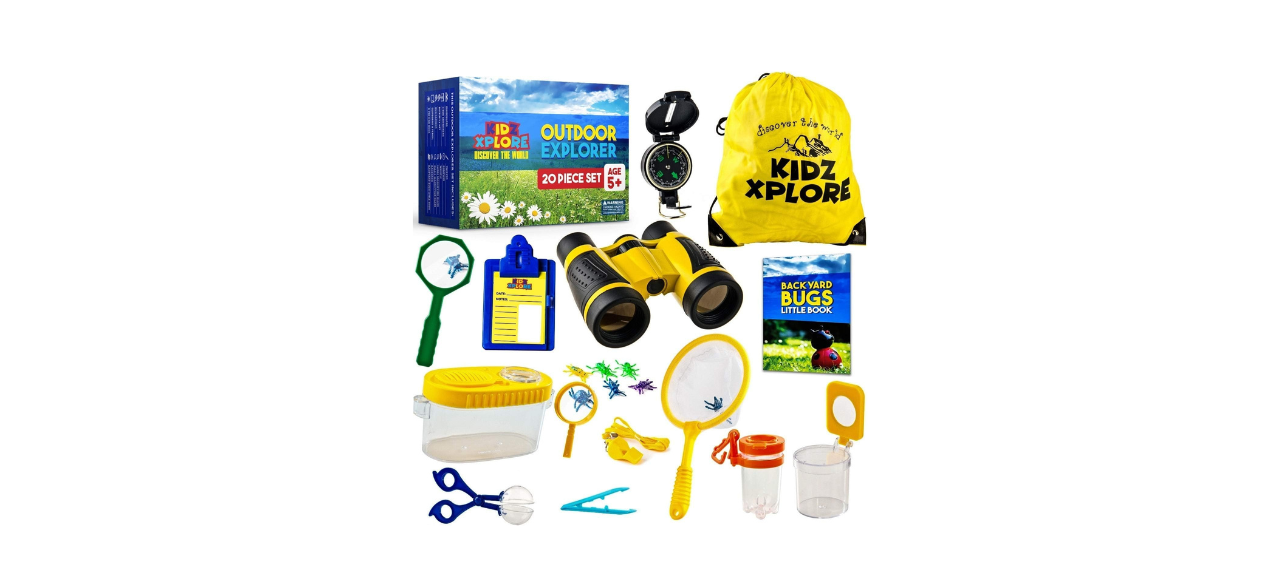 Kids Xplore Nature Exploration Kit
Tap into kids' curiosity with this kit, which comes with binoculars, magnifying glass, nets and specimen containers. The kit helps kids learn map-reading skills and teaches kids the basics of nature-watching.
Sold by Amazon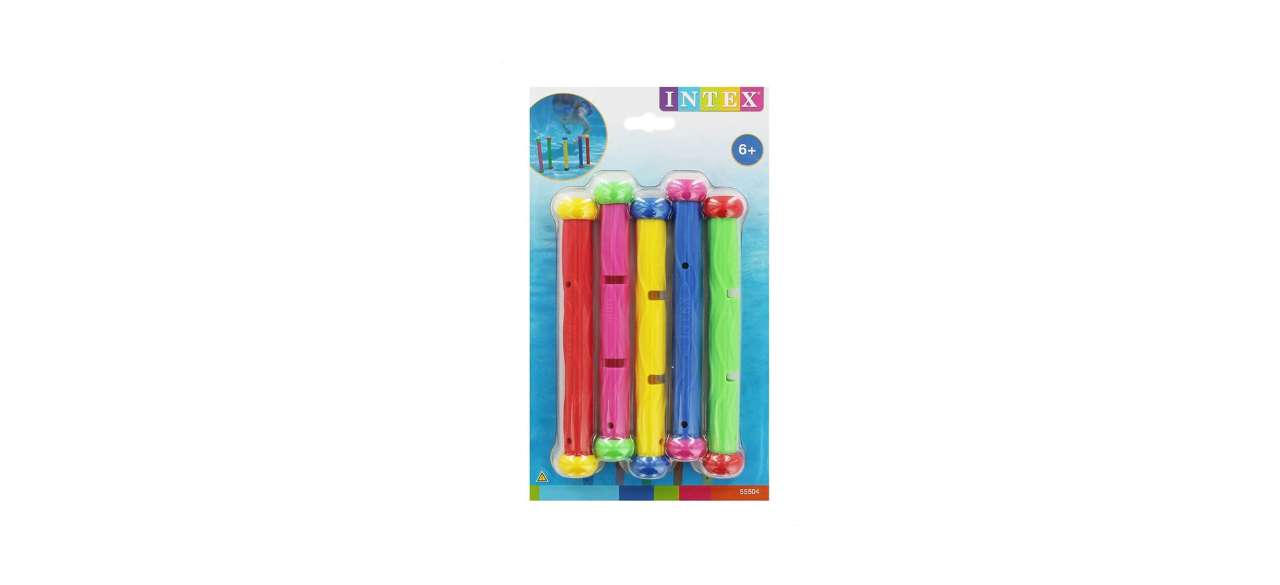 Step up pool-time fun with this set of five quick-sinking toys. They're made with soft, flexible silicone and have rounded edges for safe handling.
Sold by Amazon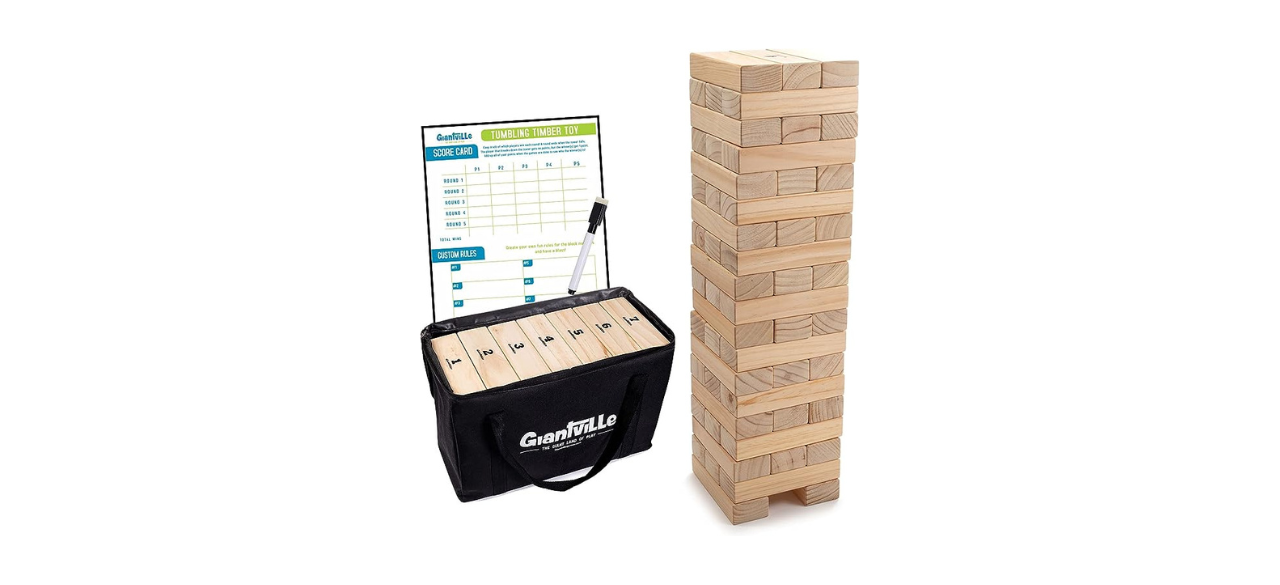 Giantville Giant Tumbling Timber Toy
These blocks can grow as high as 4 feet when players flex their block-stacking skills. An all-ages-friendly game, it's considered a favorite option for household-wide detox days spent outdoors.
Sold by Amazon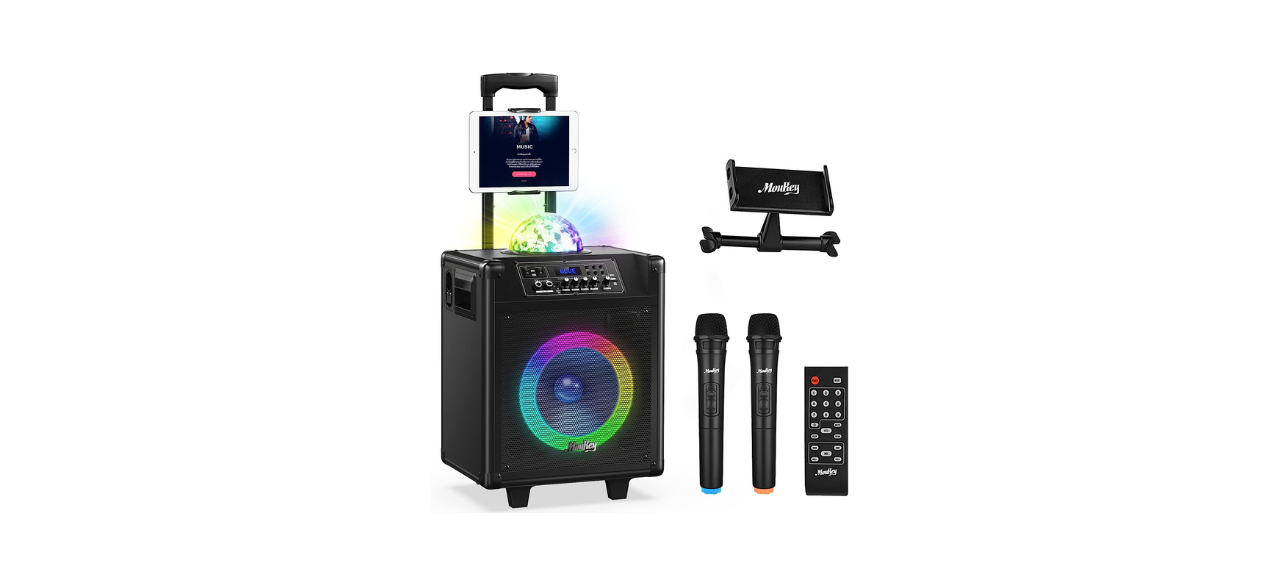 KaraoKing Karaoke Machine for Kids
This Bluetooth karaoke machine has plenty of high-tech features kids can enjoy while they belt out their favorite tunes. The machine has a built-in disco ball and connects with most devices for easy streaming.
Sold by Amazon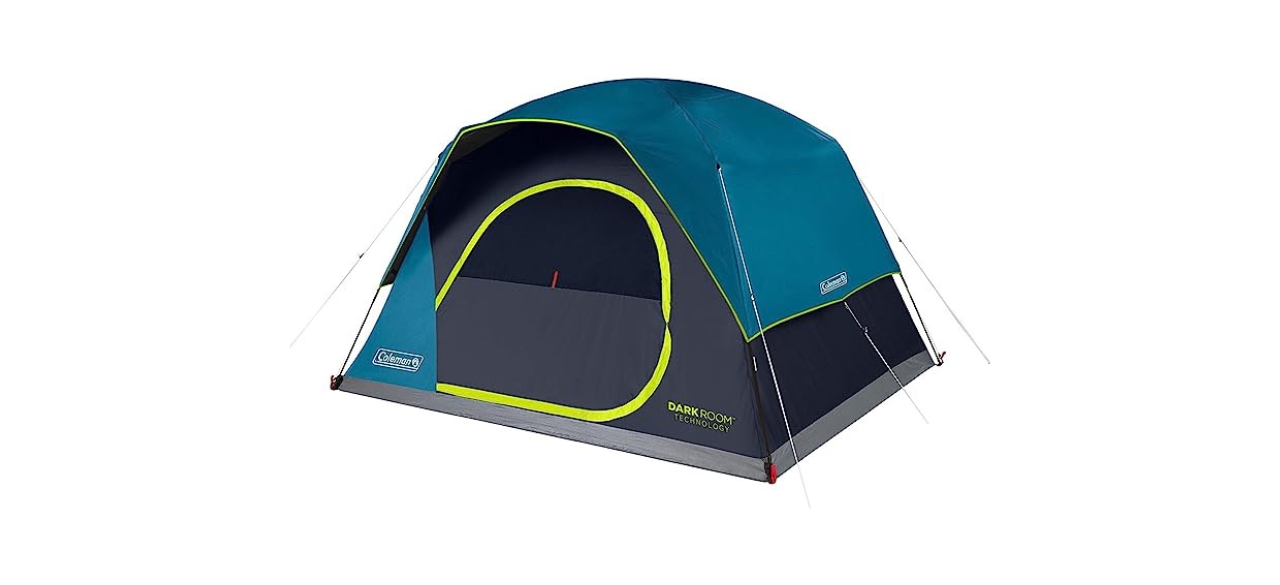 If a camping excursion is in the cards, either in the backyard or somewhere local, this tent is a wise investment for its 60-second setup. The tent has a spacious 8 feet by 7 feet interior and fits one queen-size air bed.
Sold by Amazon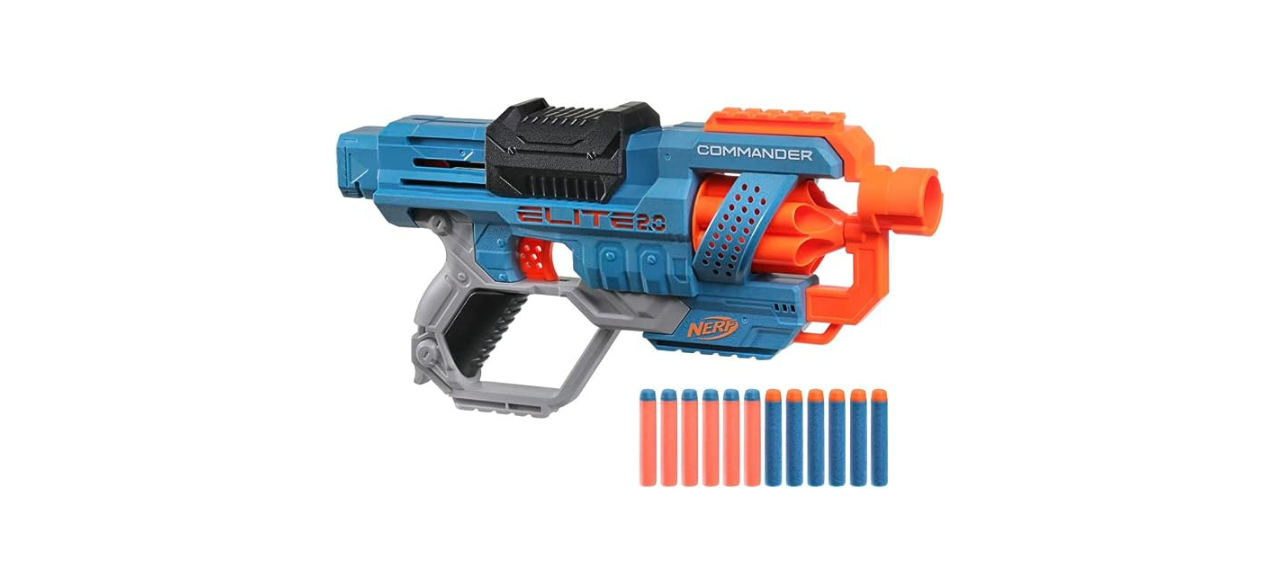 Nerf Elite 2.0 Commander RD-6 Blaster
Take a game of tag to the next level with this popular dart blaster. It's equipped with a rotating drum that blasts six darts up to 90 feet. As one of the more affordable Nerf blasters, many people invest in several to enjoy all-out blaster battles.
Sold by Amazon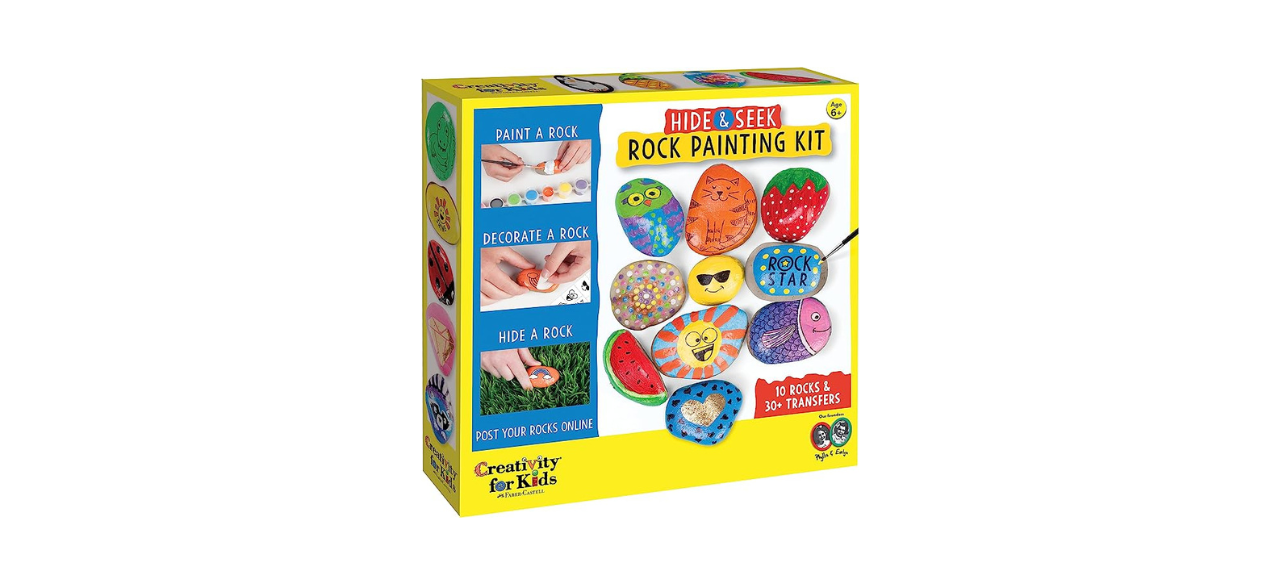 Creativity for Kids Hide and Seek Rock Painting Kit
The kit comes with 10 rocks and eight colorful paints. Because the paint is weather-resistant, you can place the painted rocks around the yard.
Sold by Amazon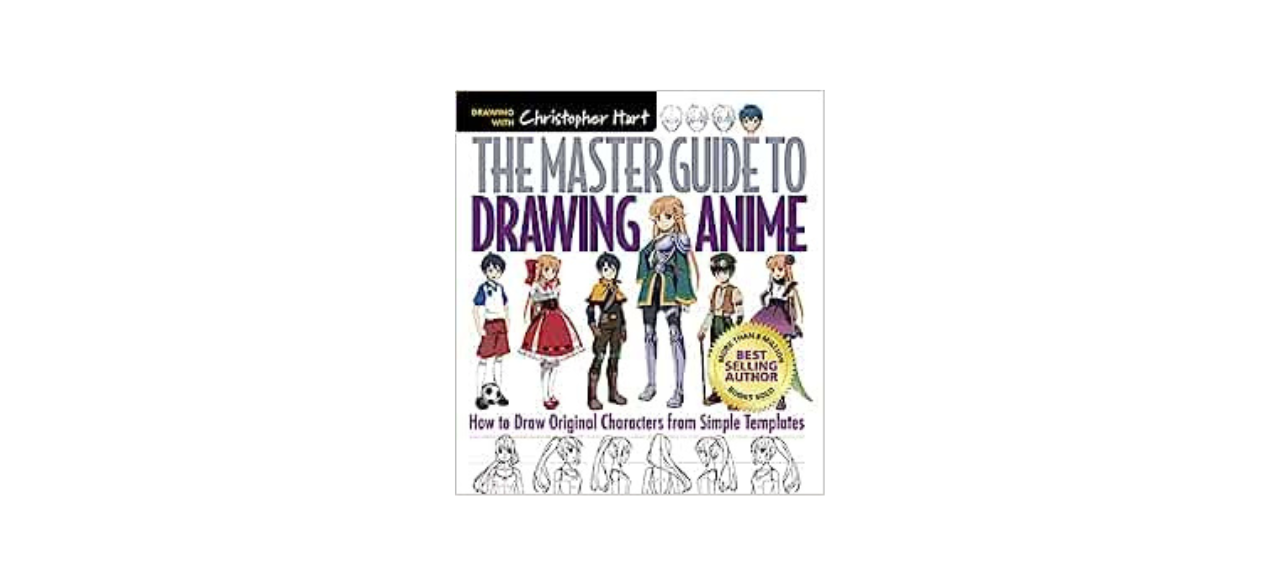 "The Master Guide to Drawing Anime" By Christopher Hart
The book teaches kids how to draw six popular anime figures, including vengeful bad guys. The book includes step-by-step demonstrations as well as templates and outfit guides. It's recommended for kids ages 14 and older.
Sold by Amazon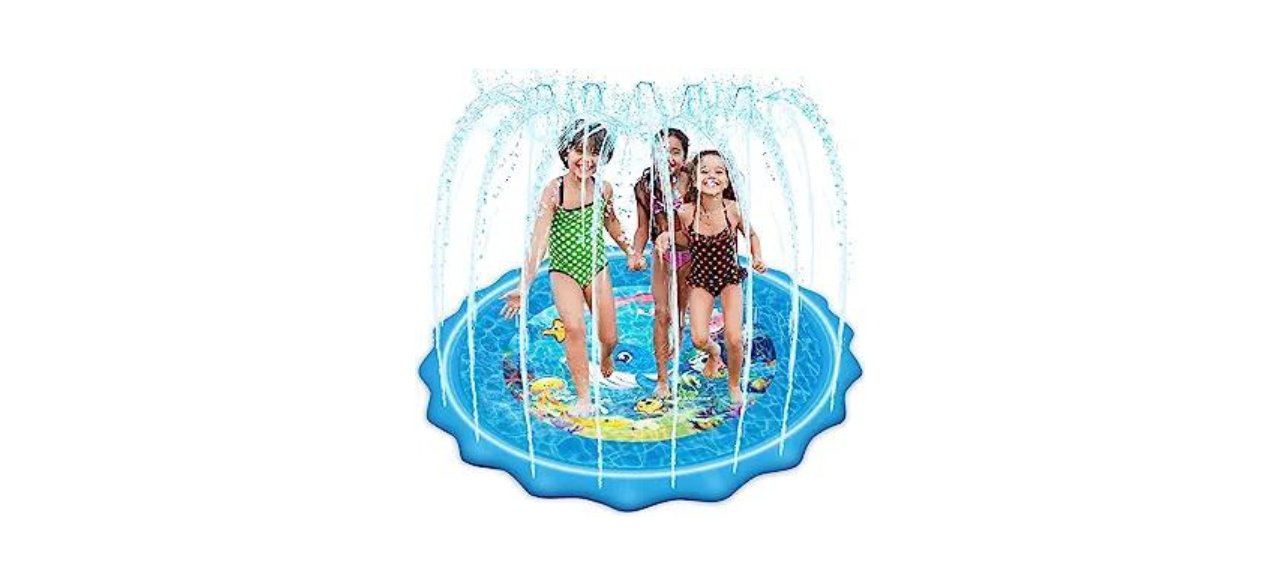 Mademax Upgraded 79-Inch Splash Pad
Kids will have tons of summer fun with this splash pad. It comes with a storage bag, a repair patch, a hose connector and rubber washers. It's easy to set up by connecting it to a garden hose or PVC tube.
Sold by Amazon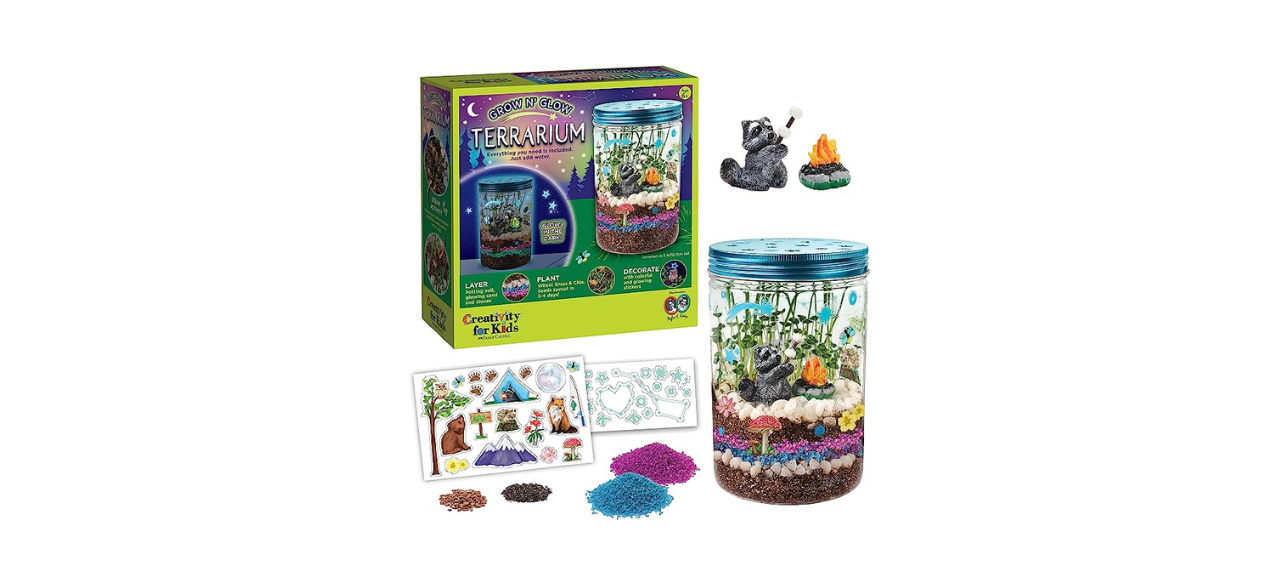 Creativity for Kids Grow N' Glow Terrarium Kit
The kit is perfect for kids that love science. It is designed for kids ages 5 to 8 but can be a fun activity for the entire family. It has a terrarium jar, potting mix, organic chia and wheat grass seeds and more.
Sold by Amazon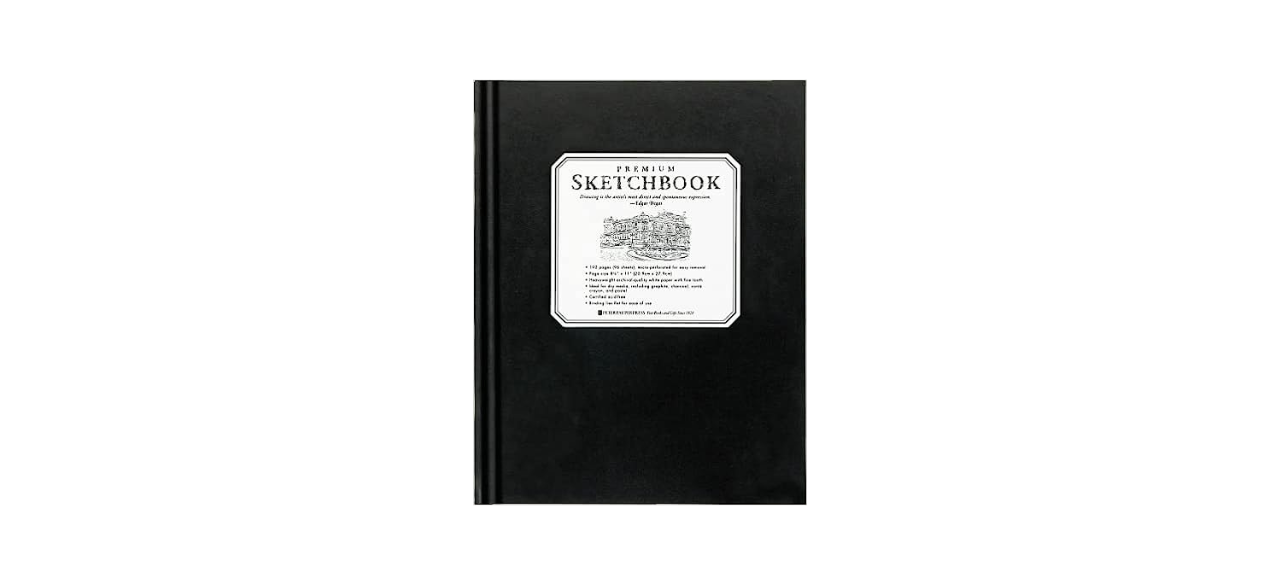 Peter Pauper Press Premium Black Sketchbook
Let your kids' imagination run rampant with a sketchbook. The pages are 8 ½ by 11 inches, giving kids plenty of space for their creativity. It includes 192 perforated, heavyweight pages and a study book binding.
Sold by Amazon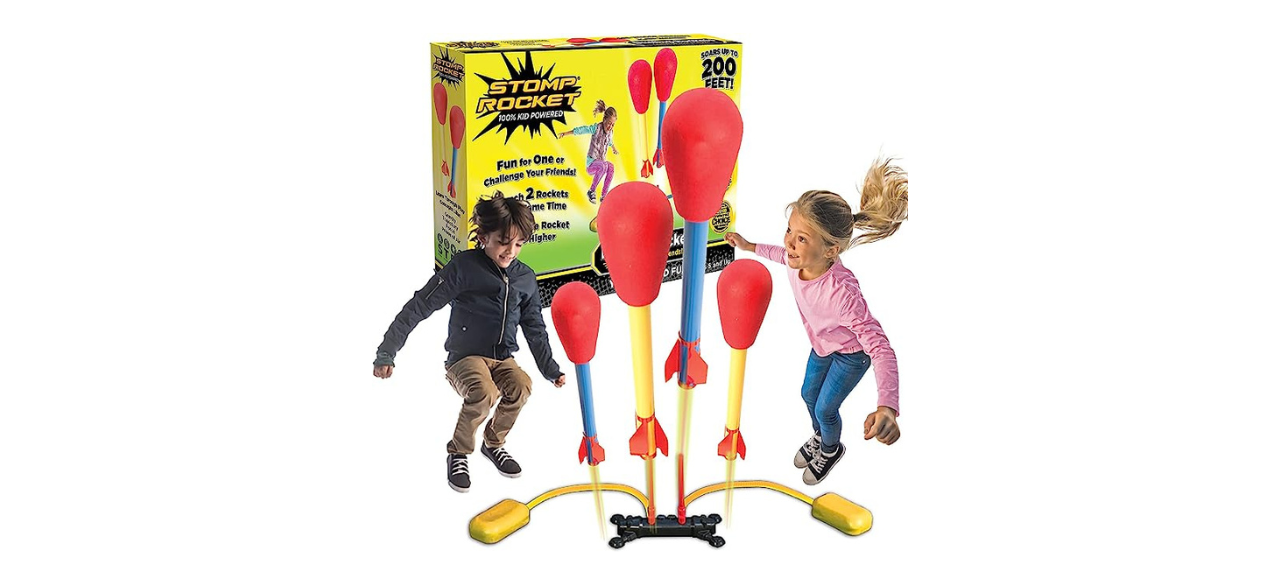 Stomp Rocket Dueling Rocket Launcher for Kids
This rocket launcher provides kids with a fun, safe outdoor activity. It launches four rockets 200 feet. It is safe for kids 5 and up, easy to assemble and 100% kid-powered. No batteries are needed for this Science, Technology, Engineering and Math toy.
Sold by Amazon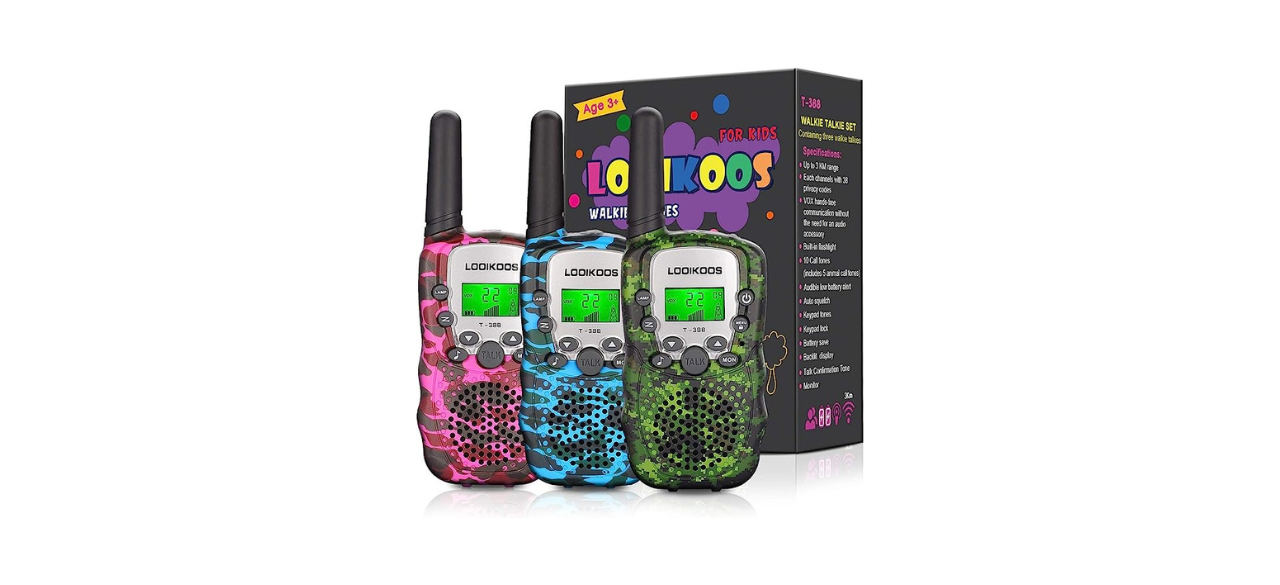 Looikoos Walkie Talkies for Kids
Let your kids communicate the old-fashioned way with walkie-talkies. This 3-pack of walkie-talkies come in three colors and a high anti-interference, clear voice technology. It has real-time monitoring, anti-wandering off, an alarm system, and 22 channels. They require four AAA batteries, which are sold separately.
Sold by Amazon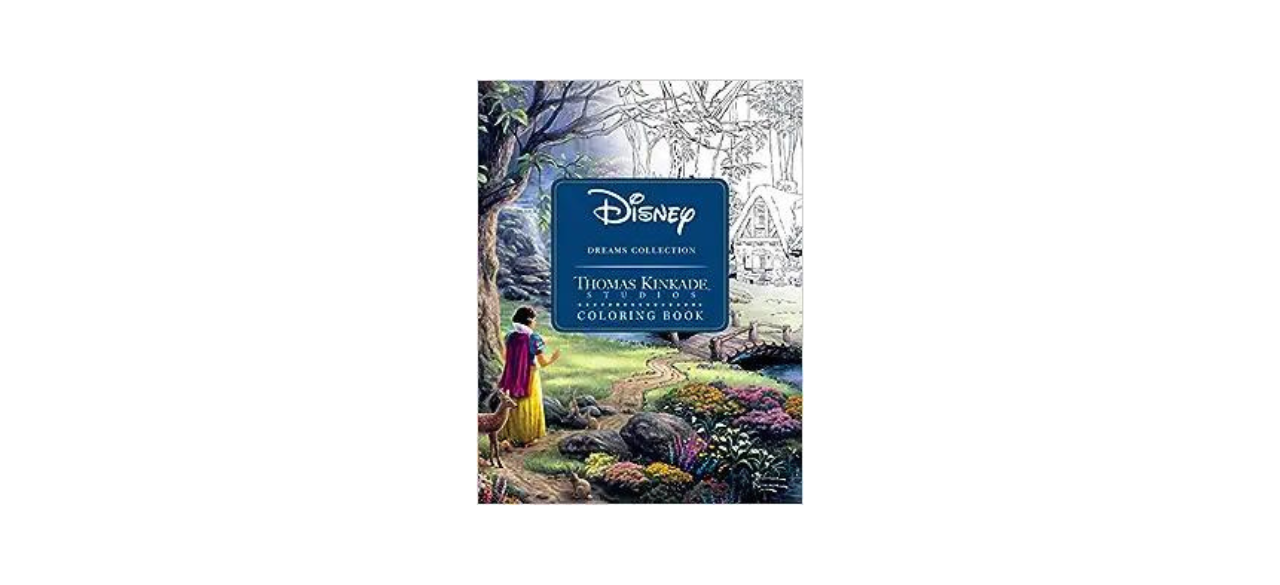 "Disney Dreams Collection Coloring Book" By Thomas Kinkade
This coloring book is for the ultimate Disney-lover. It features 63 color and black-and-white pages of classic Disney stories. It includes paintings from "The Jungle Book," "Sleeping Beauty" and others. It is available as a paperback or spiral-bound book.
Sold by Amazon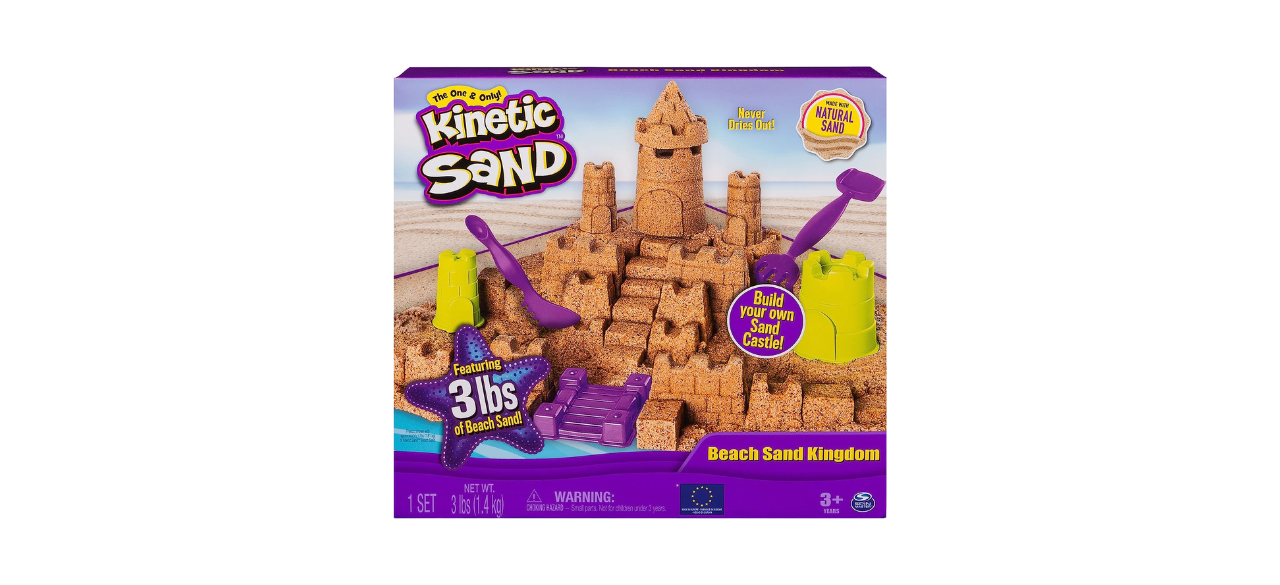 Kinetic Sand Beach Sand Kingdom Playset
Bring the beach to your backyard or your kitchen table with this set. It has 3 pounds of beach sand, molds and tools for kids to enjoy. Kids 3 and older can use six molds to build amazing castles.
Sold by Amazon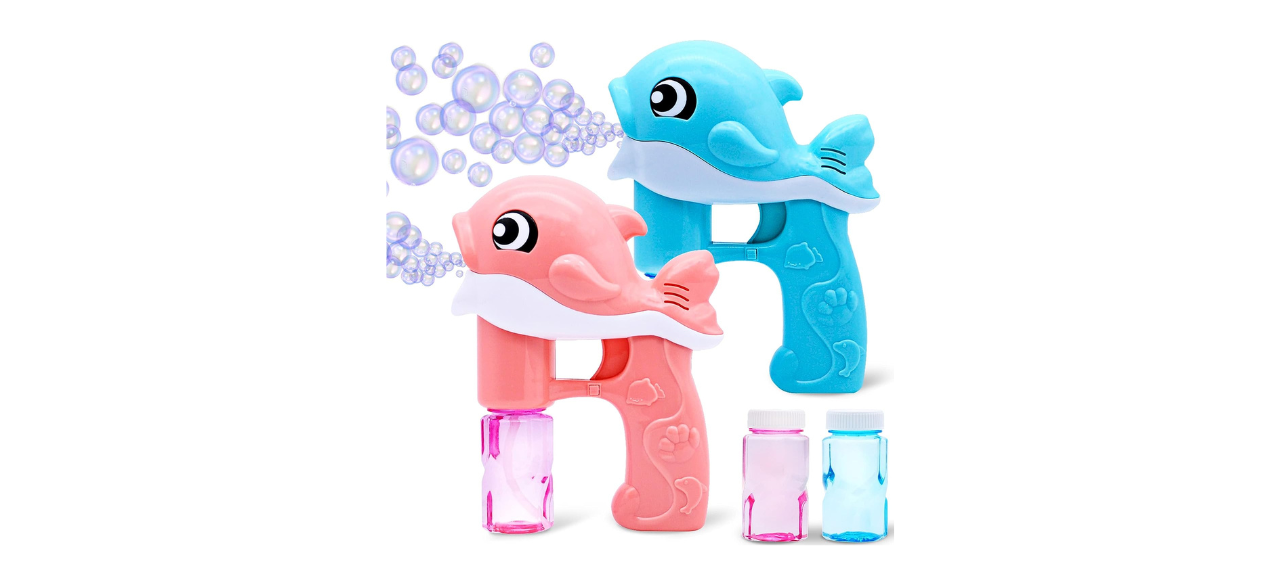 This adorable set of whale-shaped bubble guns is sure to keep kids away from their devices. It has four 50-milliliter bubble solutions and three color choices. They are leak- and spill-proof, child-safe and ASTM Safety Test approved.
Sold by Amazon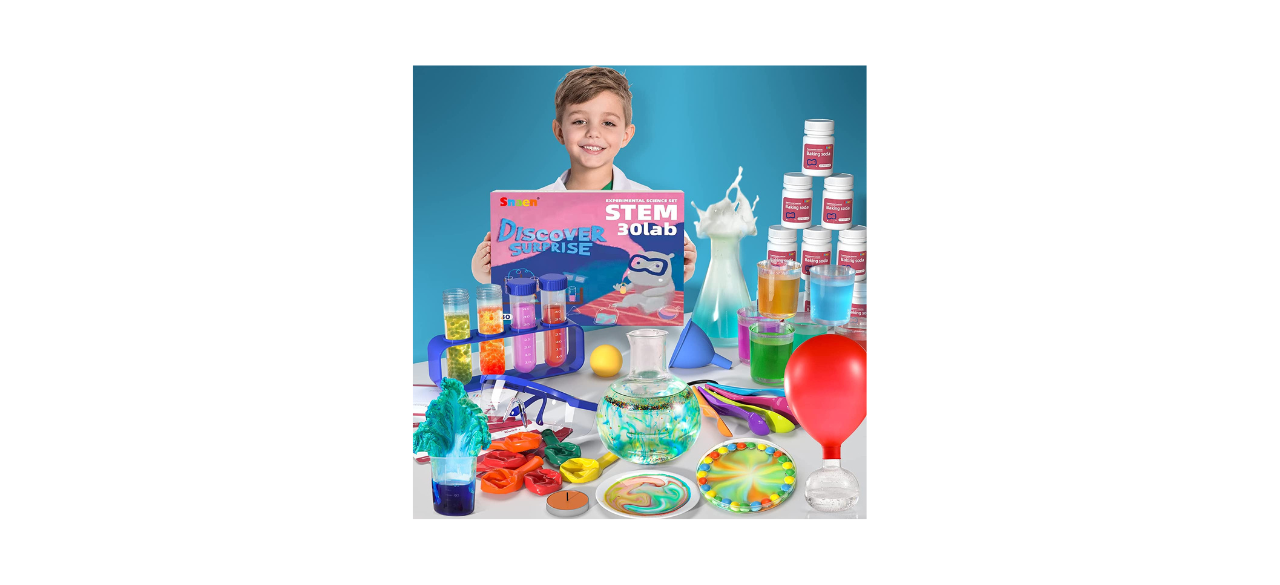 The kit lets kids try several science experiments from the comfort of their homes. Safe for kids as young as 3, it includes 30 scientific experiments, such as rainbow rain, erupting volcanoes and bottle-blowing balloons. Kids use the instruction cards to guide them through the experiments.
Sold by Amazon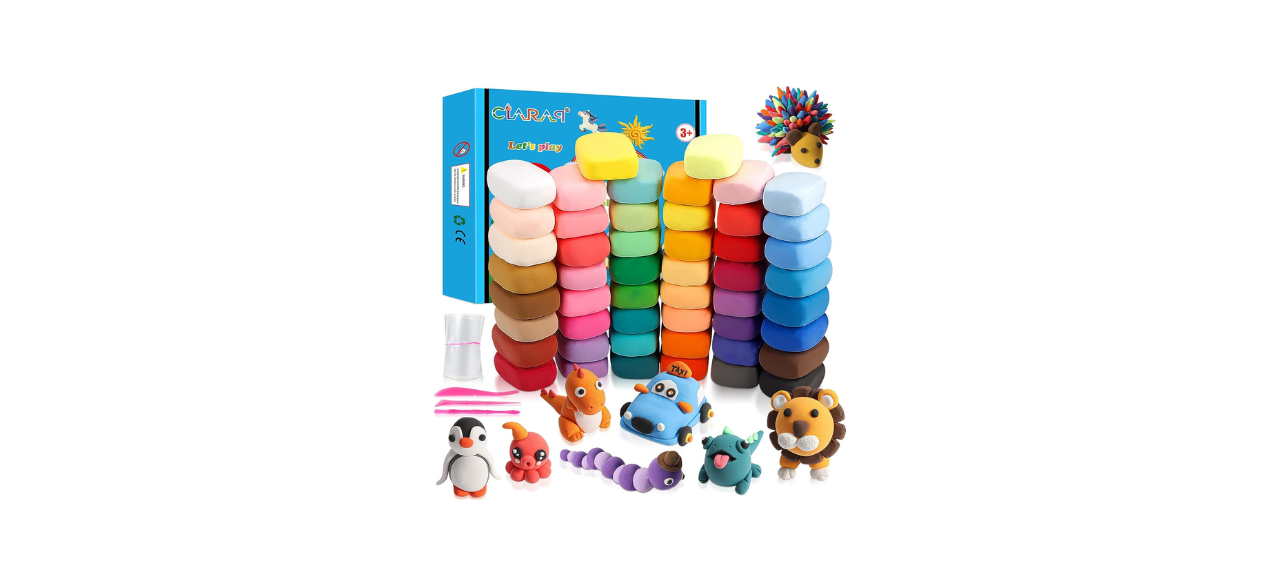 Kids can get creative with modeling clay. It includes 50 colors of clay and tools. It is non-toxic, environmentally-friendly, soft and non-sticky. It air dries, so there's no need for it to be put in the oven to set.
Sold by Amazon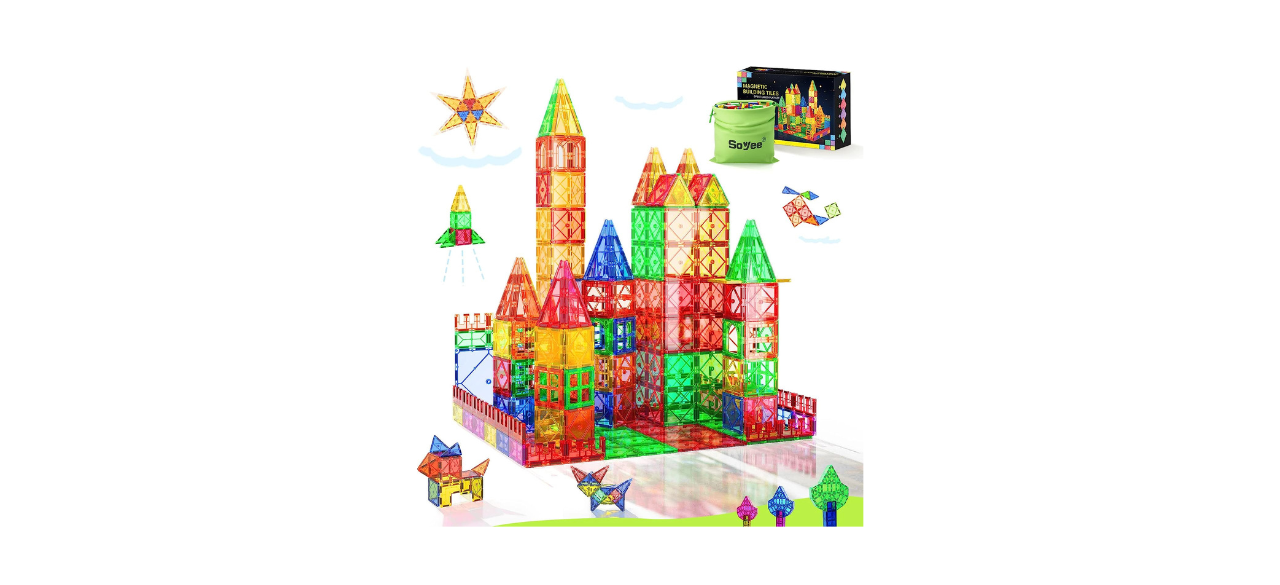 For the future architect, the magnetic tiles are a great STEM toy to challenge their building skills. This 52 0r 102-piece set can be used to build castles, animals, plants and more. They are made of rounded, high-quality acrylonitrile butadiene styrene plastic.
Sold by Amazon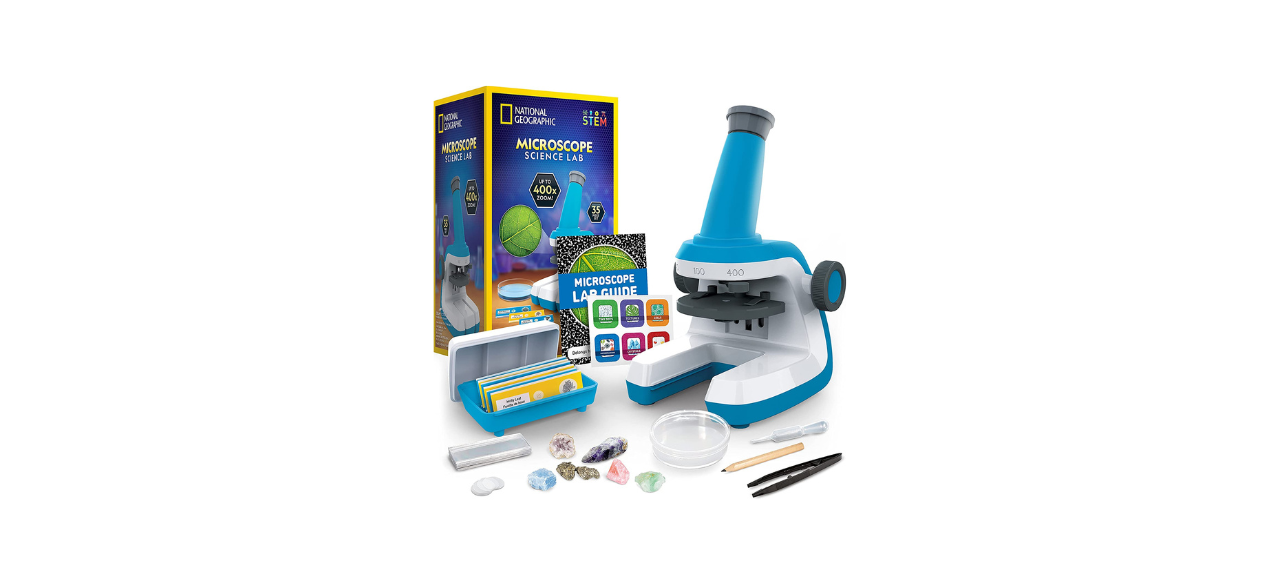 National Geographic Microscope for Kids
Kids can examine various species with this microscope. The microscope has large focus knobs, a soft-touch eyepiece and adjustable platform to view species. It comes with six plant sides, six rocks and minerals and six blank sides. It has tools kids use to conduct experiments.
Sold by Amazon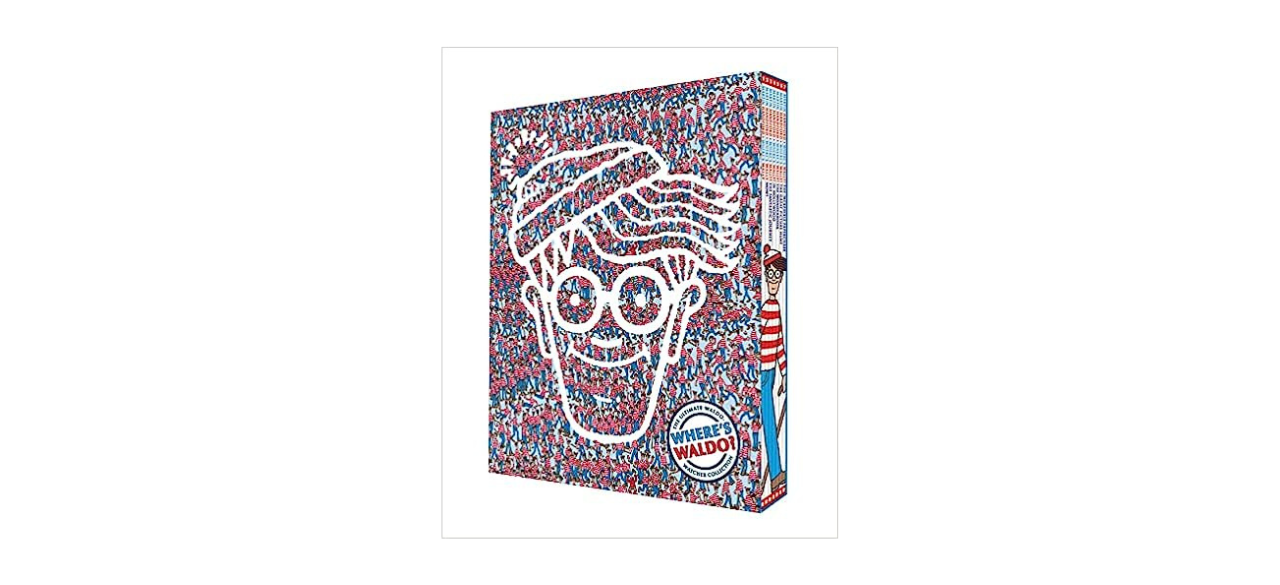 "Where's Waldo? The Ultimate Waldo Watcher Collection" By Martin Handford
Kids can get lost in time searching for Waldo. It includes seven puzzle books requiring kids to find the iconic character as well as other people and items.
Sold by Amazon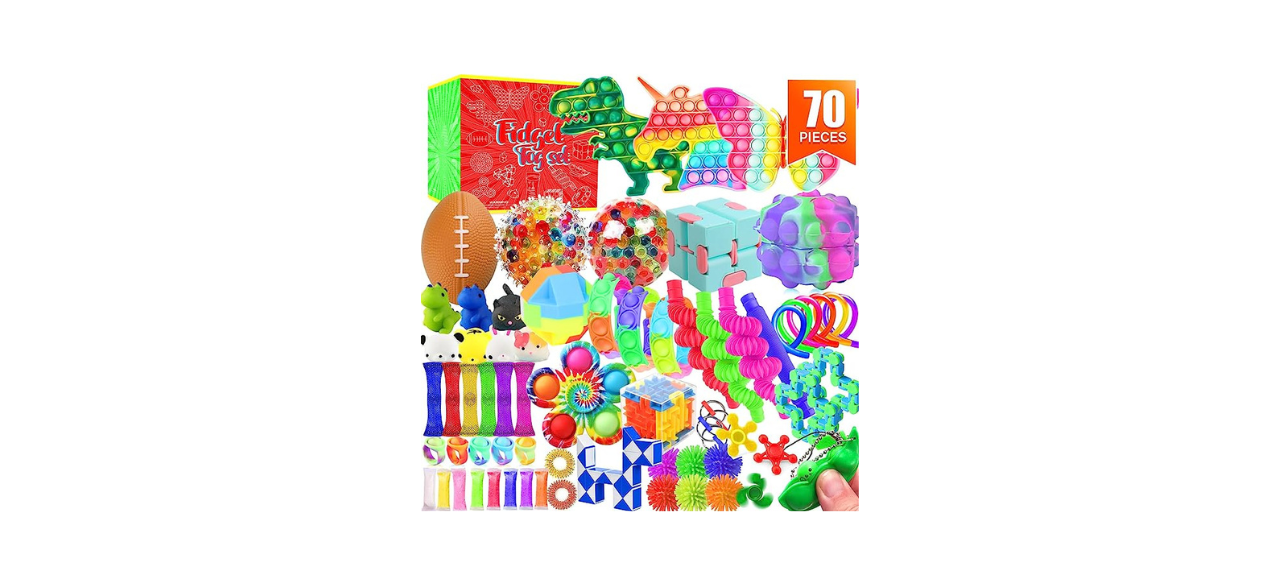 This set has 70 toys to keep kids entertained. Some of the fidget toys include pop bubbles, an infinity cube, fidget spinners, a pop ball, sensory rings and much more. They are great for children with conditions such as attention-deficit/hyperactivity disorder, attention-deficit disorder, autism and obsessive-compulsive disorder.
Sold by Amazon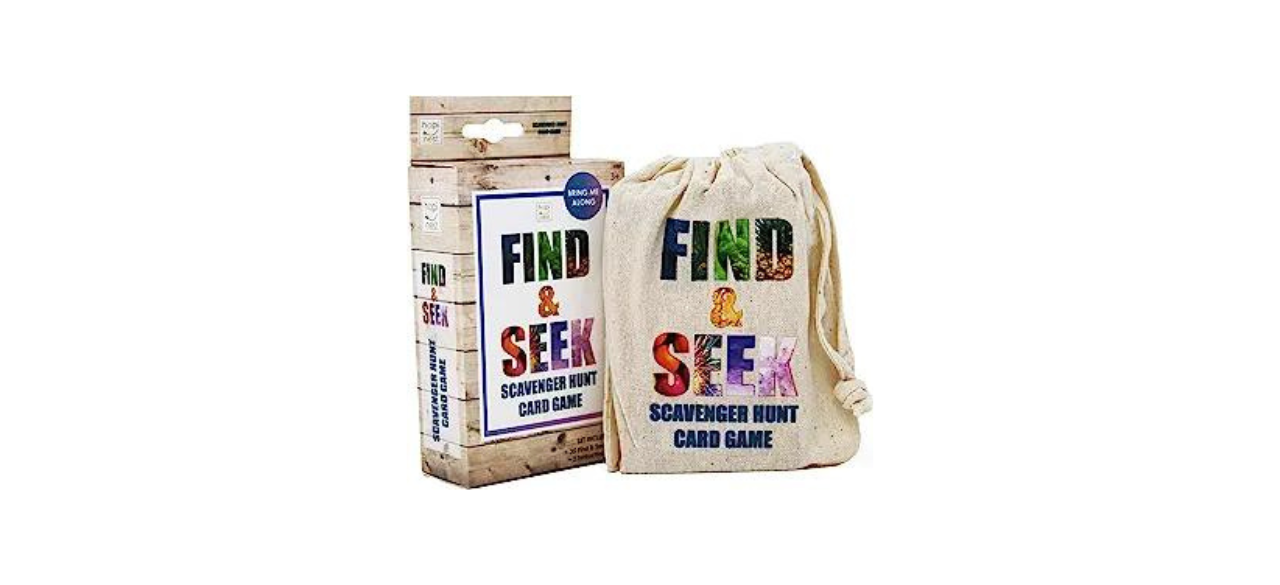 Hapinest Find and Seek Scavenger Hunt
Scavenger hunts are a classic outdoor game that brings tons of fun. The set is designed for two players, including items such as 35 find and seek cards, two instruction cards and a drawstring bag.
Sold by Amazon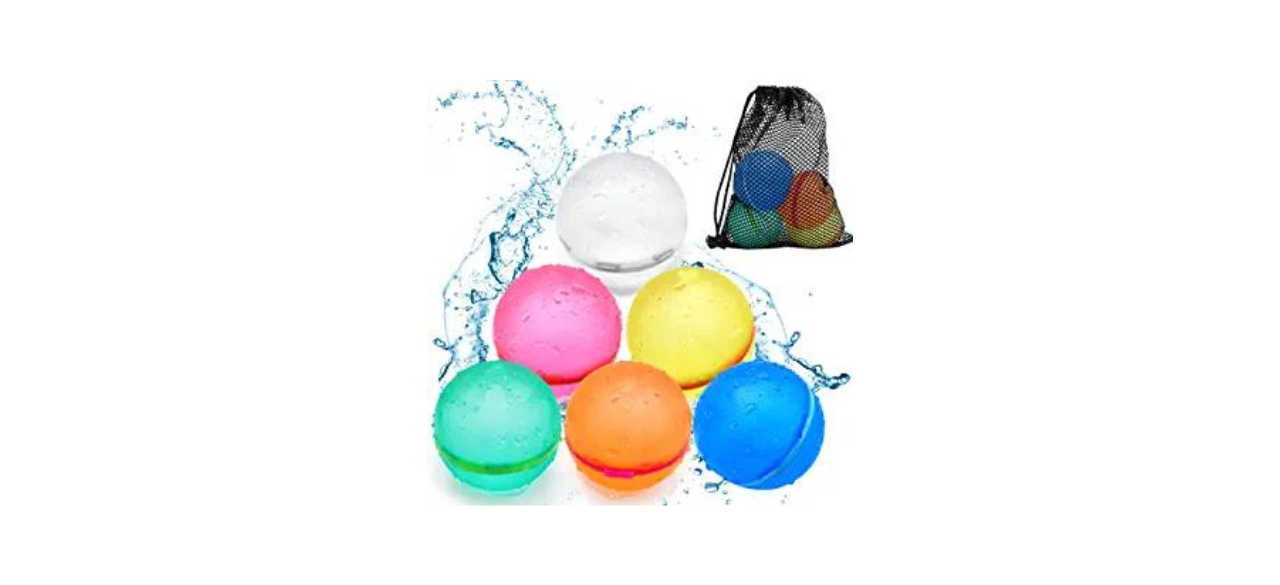 Soppycid Reusable Water Bomb Balloons
These reusable water bombs are an excellent way to have fun in the summer heat. They are offered in a 4-, 6-, 12-, 16-, 18- and 20-pack, and can be used several times. To fill them, simply sink them into water for about a second.
Sold by Amazon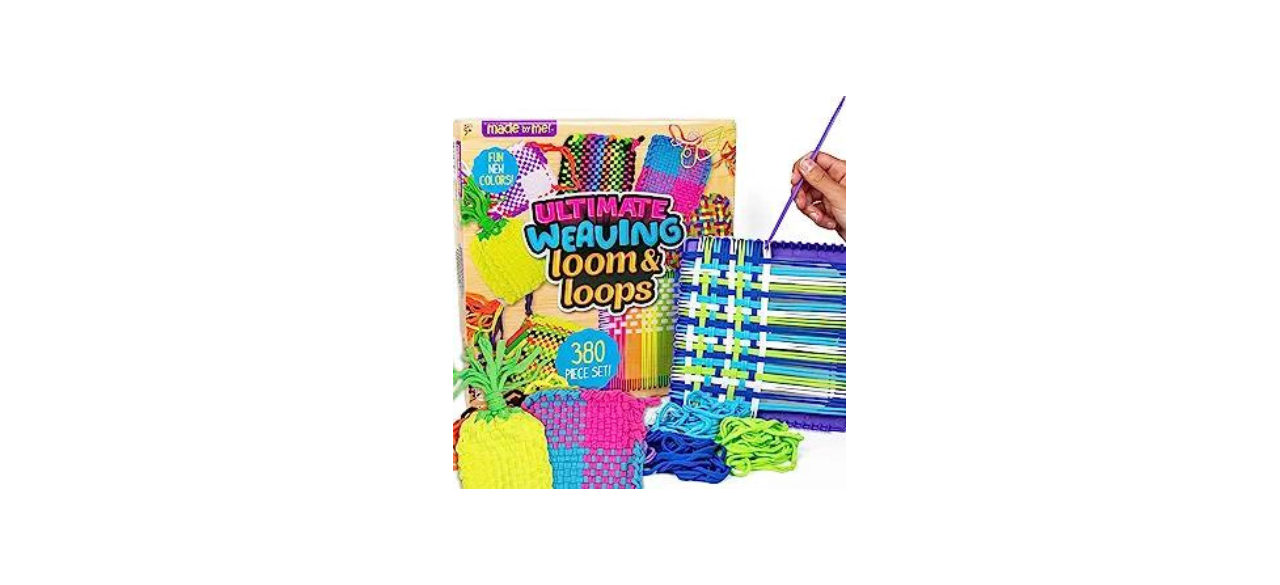 Made By Me Ultimate Weaving Loom
Kids can develop a new hobby with this weaving kit. It can make up to 25 projects that kids can use or share with their friends. It has 378 pieces to make items such as pencil holders, potholders and friendship bracelets. No sewing is needed and it is kid-friendly.
Sold by Amazon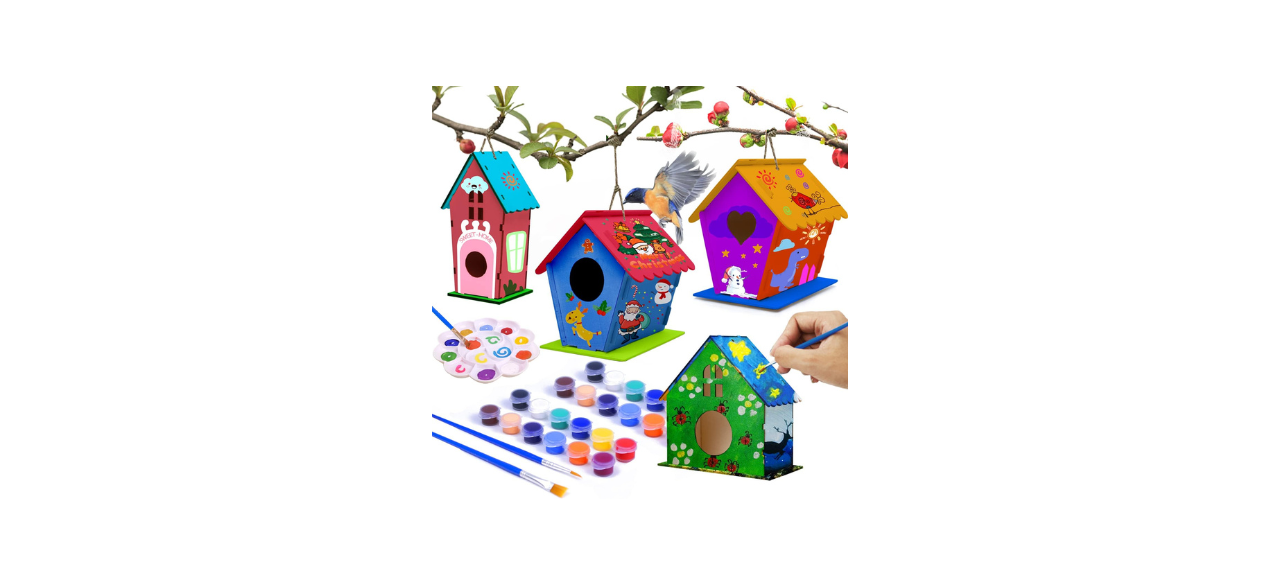 Hapray 4-Pack Bird House Crafts for Kids
This craft set lets kids design birdhouses for their animal friends. It includes four unassembled birdhouses, paint, four brushes, a painting palette, four strings and two glues. The birdhouses are made of high-quality, thick plywood and are non-toxic and eco-friendly.
Sold by Amazon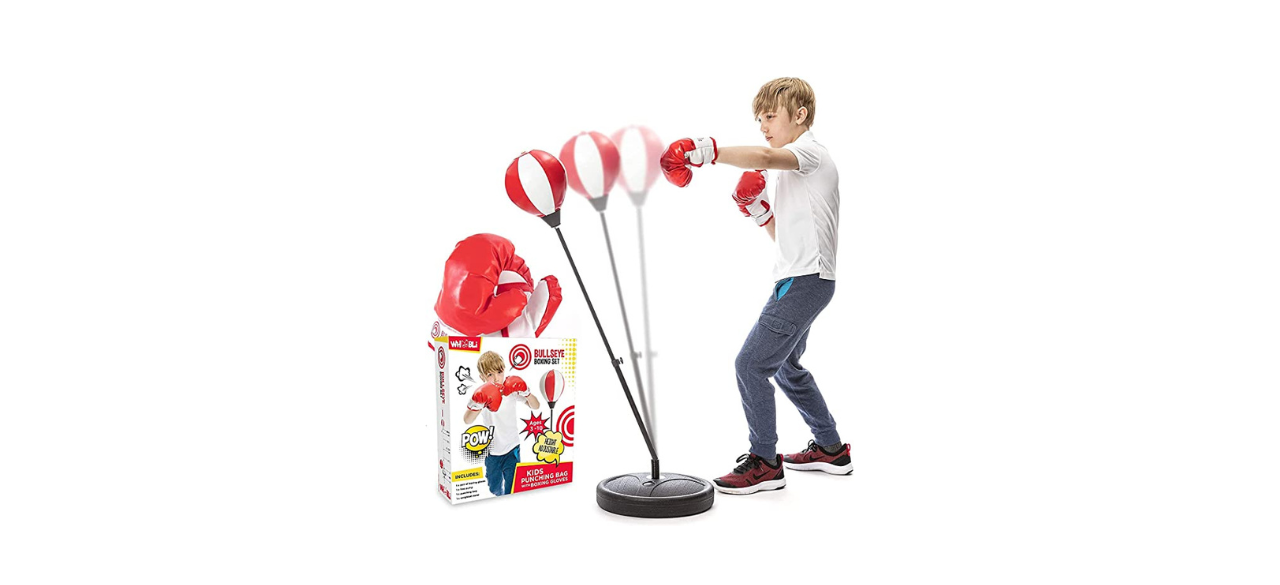 Let your athletes get some practice in with a punching bag. It comes in three colors and is adjustable to fit the child's height. It has gloves, a durable stand, a weighted base and a 180-degree spring.
Sold by Amazon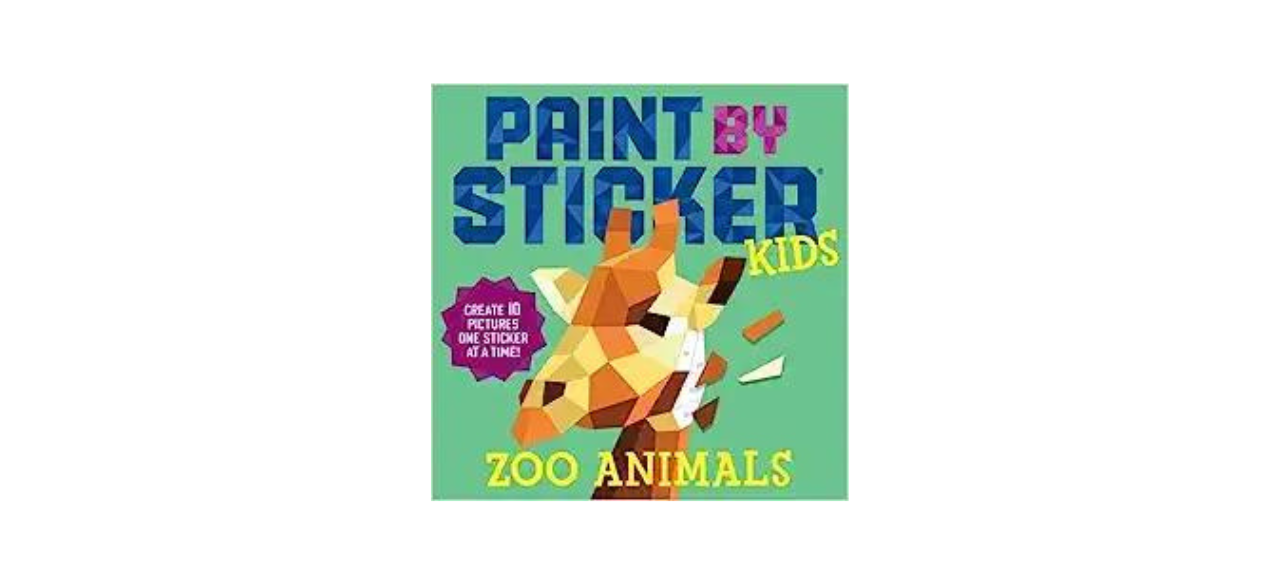 "Paint by Sticker Kids: Zoo Animals" By Workman Publishing
Keep kids entertained for hours with this picture book. It includes 10 sticker paintings that require kids to find the stickers and place them in the right places to create a work of art.
Sold by Amazon
Want to shop the best products at the best prices? Check out Daily Deals from BestReviews.
Sign up here to receive the BestReviews weekly newsletter for useful advice on new products and noteworthy deals.
Sian Babish writes for BestReviews. BestReviews has helped millions of consumers simplify their purchasing decisions, saving them time and money.
BestReviews spends thousands of hours researching, analyzing, and testing products to recommend the best picks for most consumers.
Copyright 2023 BestReviews, a Nexstar company. All rights reserved.