This is an archived article and the information in the article may be outdated. Please look at the time stamp on the story to see when it was last updated.
What are the best biodegradable diaper liners?
IN THIS ARTICLE:
Diaper liners are designed to use with cloth diapers. While the eco-conscious parent or caregiver may balk at the thought of pairing a disposable liner with their cloth diapers, biodegradable liners break down in the trash and don't add to landfill waste.
If you're trying cloth diapers for the first time, diaper liners are a happy medium between disposable diapers and reusable diapers. The liner adds a thin layer of material to catch your baby's solid waste. This makes cleanup easier and protects the cloth diaper from stains.
Diaper liners vs. diaper inserts
A diaper liner is a thin layer of rectangular material designed to contain solid waste. Though somewhat absorbent, liners allow urine to pass through. Diaper inserts are thicker and made of washable fabrics designed to absorb liquid waste and reduce leaks. They are made to increase the absorbency of a cloth diaper, whereas liners are primarily to help make cleanup less messy for the caregiver.
Material
Diaper liners are made of a number of materials, but only some are biodegradable. Reusable liners are made from thin fabrics that can be washed multiple times without falling apart, typically cotton or fleece. These are the most eco-friendly choice of liners.
Biodegradable liners are made from bamboo viscose, rayon viscose or ingeo fiber. Viscose is a material broken down from wood pulp and processed into fine fibers. Ingeo liners are also similarly processed but made from corn. All of these natural fibers will break down in landfill or compost. Bamboo is considered a sustainable resource.
Packaging
Many liners come in a roll of perforated sheets, similar to paper towels. While it's tempting, you shouldn't use paper towels in lieu of diaper liners to cut costs. This is due to their rough texture and low durability. Diaper liners can also come in cardboard boxes, similar to a tissue box. Both rolls and boxes typically offer 100 liners.
Disposal
Biodegradable diaper liners are for single use. You can dispose of them in the trash or your compost bin. It's best and most hygienic to dump solid waste into the toilet before throwing the liner away. Even though some biodegradable liners are labeled flushable, don't flush them; they can build up in your septic system over time and create clogs.
Chlorine- and fragrance-free
Because liners rest directly against your baby's skin, you want to be sure that it won't irritate their sensitive skin not only from its texture but also from chemical additives. Look for liners that are fragrance-free or unscented, as fragrance is often derived from chemicals. Many liners are free from chlorine bleach as well, also a chemical.
Best biodegradable diaper liners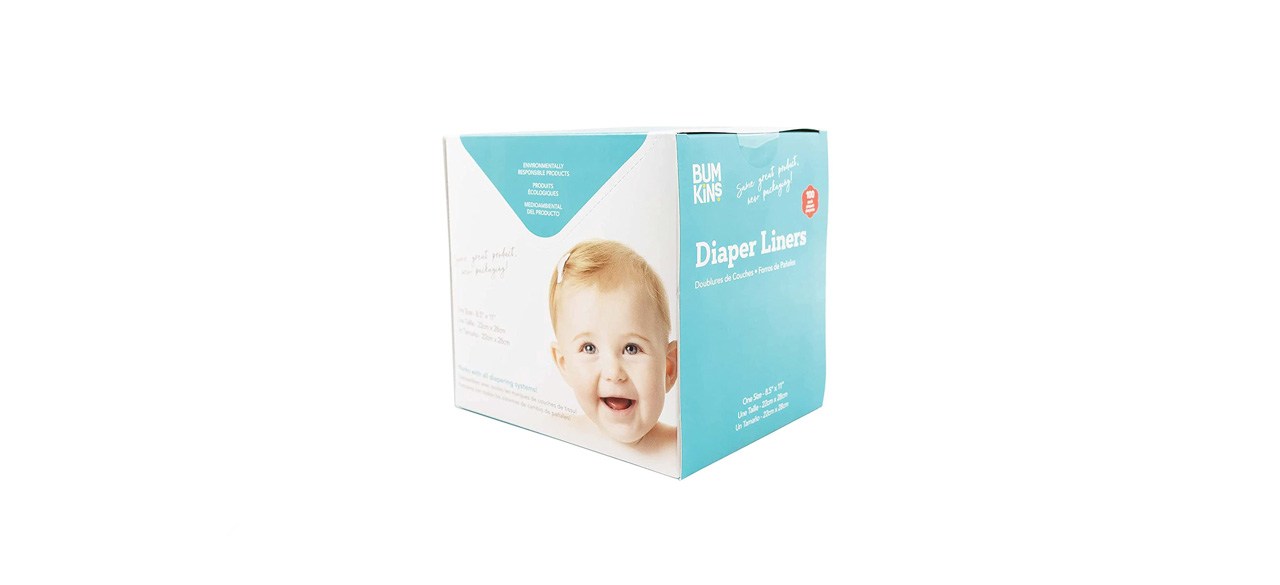 Bumkins Biodegradable Diaper Liner
Approved by our baby expert, these bamboo viscose liners are gentle on sensitive skin. They come in a box that makes single-handed dispensing easy during diaper changes. They're soft and flexible and can be cut in half for smaller diapers.
Sold by Amazon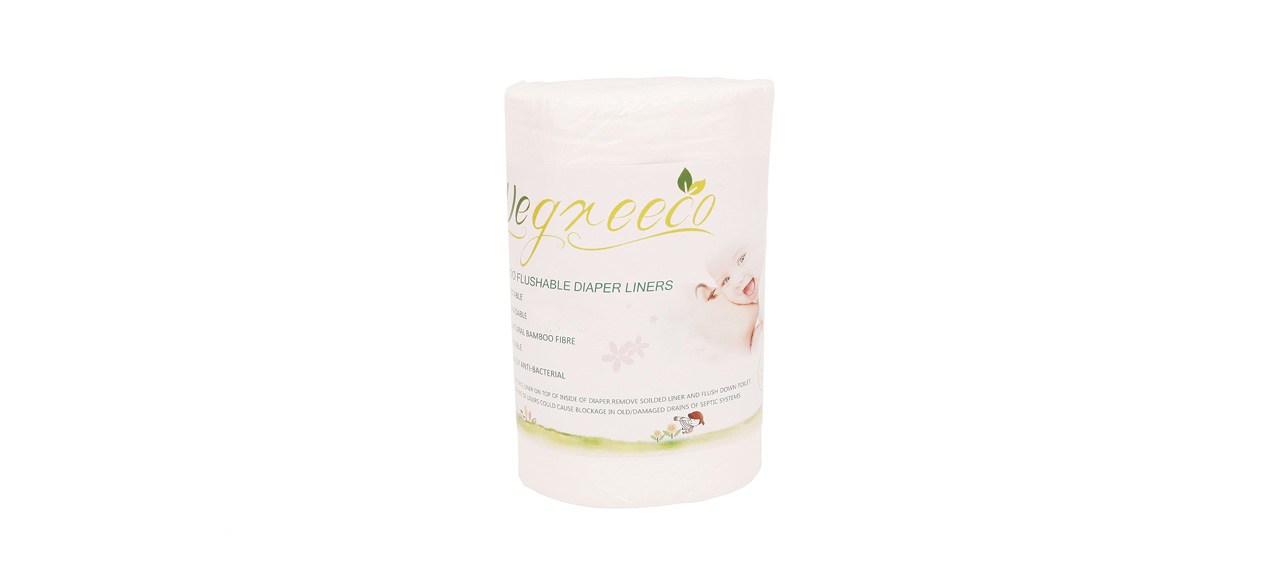 Wegreeco 100% Bamboo Diaper Liners
These all-natural bamboo viscose liners are unscented, compostable and chlorine-free. They're thicker and softer than most liners, and their generous size can be cut in half. Reportedly, they biodegrade in 25 to 45 days.
Sold by Amazon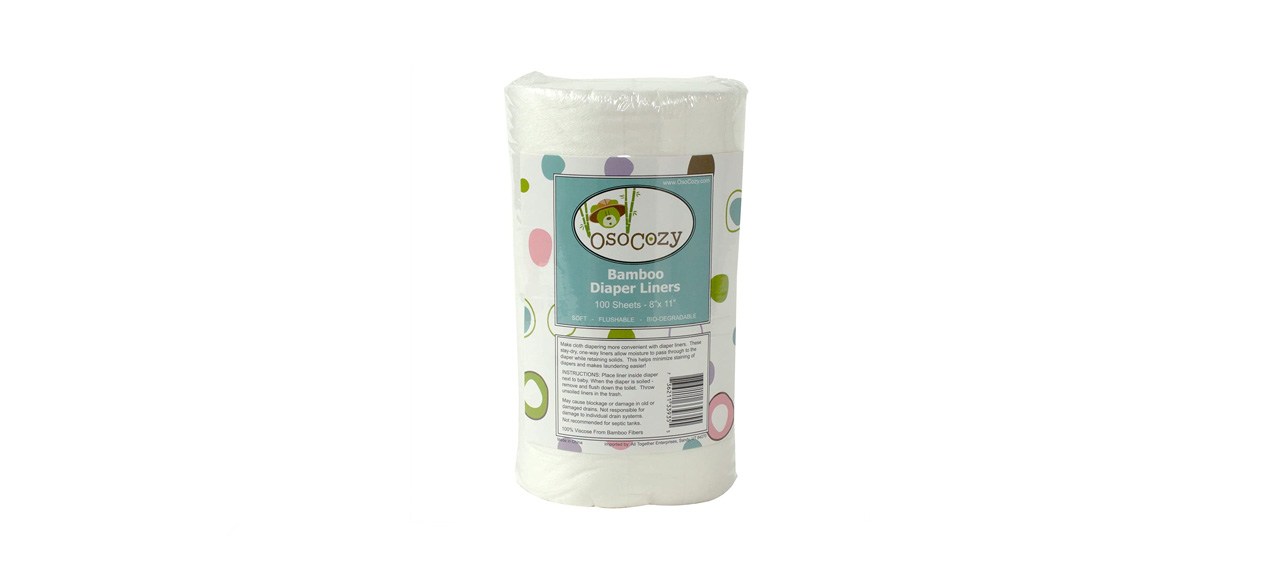 OsoCozy Flushable Diaper Liners
For lower-cost biodegradable liners, these viscose rayon liners are soft and durable. They cover most of the diaper and are great at catching solid waste. Like more expensive options, they also don't contain harsh chemicals.
Sold by Amazon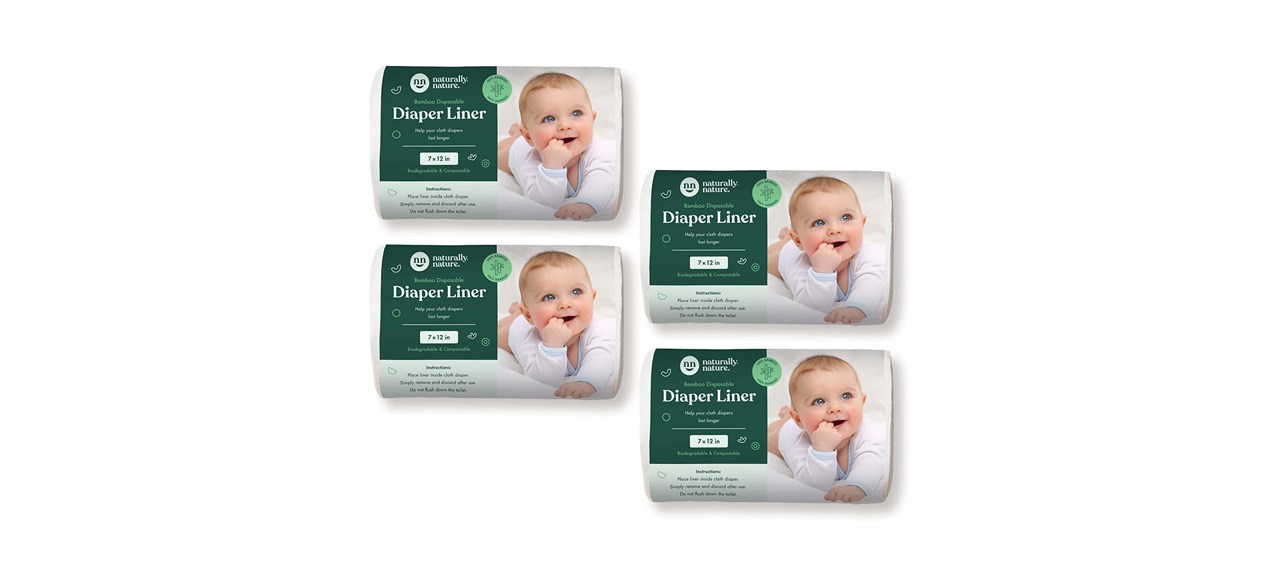 Naturally Nature Bamboo Diaper Liners
These soft bamboo liners are larger than some others at 12.5 by 7 inches. They come in a four-pack, giving you 400 liners in total. They catch solids well and are strong, stretchy, unscented, biodegradable and eco-friendly.
Sold by Amazon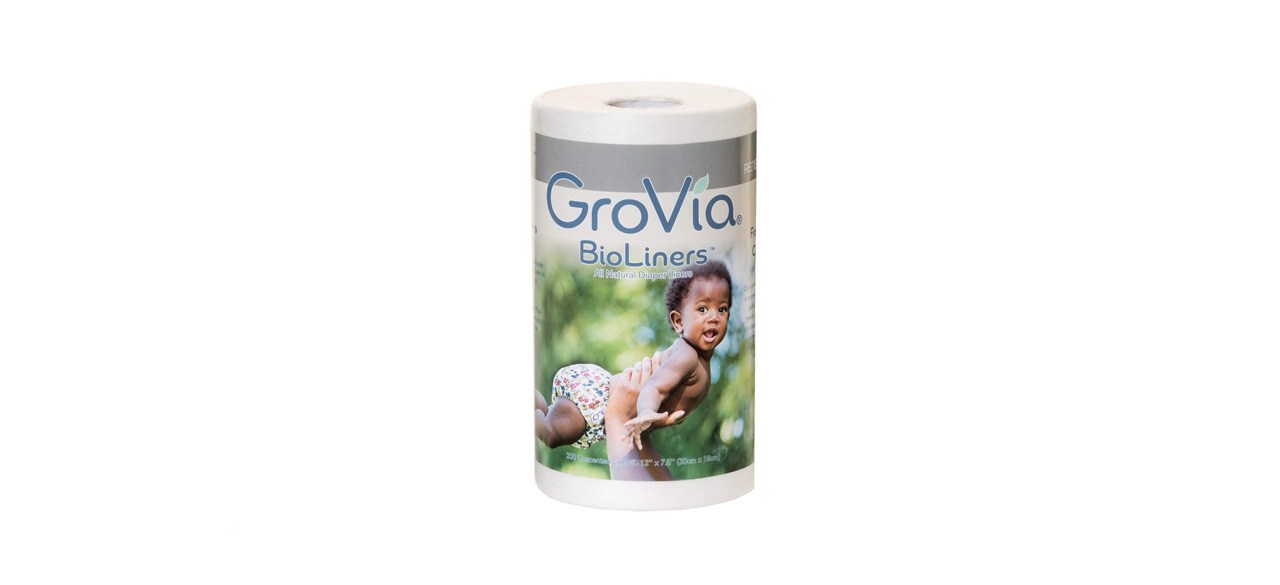 GroVia BioLiners Unscented Diaper Liners
Made from ingeo fibers, these all-natural liners are large and nonirritating on baby bottoms. They keep the mess contained with their generous surface area. They lengthen the life of cloth diapers. Many caregivers find that they can even wash and reuse them.
Sold by Amazon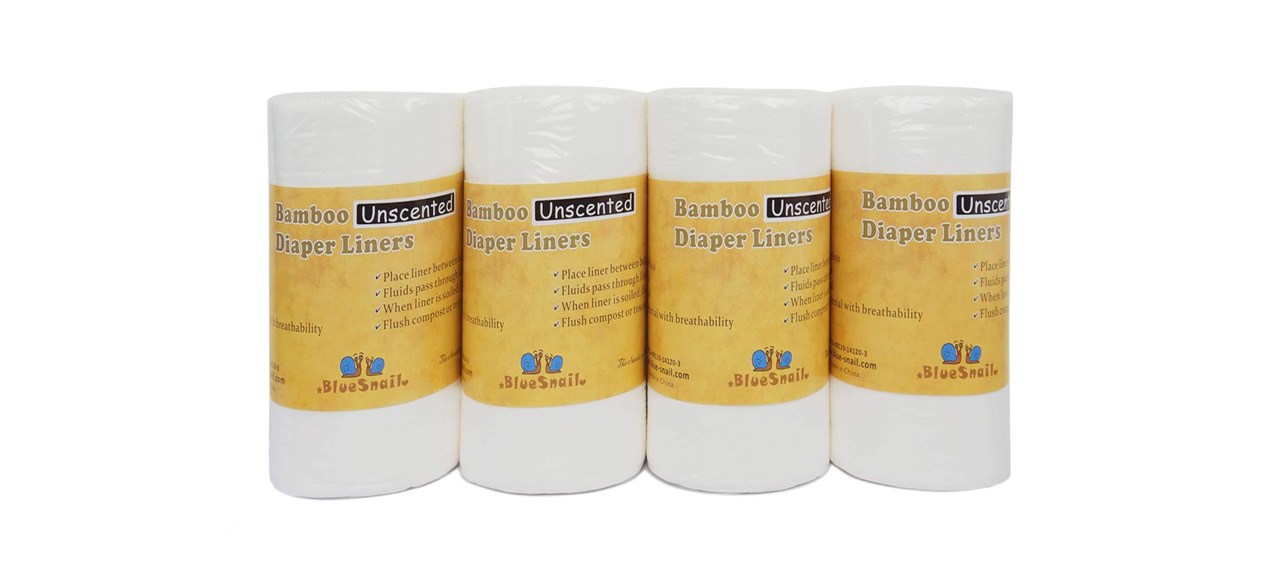 Blue Snail Unscented Diaper Liners
This four-pack of bamboo liners lasts for a long time and makes changing poopy diapers a cinch. Caregivers love how they eliminate the need for spraying or scraping cloth diapers. For newborn-sized diapers, you can fold these wide liners in half.
Sold by Amazon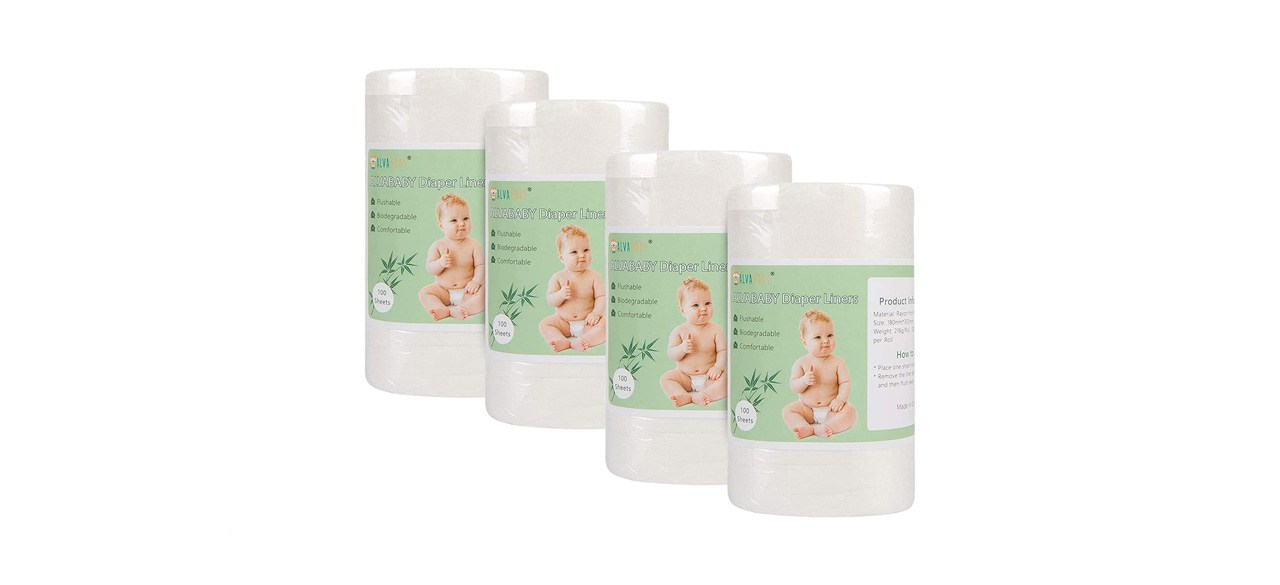 For a value buy, this four-pack has all the features you want in diaper liners: they're fragrance-free, chlorine-free and made from biodegradable bamboo rayon. They save time when you're using cloth diapers and money from not using disposable ones.
Sold by Amazon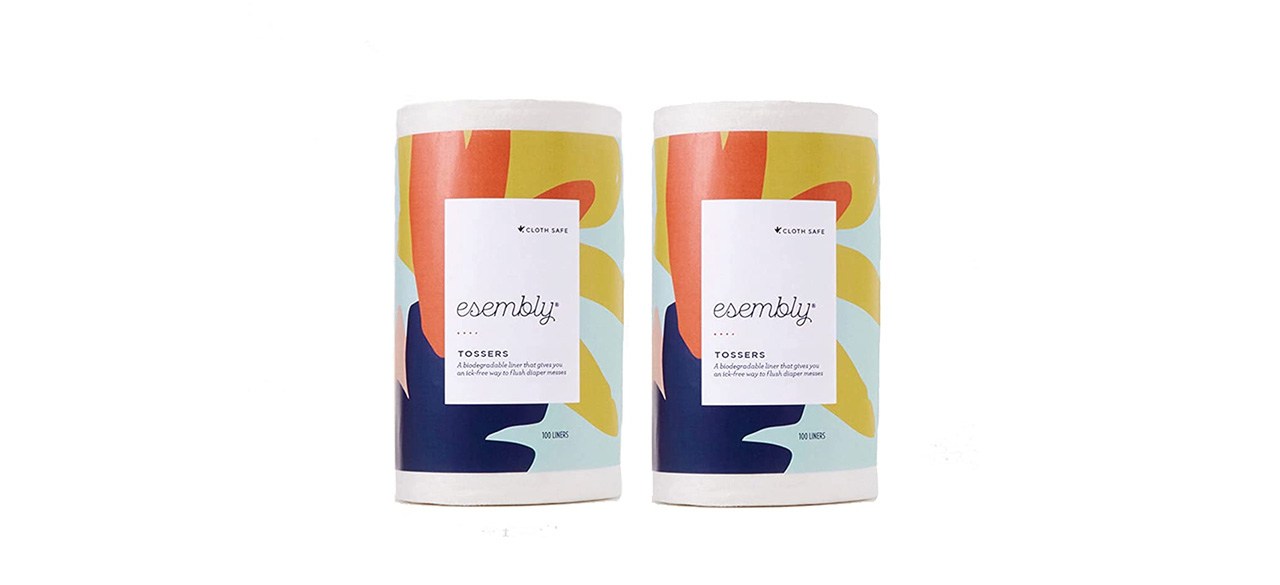 Esembly Tossers Cloth Diaper Disposable Bamboo Liner
These high-end bamboo viscose liners keep baby bums dry. They make using cloth diapers easier, especially when you're out and about. They catch solid waste and can quickly be tossed in the trash can, saving you from carrying around a poopy diaper.
Sold by Amazon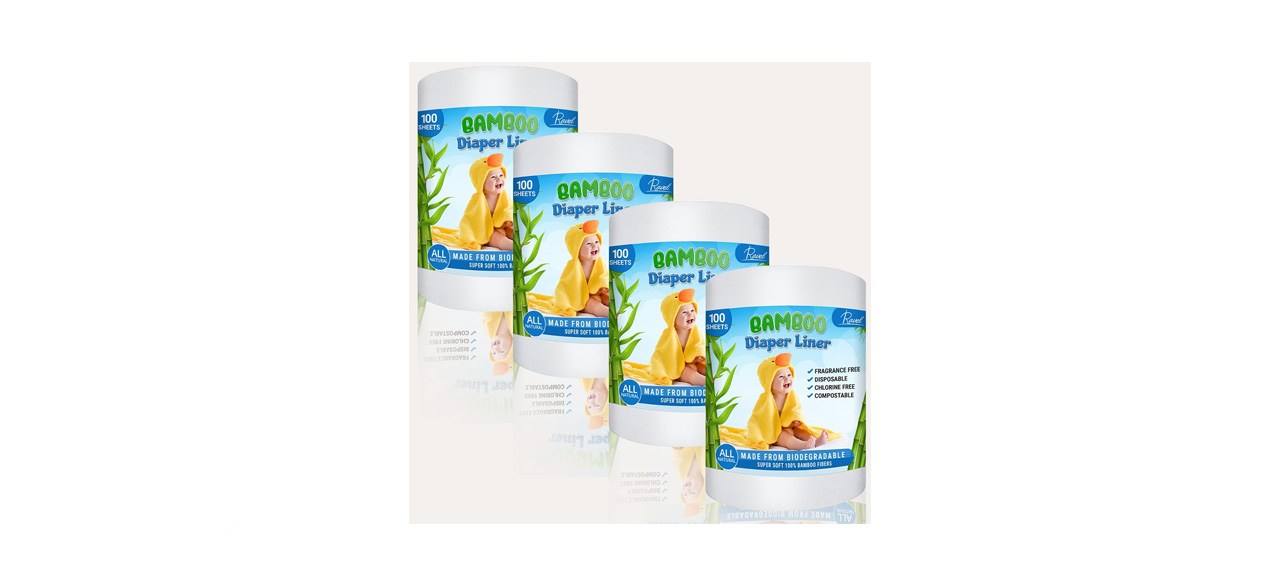 Ravel Bamboo Unscented Diaper Liners
These moisture-wicking bamboo liners keep white cloth diapers clean and your baby rash-free. They don't leak. They're soft and light but strong enough to hold waste. The four-pack is a good value.
Sold by Amazon
Want to shop the best products at the best prices? Check out Daily Deals from BestReviews.
Sign up here to receive the BestReviews weekly newsletter for useful advice on new products and noteworthy deals.
Ana Sanchez writes for BestReviews. BestReviews has helped millions of consumers simplify their purchasing decisions, saving them time and money.
Copyright 2023 BestReviews, a Nexstar company. All rights reserved.