This is an archived article and the information in the article may be outdated. Please look at the time stamp on the story to see when it was last updated.
It's a day we at FOX 8 have not been looking forward to: Wilma Smith is leaving us.
But she'll start her retirement knowing that she touched so many of us; not just at the station, but all around Northeast Ohio.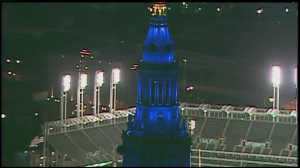 In honor of her last day on-air, the folks at the Terminal Tower lit up the building in blue Wednesday morning — Wilma's favorite color.
We've been celebrating Wilma all month long; detailing her life, career and perseverance to become a top trailblazer for women in journalism.
Along the way, inspiring stories have been told about our Wilma who was once affectionately nicknamed "Willy" as part of her weather segment at Bowling Green State University.
Throughout her career, Wilma has interviewed presidents, top celebrities, newsmakers and controversial figures.
If you missed any of our highlights this month, check out our Celebrating Wilma page on FOX8.com.
Then, be sure to tune in to Fox 8 News @ 6 p.m. for her last broadcast. We'll be featuring special goodbyes, surprises and emotional tributes.
Wilma, from all of us at FOX 8, we'll miss you very much! Best of the luck in your retirement!