This is an archived article and the information in the article may be outdated. Please look at the time stamp on the story to see when it was last updated.
CLEVELAND– 58-year-old Hernandez Warren stood before a Cleveland Municipal judge Thursday morning as an assistant county prosecutor recalled the day 14-year-old Gloria Pointer was raped and murdered on her way to school in 1984.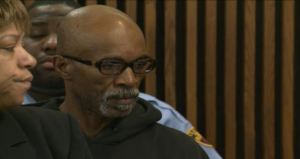 He reminded the court Gloria's lifeless body was found in a back-alley stairwell. Her body was found within sight of Harry E. Davis Junior High where the teenager was to receive a perfect attendance award.
"Evidence and a confession link him to this crime," said Assistant Cuyahoga County Prosecutor Brian Murphy.
He asked that a $5,000,000 bond be set in the name of justice for Gloria and her family.
"Any confession they may have obtained in my opinion was, had to have been coerced, said defense attorney Nicole Longino. "But it was definitely without the assistance of counsel."
Longino said she tried relentlessly to see her client while he was in the custody of the FBI and Cleveland Police. She told FOX 8 she demanded Warren's interrogation be stopped until she could meet with him.
"Two detectives came out and escorted me down to the first floor," said Longino. "They told me they had been instructed to escort me out."
Assistant Cuyahoga County Prosecutor T. Allan Regas said in a prepared statement, "Mr. Warren was arrested and the police followed proper procedure in questioning him. He was advised of his right to counsel and did not exercise that right. A criminal suspect has the right to counsel and the Supreme Court has long held that to be the individual's right, not the attorney's. The defense bar is well aware that they cannot interrupt a suspect's voluntary interview with law enforcement."
Gloria's mother, Yvonne Pointer, told FOX 8 News Reporter Lorrie Taylor she was encouraged by news of a confession. She said she hopes Warren will spare her family the pain of a trial, assuming he is guilty of aggravated murder as charged.
"I would like to speak with him personally; maybe the two of us can work this out," said Pointer.
Longino attempted to soften the image of her client as he stood before Cleveland Municipal Judge Marilyn Cassidy. She told the judge Warren was a father and grandfather who'd lived in Cleveland all his life. She also said he had not been in trouble since his release from an Ohio prison in 2000 on charges of rape, felonious assault and burglary.
"Hasn't been in trouble in 12 years, not even a traffic ticket," insisted Longino.
The defense attorney asked that the state's conduct during Warren's interrogation be taken into account for purposes of setting bond.
Judge Cassidy said that matter would be left to another court and ordered bond be set at $5,000,000.
*Get continuing coverage on this story*