This is an archived article and the information in the article may be outdated. Please look at the time stamp on the story to see when it was last updated.
BRUNSWICK, OH -- New events come to Northeast Ohio every year, but Friday, we welcomed the world of competitive eating.
Some of the world's top eaters lined up at Mapleside Farms for the World Apple Pie Eating Championships.
Many local contestants joined world-champion eaters behind the table, including Joey "Jaws" Chestnut, Tim "Eater X" Janus and Sonya "Black Window" Thomas.
The eaters competed for a $2,500 prize.
In the end, it was Chestnut, who is the seven-time Nathan's Hot Dog Eating champion, who took the top prize.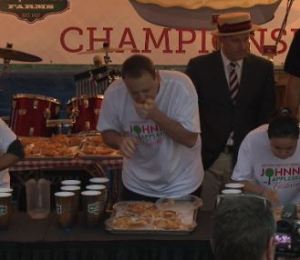 "It was great pie. That always makes it a lot easier when the food is good," said Chestnut. "If it is bad, I would have been really slow, but the food went down super easy and it was easy to make a new record. Thirteen pounds of pie, I'm happy with it."
Chestnut says next, he's off to bratwurst in Cincinnati and tamales in Texas.
The Johnny Appleseed Festival runs through Sunday at Mapleside Farms.
Our FOX 8 morning crew tried their hands at championship eating with Joey Chestnut Friday morning. Click here to watch the video.