This is an archived article and the information in the article may be outdated. Please look at the time stamp on the story to see when it was last updated.
SHAKER HEIGHTS, Ohio — The former judge allegedly involved in a deadly incident in Shaker Heights Saturday has a past record of domestic violence and claimed he was "working to be a better man."
Court records show former Cuyahoga County Common Pleas Judge Lance Mason pleaded guilty to charges of domestic violence and attempted felonious assault for attacking his now ex-wife, Aisha Fraser, in 2014.
Police said Mason viciously choked, punched and bit Fraser. It happened inside a vehicle in Shaker Heights and was witnessed by the couple's two daughters. He was sentenced to two years in prison but was released after serving less than a year.
During that case, Mason had written letters to both Fraser and their children.  FOX 8 I-TEAM's Peggy Gallek, obtained these letters from the Cuyahoga County Clerk of Courts.
In his letter to Fraser Mason wrote in part,
"I am solely and fully responsible for assaulting you in front of our girls on August 2, 2014, and hurting you during our marriage…

…My responsibility was to love and protect you. Instead of loving, protecting, and providing for you and our daughters, I have provided a terrible example, and exposed you to rage a violence. Instead, I have caused great pain, insecurity and fear. That certainly was not my intention as I prayed for you and our family in the morning…

…I know I often blamed you for your behavior, and didn't realize until I attacked you, I was broken. My violence against you was the greater betrayal. I know I have left you harmed, abandoned, and in the position to be the only parent able to provide resources and the love our girls can see on a daily basis. I deeply regret that…

…Once I fully recognized that I was broken, responsible, and wrong, I have done everything in my power to make amends, and become a better father and man…

…I have admitted my wrongdoings repeatedly in public, in prison, and in writing.  I have accepted responsibility and punishment of the court without complaint.  I have repeatedly talked to our daughters prior to my conviction about how I was wrong to hit you. While incarcerated, I have continued to gain insight of my wrongs and worked to be a better man and father.  I have written 7 letters to our daughters expressing my remorse, accountability, sorrow, grief, and my love.

I know these efforts are not enough; they are inadequate."
Read Mason's full letter to Fraser here: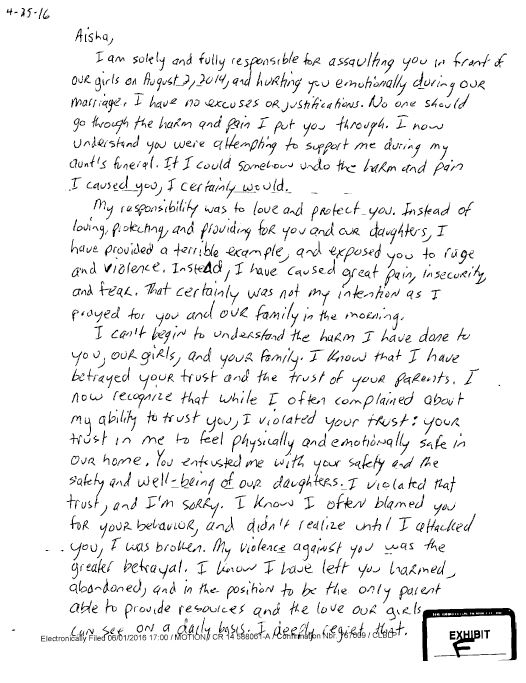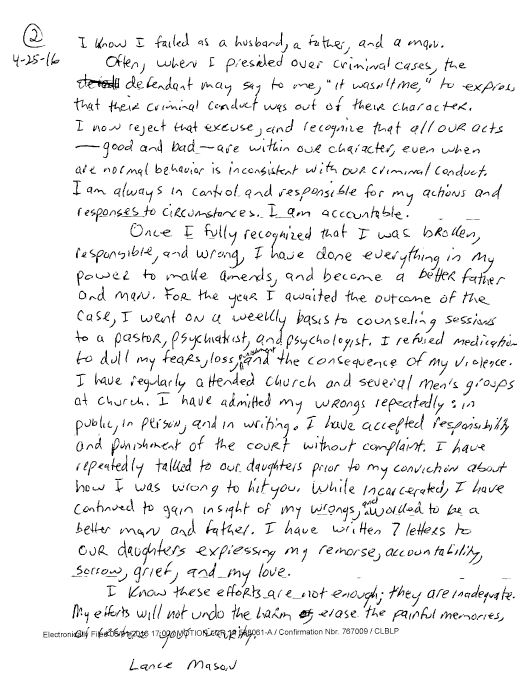 Mason also wrote a letter to his daughters. It reads in part,
"…You may be angry or feel abandoned by your dad.  I love you and have not abandoned you.  As I have told you many times before, I hurt mom and I'm being rightfully punished for it.  I was suppose to love and protect mom & you girls.  I failed you, your mom, and her parents.

It's not over though, I'm working hard to be a better dad to you and a better man."
Read Mason's full letter to his daughters here:
On Saturday, police responded to a domestic violence call involving Mason around 9 a.m. in Shaker Heights, according to I-TEAM sources.
Police say they have initiated an investigation into the death Fraser, and as a result of their initial investigation, have taken Mason into custody.
Police say this is an ongoing investigation and more information will be provided as it becomes available.